How Westin Is Incorporating Nature Into Its Rooms To Help You Get Better Sleep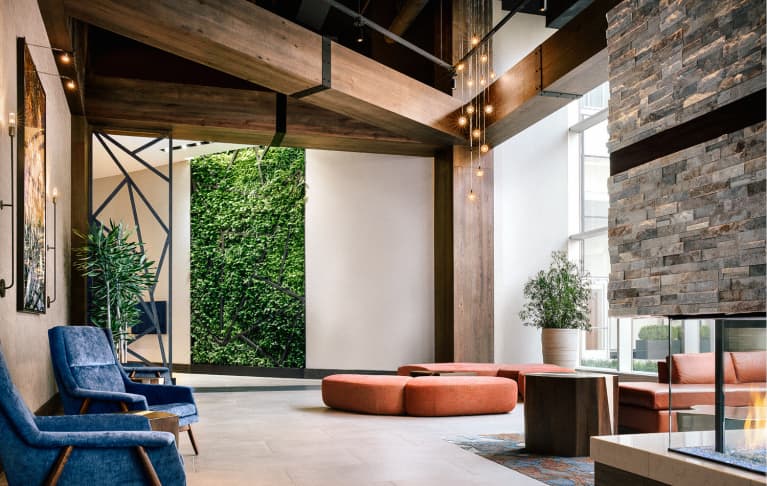 "The idea that your brain operates differently in nature is nothing new," Bill Browning declared to a packed conference room last month. What is new, he continued, is the growing body of research suggesting that when nature is present indoors, it can affect us in similar ways.
Browning is a thought leader in the field of biophilic design, which imbues built environments with hallmarks of the outdoors for the sake of human health. At this year's Biophilic Leadership Summit, an industry event held at the wellness-focused planned community Serenbe, he described how more and more people are waking up to the fact that you don't necessarily need to take an hourlong hike through the woods to access nature's ability to lower blood pressure, reduce cortisol levels, and boost mood. Institutions of all sorts are now starting to bring the outdoors in to help those inside relax, unwind, and think more clearly.
Office buildings were some of the first spaces to play around with biophilic design at scale. A number of spaces owned by Google, Amazon, Etsy, and Summit sponsor Interface are awash in light, greenery, and fractal patterns from nature. This type of design can help with recruitment (who doesn't want to work in an office that feels like a jungle?) and bottom line (people tend to work more efficiently when they're surrounded by greenery), so these early adopters make sense. And as for the next wave of plant-padded, light-filled spaces? It just might be hotels hoping to help guests wind down for the night.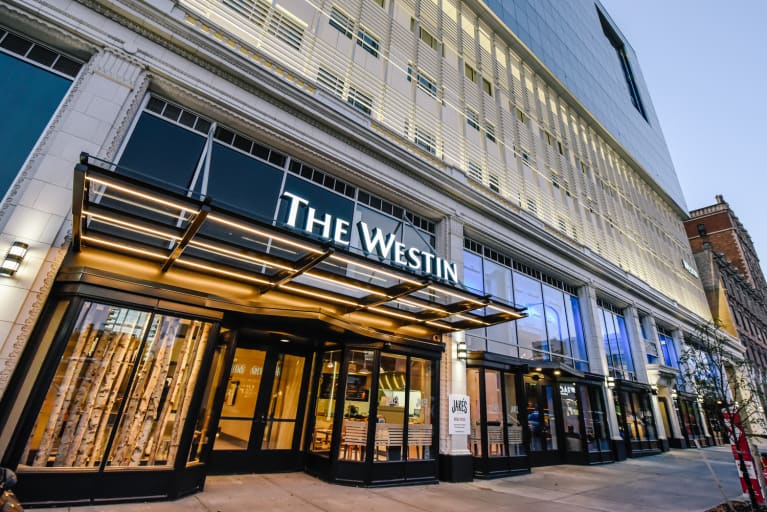 How Westin is using biophilic design to help weary travelers.
One of Browning's latest collaborations was with Westin Hotels, a brand that has been following the potential of biophilic design for years and is working to incorporate elements from it across its 200-plus locations.
"More and more brands in and out of the hospitality space are embracing biophilia as the gains in focus, creativity, productivity, and overall health become more commonly known, and as more companies try to break into the wellness space," Brian Povinelli, Westin's global brand leader, tells mbg of the design's appeal.
At Westin, they are using nature to both improve guests' experience and connect them to their destination. Take the Westin Hapuna Beach Resort in Hawaii, which now features a living wall that showcases the island's local flora and fauna and rooms with colors inspired by the surrounding beachside. Over in Buffalo, New York, the Westin "incorporates planted walls, soaring banks of windows and exposed wooden beams into its common areas and decorates its guest rooms with carpets, walls and art suffused with earthy tones and replicating patterns of nature."
Browning and the Westin team also focused on using biophilic design elements to promote better sleep. Alongside the brand's other snooze-promoting offerings (think: complimentary bedside lavender balm and bespoke Heavenly Bed) some locations will soon have lighting technology that mimics the sun at morning, noon, and night to tune up the circadian rhythm and combat jet lag. After all, studies show that just a weekend of camping under natural light is is enough to reset our body's internal clocks.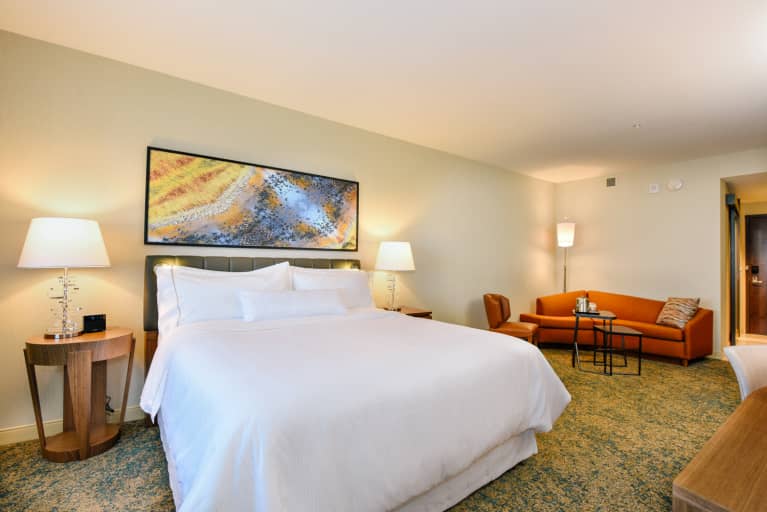 These touches exist in stark contrast to the often uniform and predictable designs you'd find in hotel chains around the world. In an often monotone field, there's plenty of room for creativity.
"When you come into the foyer of a hotel room, you typically have that lowered ceiling, a closet on one side and the bathroom on the other," Browning said to ring home the idea that most hotel rooms feel exactly the same. "But what if you put in a perforated metal screen on the ceiling instead, with LED lights behind it that produce shadow patterns like the dappled light that comes through the leaves of a forest? Wouldn't that feel more welcoming?"
As the health benefits of nature-inspired design become more abundantly clear, we're looking forward to a future where it's more common in the spaces that we eat, sleep, work, and play. After all, as Browning says, buildings are human habitats. Why shouldn't they be designed with our health in mind?