How Washing The Dishes Can Help You Digest Your Thoughts (As You Digest Your Meal)

Contributing writer
By Peter Miller
Contributing writer
Peter Miller is an author and contributor to Food52.com. He has also been a member of the Seattle Design Commission and an honorary member of the AIA.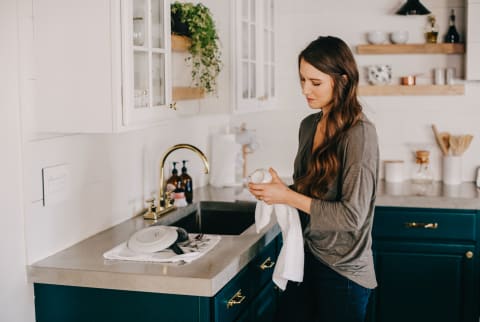 Image by Leah Flores / Stocksy
Our editors have independently chosen the products listed on this page. If you purchase something mentioned in this article, we may
earn a small commission
.
March 3, 2020
You will know your state of mind when you wash the dishes. Your care or your impatience, your attention or your distraction. You will see yourself, at that moment, clearly. It is not a task that draws a crowd. It is a solitary undertaking. And it has no instructions or even formats.
Depending on your personality, you might be pleased with the privacy or trapped with the isolation. The dishes may seem to be the ending of a meal or more like the trash behind the bleachers. The task may seem to be an honor or a burden. Whatever the case, you will see it, and you will see how you feel about it. In my experience, washing dishes can become a joy, a delight, and an act of grace and rhythm, as depicted in my book, How To Wash the Dishes. Here's how:
Advertisement
This ad is displayed using third party content and we do not control its accessibility features.
Doing the dishes can be meditative—profound, even.
The dishes typically are the less-than-romantic truth of a meal—the props left on the stage after a play has ended. They signal the pace, the intricacy, and turmoil of the meal, and the results of its performance. They can be pleasant or horrid, but the actors have moved on, and you have the cleanup. And you will think something of it.
You might feel you have better things to do, or you might imagine you are the best person for such a task, or you might wonder where to begin. Doing the dishes will tell you things. And if someone should join you, it will tell you things about them as well. It is a particular one-act play, with no audience but your own thoughts and some silverware.
Curiously, by the time I have finished the dishwashing, I always feel better than when I started. It can be a kind of digestive, to both the food served and the emotions of the day. I may approach the dishwashing from different directions, depending on my moods and my passions, but the dishes will always ask, "How would you like to handle us?"
That said, what should you keep in mind when dishwashing?
Washing dishes gives you many opportunities to make decisions. How you proceed, how you treat each piece comes out of a momentary analysis. There are plenty of chances when you are doing the dishes to use your head. If you know that the big pot was simply the only thing available to soak the muddy spinach, for example, then you know that cleaning it will be but a moment's task. Here are some guidelines to help.
Advertisement
This ad is displayed using third party content and we do not control its accessibility features.
Protect your dishwasher.
Your dishwasher has a strength—keep it fresh so it can cut through grease and do its work. Do not let anyone stack it with food-covered plates. For the most part, its task is to provide strong, hot, soapy water for rinsed silverware and the rest of the dishes, pans, and counters.
Make judgments.
Nothing can go well if the counter and sink are full of trays and pans. Decide what is what. A sauté pan may need soaking, but it may also only need a quick pass with a sponge to be clean. You must look and judge what things can be cleaned the quickest. What things will need elbow grease. A pan that only needs a quick rinse is, in a way, an advantage—but only if you recognize the advantage.
Advertisement
This ad is displayed using third party content and we do not control its accessibility features.
You cannot do the dishes without discrimination—in the best sense of the word.
You will make multiple decisions regarding value, condition, appearance, and performance. If you delay or fail to judge each piece, then you will have made your task much more difficult.
Bowls are a good example. They can come from several places, but oftentimes there will be a stack of different bowls needing to be washed. Some may be holdovers from making the dessert or the salad, soaking the vegetables, or mixing the pasta.
When you see four or five bowls of all shapes, sizes, colors, and uses waiting to be cleaned, you must judge them, rank them, and get them ready anew or get them out. Dish towels know perfectly well how to handle freshly washed bowls. Or you can set the bowls to dry, but not to wash, in the dishwasher. I never want the bowls washed in the machine; they take up too much room. As well, I typically need one of them before the dishwashing cycle is finished.
The plastic bowl for the salad spinner is an interesting character. It has a plastic strainer insert that is best cleaned immediately, before the greens can dry on its surface. If the salad spinner should show up with your dishes, it can, in a way, be helpful. It is not built for the longer-term rigor of dishwashing, but in certain cases, it can be a very good soap bowl.
Clear the sink. Clean the strainer, rinse it, and get it put away. Rinse the plastic bowl well, then fill it slowly with soap and hot water. It can now be your main center for the rest of the dishes. And it can always use a good scrubbing.
From
How To Wash the Dishes
by Peter Miller © 2020 Peter Miller. Illustrations © 2020 by Colleen Miller. Reprinted in arrangement with Roost Books, an imprint of Shambhala Publications Inc. Boulder, Colorado.
Want to turn your passion for wellbeing into a fulfilling career? Become a Certified Health Coach! Learn more here.
Advertisement
This ad is displayed using third party content and we do not control its accessibility features.