How Top Functional Medicine Experts Nourish Their Minds
mbg Health Contributor
By Gretchen Lidicker, M.S.
mbg Health Contributor
Gretchen Lidicker earned her master's degree in physiology with a focus on alternative medicine from Georgetown University. She is the author of "CBD Oil Everyday Secrets" and "Magnesium Everyday Secrets."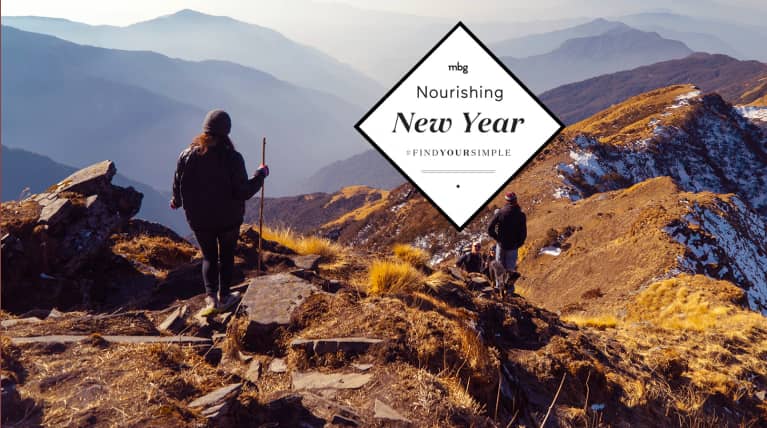 Our editors have independently chosen the products listed on this page. If you purchase something mentioned in this article, we may
earn a small commission
.
Don't you push yourself enough? This January, nurture yourself with Nourishing New Year. Instead of focusing on flaws to fix, this January we're nurturing ourselves back to balance with simple, grounding steps. For the next two weeks, mindbodygreen will share with you a story a day inspiring you with simple ways to nourish yourself, your community, and our world through eating, moving, giving, creating, and loving. Follow these common-sense principles along with us for the next two weeks and start the new year with a calm mind, connected spirit, and balanced body. Check out the full plan here!
When it comes to our mind, we can be really hard on ourselves. How could I have forgotten that detail? Why can't I just relax and have fun? I wish I could read faster, focus for longer, be more productive. This year, we're throwing out criticism and learning to be radically kind to ourselves. A great place to start is with the mind; after all, we can't be a good partner, friend, employee, or even human being if our minds aren't in a place of ease.
But where do you start? Admittedly, the world of mindfulness and optimizing mental health can be really overwhelming—especially if you consider yourself a beginner. That's why we tracked down some of our favorite functional medicine experts to ask them how they're nourishing their minds on the reg. What they had to say might surprise you and, better yet, give you some direction for infusing mindfulness into your own life:
A nice, long hike every morning.
Every morning, rain or shine, my four dogs lead me on a 2.5 mile hike. As we leash up (I'm not sure if I leash them or they leash me), my 85-pound female labradoodle gets this giant gleeful grin on her face, just like the look I had on my face the first day of early summer when my mother would tell me it was finally warm enough to go swimming or in winter, when school was cancelled and we looked out on a foot of snow ! Just centering on my dog's true joy in the moment, every day, as if they we doing this for the first time—or as if I was five years old enjoying life without preconceptions—always starts the day right. Channel your inner dog!—Dr. Steven Gundry, physician and New York Times Bestselling author of The Plant Paradox
Ultradian Rhythm Breaks and starting the day off slowly.
"I typically start my day with a simple mindfulness practice to get my mind in a good place. Rather than hopping onto a smartphone or email, or jumping right out of bed and into work mode, I take a minute to say one thing I'm grateful for and one thing I'm looking forward to that day. Then I shower and have a coffee or tea slowly rather than on the run. While sipping I start to think about how to pace my usually very packed days so that there is a balance of work and hitting pause. I practice something called Ultradian Rhythm Breaks. This means that every two-ish hours, I step away from my desk or computer and stretch, breathe, have something healthy to eat, get outside, or at least look out the window (it's negative 10 degrees where I live right now!). I make sure that all of my meals are mindful—I don't work through them. And believe me, I have a lot of work on my plate daily, but the amazing thing is that it's more likely to get done, and done well, with paced breaks. Similarly, at night I quit social media—and ideally all electronics—long before getting into bed. Instead, I read before bed and then when I finally close my eyes to sleep, it's with a meditation 'I am' said to myself on the in-breath, 'at peace' on a slightly longer exhalation. It all adds up to making mindfulness not an afterthought but a way of living." —Aviva Romm, integrative medicine physician, midwife, and author of The Adrenal Thyroid Revolution
Cold showers and meditation.
"I love to get a little bit of 'thermal' exercise every day. Sometimes that means taking a cold shower or simply stepping outside onto my balcony for a few moments in the winter. The sudden change in temperature is a perceived stressor on the body, causing a surge in the neurotransmitter norepinephrine, which is involved in mood, vigilance, and attention. Doing this instantly shifts my focus into the present moment. It's like an espresso shot of meditation!" —Max Lugavere, brain health expert and author of Genius Foods
Breathwork—and keeping alcohol consumption to a minimum.
"I nourish my mind in three ways. First I move. Yoga, while it's strengthening and detoxifying, is really my primary way to clear my head and find calm. Even if it's a 10-minute sun salutation at home, it almost always does the trick. Second, I meditate. That might be a '4 conscious breaths' practice where I inhale for four counts and exhale for four counts a few times, or it might be a longer sit based on visualizations and manifestations. It all counts. Finally, on a practical level I avoid alcohol. For me, as for many, alcohol is a trigger for low mood and anxiety. I make sure that four to five days per week are entirely alcohol-free. While I love to have a glass of wine, daily consumption compromises my positive attitude too much." —Robin Berzin, functional medicine physician and founder of Parsley Health
Meditation practice and trainings.
"Meditation has offered me much support over the years, and I try to begin each morning with about 20 minutes of it. Recently, I did a Vedic training with Michael Miller of NY Mediation Center, and it has really enhanced my meditation practice. I feel more adaptable to the way I am able to handle stresses during the day, and find that I am more present with patients, family and friends."—Frank Lipman, integrative medicine physician