How To Wash Your Wool & Keep It In Great Shape Over The Years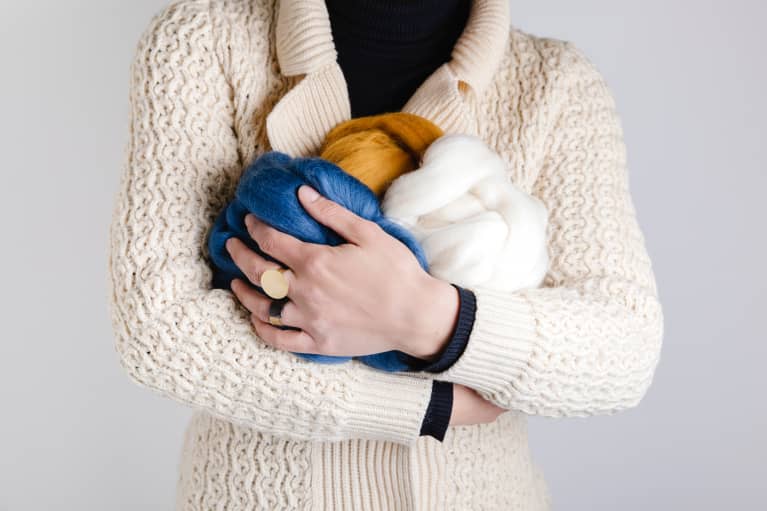 Our editors have independently chosen the products listed on this page. If you purchase something mentioned in this article, we may
earn a small commission
.
How often should you wash your wool?
Generally speaking, wool is actually fairly low maintenance because it doesn't need to be washed often. "Wool is naturally odor-releasing and antimicrobial," April Rodgers, with wool company Pendleton, tells mbg. To give it a spruce between washes, going over your wool with a lint brush and letting it air out between wears is plenty.
Dry cleaning is the most common way to give wool a deeper clean, and Rodgers suggests doing that once a season.
A number of brands now offer garments that can be hand-washed or machine washed. If that's the case with your wool, here are some top tips for doing so. As always, check your garment's care tag to make sure there are no specific instructions on there you're missing.
How to wash wool by hand:
Pretreat any stains by rinsing with cold water or seltzer.
Blot dry with a clean cloth.
Fill a tub or sink with cold water and specially formulated mild soap.
Wash garment gently in the water.
Remove from the water and dry. (Drying instructions below)
How to wash wool in the machine.
If you have a wool garment that is machine-washable, the tag should tell you the setting to wash it on. That said, Rodgers notes it's likely something along the lines of "machine wash, cold, separately, gentle cycle."
Some wool is made to be machine-washed using a process to seal the wool in a certain way, she says, adding, "These products are clearly marked and once washed cannot be dry cleaned and vice versa."
If you've washed your wool and need to dry it, Rodgers says you want to gently roll the garment in a towel, and then lay it flat to dry. "Keep it away from direct heat and sunlight," she adds.
Do's and don'ts to keep in mind.
Follow the care label.
Dry clean once a season, or wash it properly yourself if the care instructions allow.
Store in an airtight container to prevent moths.
Put in direct heat and sunlight.
Store freely without a container.
Wash with bleach.
How to keep your wool in good shape.
Wool is renewable, naturally wrinkle-resistant, and long-lasting. If you wash your wool once a season according to its care label, it'll be keeping you warm for winters to come.