8 Ways To Use Your Freezer To Save Tons Of Money & Be Way Healthier
Contributing Food Editor
By Liz Moody
Contributing Food Editor
Liz Moody is a food editor, recipe developer and green smoothie enthusiast. She received her creative writing and psychology degree from The University of California, Berkeley. Moody is the author of two cookbooks: Healthier Together and Glow Pops and the host of the Healthier Together podcast.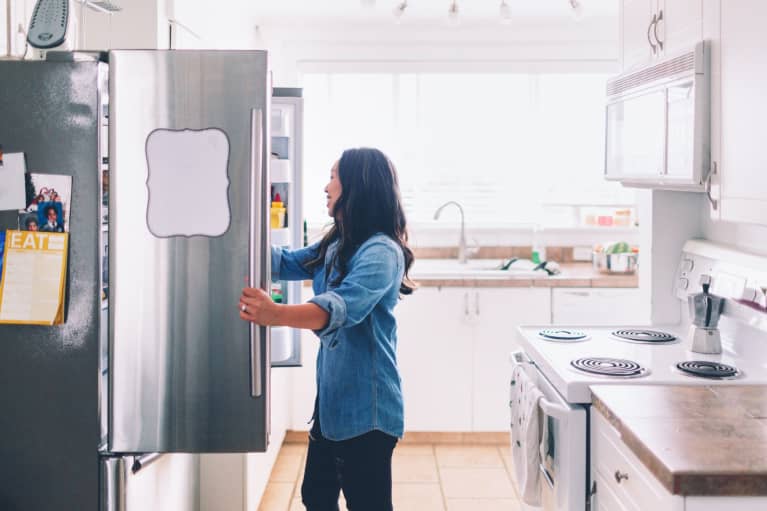 Our editors have independently chosen the products listed on this page. If you purchase something mentioned in this article, we may
earn a small commission
.
A freezer is a healthy cook's best friend—if you know how to use it right. In my tiny Brooklyn apartment, I actually purchased an additional freezer so that I could take advantage of its many benefits. Here are a few ways I use it to up my health ante and save tons of money:
Avocados are notorious for being rock hard until they reach a perfect window of ripeness—which lasts for about 20 minutes before they cross over into the land of mush. I love to use my freezer to make sure that all the money I'm spending on avocados isn't going down the drain. When your avocado is ripe, just scoop it into small chunks and freeze the chunks so they're not touching each other on a piece of parchment paper on a baking sheet or plate. When they're completely frozen, transfer the chunks to a Stasher bag (this way, it doesn't form one giant blob). While these avocados aren't ideal for toast (they retain a bit of liquid), they're perfect to add healthy fat and thickness to smoothies.
Whenever I make produce-centered dishes (aka every day), I save the vegetable scraps in a big bag in my freezer—think onion skins, carrot tops, sweet potato peels, and more. When the bag gets full, I make my own veggie stock by boiling everything with a big pinch of sea salt in filtered water for about an hour. After straining out and discarding the scraps, I have a delicious homemade stock that I'd otherwise have purchased. Speaking of...
We've all been there—you buy some stock or broth and use most of the carton for a recipe, while the remaining ¼ cup goes to the back of your fridge to meet its lonely demise. Instead of putting the carton remainder that you know you'll never use back in the fridge, pour it into an ice cube tray. When the cubes are completely frozen, pop them out and store them in a bag. You can use these little flavor bombs to deglaze vegetables, as a base for sauces, or to add a dash of umami to pastas or soups.
4. Buy frozen fruits and vegetables.
Many chefs stick their noses up at frozen fruits and vegetables, and while there's nothing like bright, bursting, just-picked produce, the former has a definite place in any healthy kitchen—and can help you save tons of money. Produce in the freezer aisle is flash-frozen just after being picked, which means it often retains more nutrients than its fresh counterparts, and despite its reputation, it's surprisingly versatile. You can make my favorite frozen vegetable soup or toss some frozen vegetables on a parchment-lined pan with olive oil and sea salt and roast it straight from the freezer. I also love making last-minute freezer tacos—I just grab whatever veggies I can find, sauté them up with some onion in a hot pan, add some pepper-packed spices and a can of drained black beans if I have it on hand, and serve in a taco shell. The perfect Tuesday-night dinner!
5. Buy healthier meat online.
Ah, the wonders of the internet. Sites like ButcherBox and Thrive Market have made it easy for anyone, regardless of location, to have access to high-quality grass-fed, wild-caught, and pastured proteins that can be hard to find in local shops (even for me, and I live in New York City!). Keeping a stash on hand in your freezer means you'll never have to wander the streets trying to track down grass-fed burgers for an impromptu barbecue night again. Hot tip: You can also cook meat straight from frozen in less than 30 minutes if you have an Instant Pot.
6. Keep your breads and tortillas in the freezer.
I love buying good-quality sourdough bread and having tortillas on hand at all times for tacos (see my freezer taco tip, above), but in a household of two, I rarely go through the entire bag before one gets moldy or stale. My solution? I keep pre-sliced bread and the tortillas in the freezer, then grab just the amount I need on any given night (for the tortillas, sliding a butter knife between the layers works wonders for separating without breaking them; the bread will typically pull apart with a good tug). No more wasting money on carbs I can't consume—plus, I'm far more likely to have what I need on hand for a random weeknight.
People always give me a strange look when I tell them that I freeze my greens, but spinach is one of the most commonly purchased frozen items. Yes, you won't want to use frozen greens in a salad (because they retain water when frozen, they'll be wilted and mushy if you simply defrost), but frozen greens are great for tossing into smoothies or soups to add an extra pop of chlorophyll (I've come home late from many a trip and been so happy that past me stored some greens for future me's smoothie, no sleepy shopping trip necessary). Just make sure your greens are pre-rinsed or washed and spun dry well, as they'll be almost impossible to wash once frozen.
8. Keep your freezer full.
Did you know that a full freezer is actually more energy-efficient than an empty one? Every time you open your freezer, it uses energy to re-cool itself after the cold air inside escapes and the warm air of the outside environment gets in. When your freezer is full, there's less room for the new warm air to penetrate, and the frozen foods already in the freezer help cool everything down again. Bottom line? By keeping your freezer full, you won't only be saving money on your grocery bill—you'll be saving it on your energy bill too.