3 Ways To Use CBD To Solve Your Change-Of-Season Woes
mbg Health Contributor
By Gretchen Lidicker, M.S.
mbg Health Contributor
Gretchen Lidicker earned her master's degree in physiology with a focus on alternative medicine from Georgetown University. She is the author of "CBD Oil Everyday Secrets" and "Magnesium Everyday Secrets."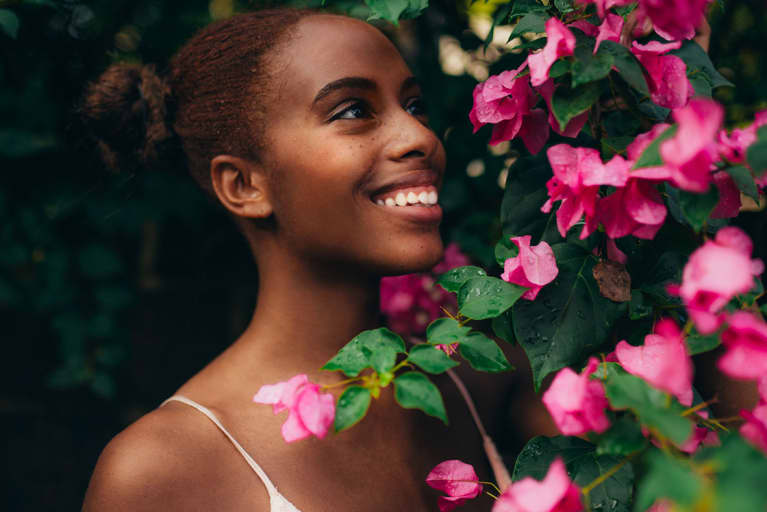 Our editors have independently chosen the products listed on this page. If you purchase something mentioned in this article, we may
earn a small commission
.
With the explosion in popularity we've witnessed over the past few years, there are now so many ways to use CBD. You can add it to morning coffee, put it under your tongue or in your bath, rub it on your skin, and even vape it using a vape pen (and that's just for starters!). It can be hard to know where to actually begin. What specific conditions can CBD help with? How do you decide between the different CBD delivery methods—not to mention all the different brands and specific products?
As the health editor at mbg and author of a book on the topic, I get these questions all the time. There's plenty of information out there on CBD's benefits but less on how to incorporate CBD into your lifestyle, beauty, and self-care routines in a practical way. So with that in mind, here are three ways to use CBD to combat super-common health woes that accompany the change of seasons.
1. CBD for dry or sunburned skin.
This time of year can feel like whiplash; one day you're out in a tank top in the park, and the next day it's 38 degrees and hailing. But don't worry, having some topical CBD can help combat any lingering dry winter skin and also reduce pain and itching if you get a little too ambitious and end up with a sunburn. There's limited research on topical CBD, but what has been done suggests it could be helpful in dermatology, especially for conditions characterized by dry, painful, or itchy skin. Definitely worth a try!
What are you waiting for? Get your hands on this Lord Jones High CBD Formula Body Oil ($68) or you can even use a CBD tincture, like this Bloom Farms' Balance All-Natural Full-Spectrum CBD Tincture ($65) and mix it with Manuka honey or aloe vera gel for some next-level sunburn relief.
2. CBD for puffy, inflamed eyes.
Spring is a pretty magical time of year. The flowers are blooming, the grass is green, and there's an undeniably exciting and infectious energy all around. Sometimes it seems like the only downside of this time of year is the seasonal allergies that plague so many of us. Hay fever can mean a runny nose, dry throat, and worst of all: itchy eyes.
The good news is that there are now plenty of CBD eye balms and serums that you can apply before bed or in the morning to help fight redness, inflammation, and itchiness. Try this Cannuka CBD Calming Eye Balm ($38) or Pure CBD Eye Serum ($32.99) and feel the relief!
3. CBD to bring your bath to the next level.
I've said it before and I'll say it again: This time of year can be hard on your body. We tend to be more vulnerable to the common cold and flu when the weather is changing. The good news is that a relaxing bath at the end of the day is a great way to give your body a little extra TLC, reduce stress, and increase your chances of getting a restorative night's sleep.
You can do this with an old-fashioned Epsom salt bath, but you can also take things to the next level by adding a CBD-infused bath salt or bath bomb, like these Vertly Hemp CBD Infused Bath Salts ($28) or Mary's Nutritionals Calm Bomb ($12) or Kush Queen Relieve CBD Bath Bomb ($13). Want a final expert hack? Add a few drops of eucalyptus oil (diluted in a tablespoon of carrier oil such as coconut oil or jojoba oil) to help open up the sinus passages. You'll be breathing easier before you know it!
When it comes to finding great CBD products, a word of caution. Not all hemp-based products are created equal. In fact, according to Christopher Gavigan, founder and CEO of prima, a company dedicated to increasing transparency and consumer education when it comes to hemp, "The fragility of the hemp and CBD marketplace is really big right now. The gap between consumer education and how to easily identify true quality is vast." This means that as consumers, we should be asking questions like Who's behind the brand? What capabilities, experience, and intentions do they have? Do they bring rigor to testing protocols? Is there full and complete testing transparency from verified labs? Are they testing for purity, potency, and meeting label claims? What about pollutants like glyphosate, pesticides, and heavy metals?
At the end of the day, with CBD and supplements in general, the responsibility falls on us, the consumers, to make sure we're buying from a company that's going above and beyond and really has our health in mind.