This Color Can Help You Stress Less At Home, According To An Interior Designer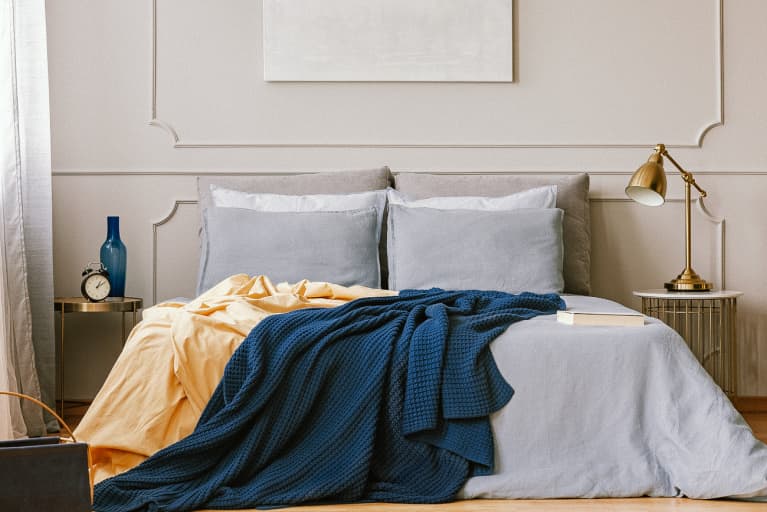 Our editors have independently chosen the products listed on this page. If you purchase something mentioned in this article, we may
earn a small commission
.
Love it or hate it, Classic Blue—a deep, rich tone similar to an indigo—is the color of 2020. The hue is more subdued than the Living Corals and Ultra Violets of years past, signaling that understated design might be poised for a comeback. "This enduring blue hue highlights our desire for a dependable and stable foundation on which to build as we cross the threshold into a new era," Pantone explains of the pick.
This choice makes sense given the overwhelm and burnout a lot of us are also carrying into this decade. As mbg forecast in our 2020 wellness trends, pure uninterrupted downtime could become more sacred than ever in the new year. Our desire for ease and simplicity seems to be carrying into our home décor choices too, and Alessandra Wood, Ph.D., a design historian and VP of style at online interior design service Modsy, says it's pushing us toward more muted, relaxed color palettes.
According to Modsy's most recent State of the Home trend report, "neutrals (78%) and blues (61%) are color palettes on the rise, likely reminding consumers of the sky and ocean, giving off super-soothing vibes to any space. At the same time, vibrant and aggressive colors decreased in popularity this year, likely due to the tumultuous news cycle, leaving neons as the least popular color."
Here are some of Wood's favorite ideas for using the color of the year to promote the relaxation we're all after, in your bedroom and beyond.
In the bedroom: Pair Classic Blue accents with rusty orange and terra-cotta touches.
The bedroom is an obvious place to bring in this calming and restful color of the moment. "If you'd like to go bold, try a blue accent wall," Wood says. "For a more subtle feel, weave in blue accent pieces such as rugs, art, and pillows." She adds that pairing these pieces with complementary colors like rusty orange and terra-cotta can add some nice contrast.
In the bathroom: Drape your walls in blue.
"The bathroom is a great place to introduce calmness. It's the perfect shade to help you de-stress in the bath or shower, or provide serenity while rushing to get ready in the morning," says Wood. Consider complementing white tiles with blue paint, or go the low-stakes route by hanging artwork that incorporates the color—like abstract blue shapes or photographs of the open ocean.
In the living room: Create a monochrome vibe with layers of different blues.
"This look is all about layering blues in the same family," Wood says. "Start with a blue base like your walls and bring in even more blue for the bigger pieces of your room like rugs, sofas, chairs, etc. Then tie the space together with mirrors, art, and clear coffee tables that reflect the hue around the room."