It's Shorts Weather: Here's A Supplement That Can Give You Smooth Skin All Over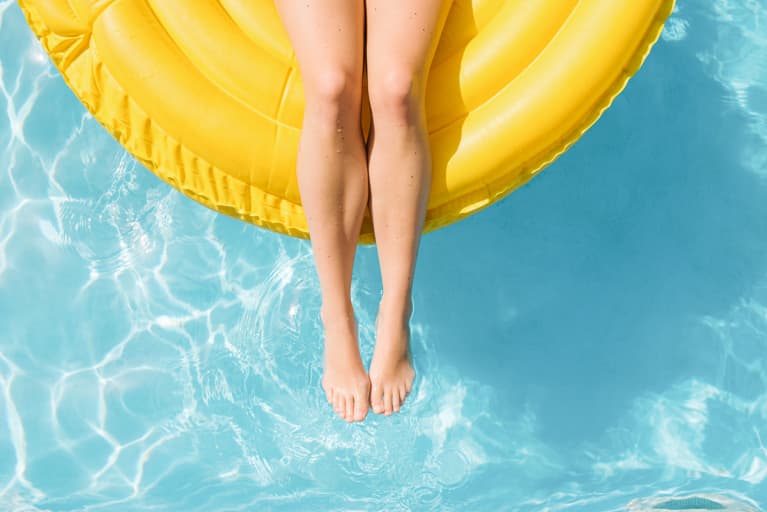 As we enter the perpetual heat wave that is the month of August, you may find yourself showing a bit more skin to keep cool. Those newly exposed limbs, first and foremost, require some extra love in the sun care department. But the TLC doesn't stop at sunscreen: Your skin may need a little more help to look soft and supple at the drying height of summer.
Whether you opt for classic cutoffs or an airy summer dress is more your jam, you may notice some scaling shins or cracked knees from seasons past. You can reach for lotions, oils, and the occasional exfoliant to help smooth things over, but consider this: You can also take preventive measures from the inside out, with hydrolyzed collagen supplements.*
How collagen can enhance your body care.
Perhaps you haven't really thought about collagen's role in body care. Understandable: The face receives most of the attention when it comes to skin care in general, even though we know body care is just as important to maintain. So, of course, collagen's benefits don't just stop at the shoulders; rather, targeted supplements support your skin cells at large, for soft, youthful skin head-to-toe.*
It does so by promoting your body's natural production of collagen and other molecules that help the skin stay firm and taut, like elastin and fibrillin.* That way, your body can better manage cracks and fragile, crepey skin (which tends to affect larger sun-exposed areas). Remember: Paper-thin skin isn't necessarily linked to old age; it's largely affected by a lack of hydration and diminished cell turnover, both of which you can manage by keeping your collagen levels up to par.*
Aside from keeping your skin firm, collagen supplements can even help support your skin's hydration levels: One double-blind, randomized placebo-controlled clinical trial found that participants' moisture levels in the skin were seven times higher than those who did not take the supplements.* And in case you're looking for an extra drench of moisture, mindbodygreen's grass-fed collagen+ also contains hyaluronic acid to support your natural hydration levels and promote plump, cushiony skin.*
That's not to say you should skip the cream or oil post-shower (tending to the outer layer of the skin is still important), but consider approaching smooth skin from the inside out, too. It's a one-two punch that can help you maintain a healthy-looking glow this bare-leg season.
Supplementing with grass-fed collagen+ can do so much more than support a glowy face—it promotes healthy, supple skin all over your body. A sound investment for skin-health, considering all it takes is a moment to stir the beauty-enhancing powder into your coffee.*