8 Easy, Healthy Dinners That Start With A Bag Of Salad
Contributing Food Editor
By Liz Moody
Contributing Food Editor
Liz Moody is a food editor, recipe developer and green smoothie enthusiast. She received her creative writing and psychology degree from The University of California, Berkeley. Moody is the author of two cookbooks: Healthier Together and Glow Pops and the host of the Healthier Together podcast.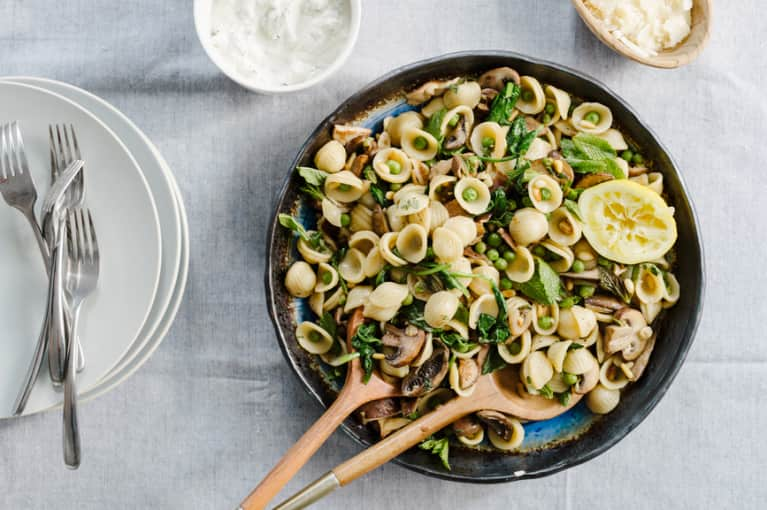 Bagged salad can actually be the base of a really healthy, filling meal—with a few simple tweaks. Here's how to use the grocery store staple to get a nourishing dinner on the table, stat.
Dice an onion, then sauté it in a medium pot with bit of ghee or coconut oil until it's golden brown and softened, about 10 minutes. Add in the greens and vegetable part of your bagged salad, setting aside any dressing, croutons, or nuts and seeds. Add vegetable stock to cover and simmer for 5 minutes, then transfer to a blender and blend until smooth. Garnish with a drizzle of olive oil and your croutons or nuts and seeds and serve.
For this, buy one of the prepackaged slaw-type salads, usually made of shredded cabbage, carrots, or Brussels sprouts. Dump into a bowl and add two eggs, a few spoonfuls of flour of your choice (I like rice or spelt), a generous shake of salt, and whatever dried herbs or spices you have around (garlic and onion powder, za'atar, thyme, basil—they all work great). Heat a medium frying pan over medium-high, adding in a bit of high heat oil (avocado and coconut are great) and warming until a bit of the batter sizzles when you toss it in. Drop batter by the spoonful into small pancakes and cook until golden brown on each side, about 3 minutes.
3. Make a healthier Caesar salad:
Buy the prepackaged Caesar and discard the dressing; that's probably the part that contains the least good-for-you ingredients. Make the salad and add a bit of pre-purchased, precooked pastured chicken or a drained, rinsed can of chickpeas, then whip up a healthier Caesar dressing. Mix it all together and enjoy!
4. Make breakfast for dinner:
In a small bowl, beat a few pastured eggs until scrambled. Heat a bit of ghee or coconut oil in a pan over medium heat, then add a handful of greens from your bagged salad. Salt generously, then stir until greens are wilted, about 5 minutes. Add in eggs and keep scrambling until eggs are soft-scrambled. Add pepper and eat immediately.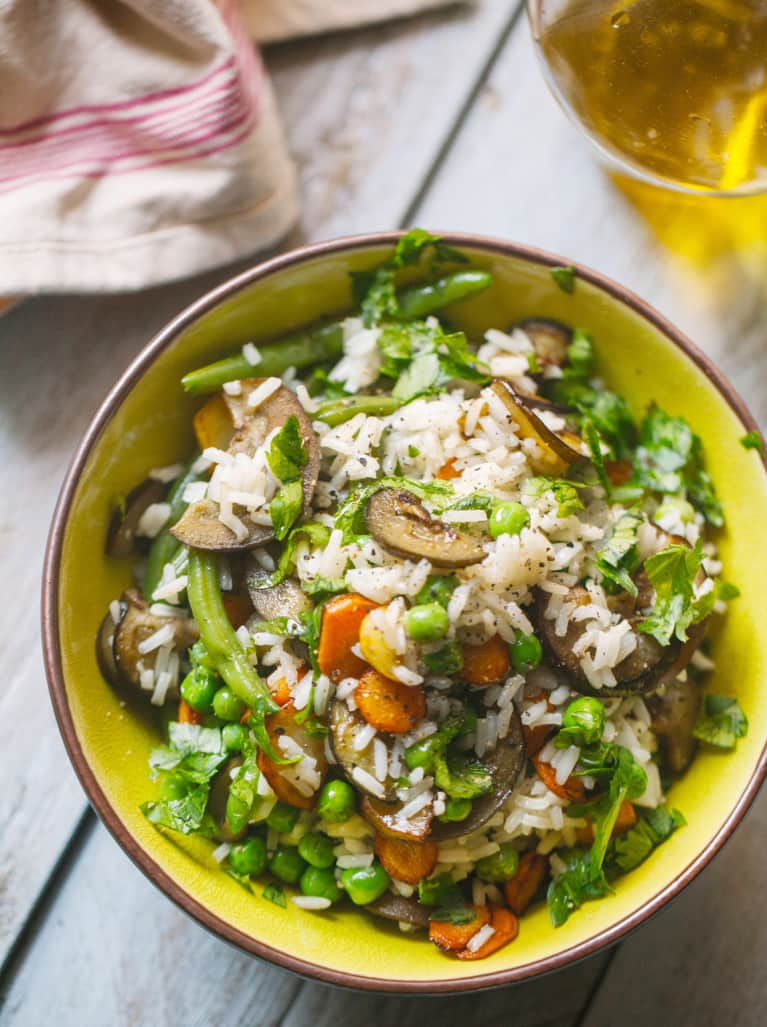 Buy one of the Asian-themed bagged salads and discard the dressing (are you seeing a trend here?). Whip up a serving of quinoa or rice according to package instructions, then sauté a diced onion with some ghee or coconut oil over medium heat until softened and brown, about 10 minutes. Add in contents of your Asian salad and cook for 2 to 3 minutes, or until carrots are just browning and greens are beginning to wilt. Stir in rice and let sit over heat for a few minutes, so rice gets crispy. If desired, serve with a fried egg on top.
Buy one of the Southwest-themed salads and discard the dressing. Heat up some black beans in a pot or in the microwave, then use the back of your fork to mash them with salt and garlic and onion powder, if you have on hand. Warm some tortillas quickly in a pan or over the burner, then spread on a generous layer of black bean mixture. Top with salad and cheese from bag. Add salsa, if you have some around, and serve.
Cook some spaghetti according to package instructions (we love ancient grain or quinoa pasta), being sure to generously salt your water, then drain and rinse, reserving about ¼ cup of the pasta water. Return to pan and wilt in a few handfuls of packaged greens (spinach and kale salads both work great here). Grate in some lemon zest, add a generous amount of freshly ground black pepper, a drizzle of olive oil, and the reserved pasta water. Heat over low as you toss until it all comes together, then serve immediately.
Beat 4 or 5 eggs, add a pinch of salt and pepper, then stir in bagged greens (most kinds will do), and pour into casserole dish. Cook at 375°F or until top is golden brown and frittata is set.