An Interior Designer Shares Her Favorite At-Home Upcycling Tricks
Interior Designer
By Laurence Carr
Interior Designer
Laurence Carr is an NYC-based interior designer recognized for her application of wellbeing principles and ancient techniques in high-end residential interior design. She is a graduate of Parsons The New School of Design in New York and a member of the Sustainable Furnishings Council.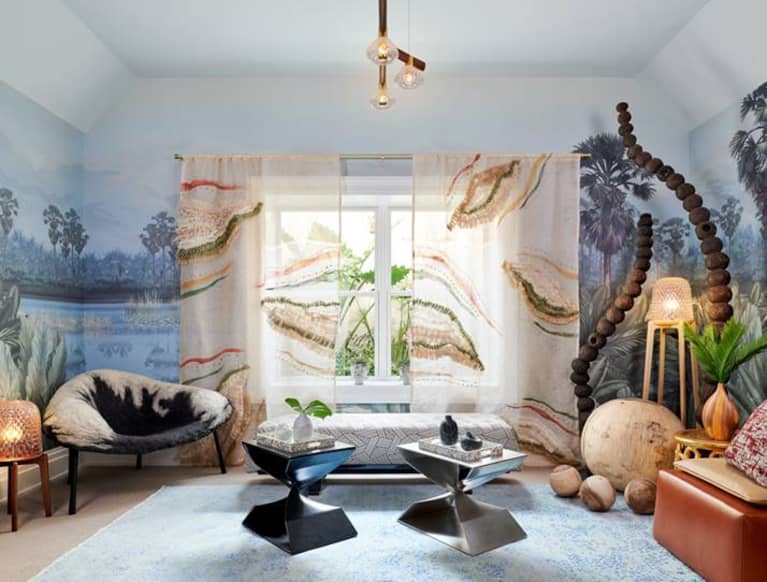 Our editors have independently chosen the products listed on this page. If you purchase something mentioned in this article, we may
earn a small commission
.
Have you ever heard of upcycling? It simply means reusing an object or a material in a way that creates a new value. (Think reupholstering an old chair or turning some sea glass you found on the beach into a piece of art.) While recycling requires breaking something down before it can be built up again, upcycling skips that energy-intensive process altogether.
As a holistic interior designer with a focus on sustainability, I practice upcycling with many of my clients, whether they have high-end homes or budget-savvy businesses. Here are a few of my tips of the trade for putting the eco-friendly philosophy into practice:
1. Reimagine existing pieces with new fabrics and finishes.
Sometimes, upcycling looks like giving pieces a new life and personality using fabric. For example, for a room I recently designed for the Hampton Designer Showhouse (pictured below), I started by upcycling a chair from earth-friendly vendor Coco-Mat by reupholstering it in Garrett Leather. I think it gives the chair a refresh that will make it an essential piece for many years to come.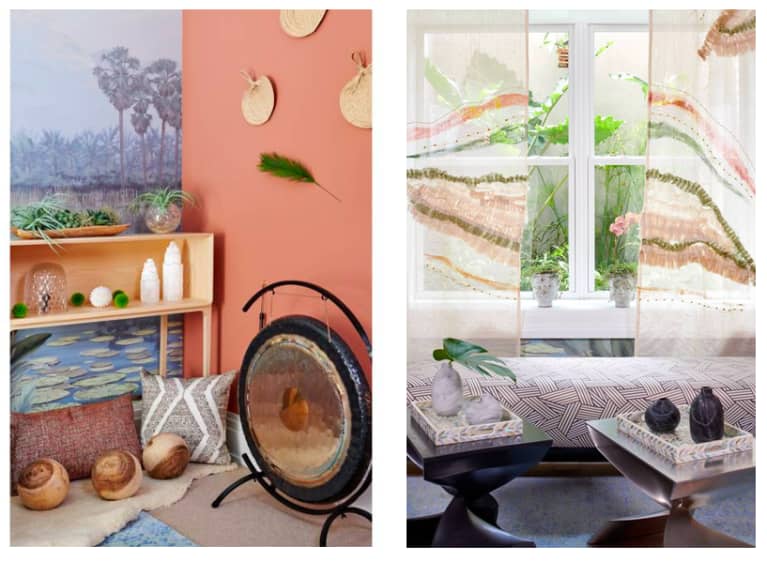 2. Don't underestimate the value of antiques.
Antiquing is a fantastic way to make sustainability more accessible. It's a form of upcycling, in my opinion, since it circumvents the need for new production and therefore avoids harmful byproducts like pollution and waste. I've found that antique pieces bring a special a sense of authenticity to a room and can make for great conversation starters. (Maison Gerard is my go-to for unique antique finds!)
On the other side of the coin, when you're refreshing your home, be sure to donate any pieces that will not be part of the new design so they can be loved again by someone else.
3. Get creative with old boxes and cans.
Cardboard boxes from online orders are everywhere, and they're relatively easy to turn into something beautiful. (Quick note: Always be mindful of how much you're ordering online, and be sure to consolidate your purchases into one larger order instead of impulse-buying individual items. That way, items will ship together in one box, saving material and carbon emissions.) Once you have your box, it's time to call on jute—one of my favorite materials. It can be purchased as string and wrapped around the box to cover the cardboard. Once covered, you'll have a chic storage piece for items such as toilet paper in a guest bathroom or small accessories in an office. This technique will also work on old plastic bins—maybe ones missing their matching lids.
Another easy upcycling project requires taking empty coffee containers (that held fair trade and responsibly grown beans, of course!) and covering them with a quick coat of paint. Voilà, chic planters for adding a biophilic element to your home. These are also great for displaying fresh herbs on a windowsill.
4. Repurpose things you've broken or outgrown.
For someone who just had their child outgrow a crib, the sides of the old crib can be easily upcycled. Take the crib apart (most are easy to disassemble), and use the side piece for a magazine rack or to store sustainable linens in your bathroom.
Many of us have sentimental china in our homes, and it can be heartbreaking when a teacup shatters. With your extra saucer, use it as a meaningful memory and upcycle it into a catchall dish. These can be used for delicate rings and jewelry, keys near your door, or holding a bar of handmade soap near your sink.
5. And remember to always, always be mindful when buying new.
Today, consumers are becoming increasingly interested in the origins of purchases like food, fashion, and beauty products. Researching and understanding where your furniture and accessories come from is also extremely important. I encourage people to look for reliable certifications like Oeko-Tex and the Global Organic Textile, or GOTS, on textiles and Greenguard on building materials and furnishings. The Sustainable Furnishings Council's website is also helpful when you're looking for vendors that meet sustainable certifications.
Trust me when I say that as consumers, each of us has the ability to change the market. When we invest in sustainable and green practices, we are harnessing that power by voting for our planet, which is also a vote for ourselves.