Do You Have Warm Or Cool Skin Undertones? A Celebrity Makeup Artist Explains How To Tell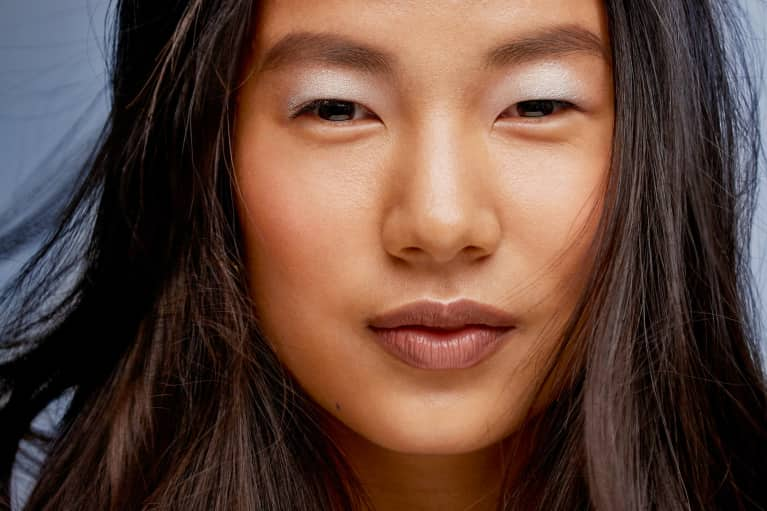 The world of foundation is overwhelming. Even though we're in an era when most makeup counters offer shade and tone matching, it's usually tested on your jawline—and while that particular color may be a good fit for your jaw, it can be the completely wrong shade or tone on other parts of your face. So often people buy the wrong color foundation because there's a lot of misinformation and misunderstanding about shades and undertones and levels. Being empowered to choose the right one can change everything—or at least help you ask the right questions.
There are a few variables to keep in mind if you're looking for a new foundation: shade, undertone, and texture. And the reality is that every single person will need something different. Mothers and daughters may be different shades. Sisters may have different undertones. Best friends will need different levels of emollience. The colors in your face—and in different parts of your face—are as unique and individual as you.
One more frustrating truth: There's no foolproof formula to figure out which tone and shade you are. There are a few tricks I'm going to share to help you determine if you're more cool-toned or warm-toned, but other than that, it's a game of trial and error. Beyond warm and cool tones, there's shade to consider—within each tone, there's a gradation of shades (the lightness and darkness of a tone). I know, it's confusing!
Interestingly, most foundations up until Bobbi Brown's revolutionary foundation line was debuted in the 1990s had pink undertones or were somewhat beige—rarely peachy/orange or yellow. And what I've learned as a makeup artist is that so many of us have orange or yellow (warmth!) in our skin, regardless of shade.
As a makeup artist, I use a variety of foundations in different shades, and frequently different undertones, on one face.
I switch up the textures between forehead, nose, chin, and cheeks. That's the honest truth. I wish I could say there was a one-size-fits-all solution, but that's simply not the case. Over the years, I've noticed that the telltale sign of a new makeup artist is when they use one foundation and/or concealer color on the entire face. In those situations, it becomes so apparent just how multi-tonal our faces are because when a mask of foundation is applied in one color to an entire face, a face becomes very flat. Sure, that's where contouring and highlighting can come in, but off camera—for the real woman in the real world—I'd much rather keep the number of products and steps used to a minimum and keep skin looking fresh and glowy, devoid of stripes of shimmer and dark tones brought in to create cheekbones.
One thing that's very important for me to get across: Foundation doesn't need to be worn like a mask.
Foundation doesn't need to cover every square inch of your face. Sometimes it's about covering up a bit of melasma, or a red nose, or acne scarring on your cheeks. If you choose the right shade with the right undertone and texture, you can cover what you want and leave the rest of your skin naked!
I've noticed that rosacea, for example, has become extremely common in the past 10 years. Someone might be peachy and yellow across most of their face, but the rosacea area is super pink. My Indian and Southeast Asian clients often ask me for help camouflaging the cool gray and purple tones around their eyes and mouth but won't need coverage on their warm-toned cheeks. I've had
many women of color tell me that most makeup artists don't know how to even out the deep, cool tones of their neck and around their eyes, while still keeping the warmth and the dimension in the rest of their face. These are just a few examples of how different skin tones and shades can (and do!) exist on the same face.
All of that said, here are tricks to help gauge your undertones.
One question you can ask yourself is whether you look better with gold and silver jewelry around your face. Most of the time, you will see a marked difference with someone who is warm-toned who wears gold earrings versus silver ones. The face tends to come alive, brighten up; it's an overall "Yup, that's the right color on you!" moment. Of course, this isn't foolproof—personal preference can interfere.
Another way to check is by looking at your wrists. The skin there is pretty thin and pale, and the veins are often more visible (if you can't see them there, try the insides of your foot). If your veins are more of a greenish color, you have yellow and warm undertones. Purple-tinted veins indicate that you probably have cool tones.
Foundation recommendations by undertone.
There are many consumer-facing products that can help with color-correction if that's something you're interested in achieving. Color matching with nontoxic foundation can be extremely difficult because most lines are still small and they're still figuring out who they are catering to. There has been a big void in the green beauty world with regard to shades deeper than medium. Most brands are still quite young and are working on expanding their ranges to include many more darker shades and tones. As things stand now, here's a quick guide based on my experiences with various "green beauty" brands:
Under-eye recommendations by undertone.
The under-eye is an area that will be different from your facial shade for most people. No matter what color the rest of your face is, the makeup we choose for this area in particular is meant to neutralize the purple tones that are inherent in almost everyone's under-eye, and something that has a peach or orange tone in it will do the trick to combat that hollow. Of note: If your skin tone matches your under-eye concealer, it's often not enough to cancel out the purple. It's hard to find the right shade to even under-eyes, especially when it comes to darker tones, so sometimes I'll mix conventional concealer with a green foundation to get a consistent finish while maximizing the amount of green beauty on the face. Here are some standout products I like to mix with green beauty:
Lancôme has a line of waterproof under-eye concealers that don't crease or move on the face.
Onomie's Bright Concealing Elixir has a peachy-orange undertone that neutralizes purple.
Laura Mercier's Secret Camouflage compact is designed specifically for the under-eye area. The compact has two colors: Half is peach, and the other half is yellow. Mix to match your own shades.