This Functional Medicine Doctor Has A Genius Policy For Talking $$ With Your Partner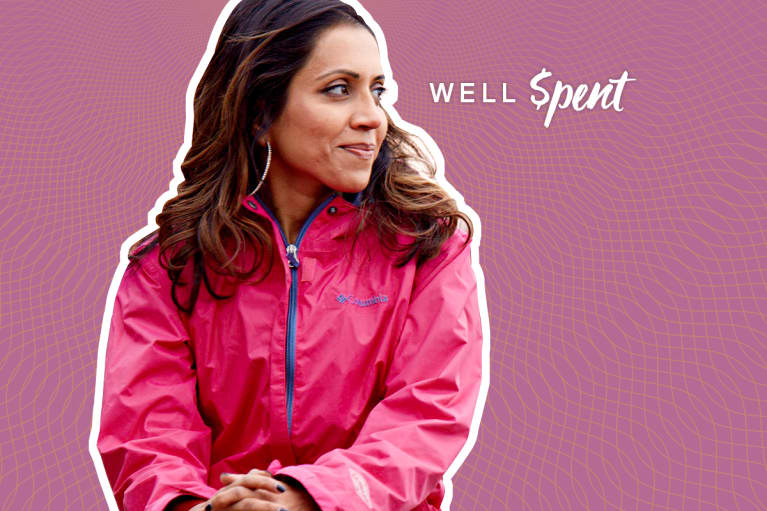 With an estimated 67 percent of Americans at least a little anxious about paying the bills, and 58 percent worried they won't have enough money for retirement, it's becoming increasingly clear that being financially well is an integral part of overall wellness. Of course, money management isn't one-size-fits-all, so we're talking to people from all walks of life to find out how they achieved a healthy relationship with their finances. We hope it empowers you to live a life Well Spent.
Amy Shah, M.D. is a double board certified doctor with her own practice that fuses Eastern and Western medicine, an mbg collective member, two-time class instructor, and featured doctor in our functional nutrition program. Basically, she's a total rockstar in the wellness space. But in this candid interview, Shah discusses one sore spot in her successful career: her finances.
For Shah, financial literacy came later in life, when she opened her own practice and was forced to pay attention to the topic she had shielded herself from for so long. Here, she reflects on what she wishes she had known about personal finance since the beginning and celebrates the money habits she's picked up recently that make all the difference.
What does financial wellness mean to you?
Being at peace with the now—"now" being the physical things you have, but also the people in your life.
What has your financial journey looked like?
I grew up in an immigrant family, and I think I was really shielded from finances growing up. My parents wanted to provide the best for me so my dad really made me feel like we didn't have any financial constraints—even though secretly we had a lot of them. Back then, I was really financially ignorant.
Through high school and college, I did a lot of charity work, tutoring, and babysitting, but I never really worked an actual job. Then came med school. My parents paid for my undergrad and when I got to med school, they were giving really low interest loans for students at the time. That was the first time had ever met with a financial advisor. I can't remember exactly how much the loan ended up being—probably close to $100K. My medical school was private, like $40K a year.
I remember I didn't get my first paycheck until I was 24, and I think it was a very difficult journey because I didn't know what it meant to pay back loans. Plus I was making very little money because I was still in residency and I had to to pay the bills in a New York City apartment. I basically defaulted to financial advisors, and then eventually my husband, to help me with all financial decisions.
Don't mistake financial literacy with greed.
I remember in 2010 when I started my practice, the financial advisor mandated that both my husband and I come to the financial meeting for the year. No joke, that was the first time I actually found out where our money was going, where the paychecks were going, where the investments were going.
I tell you the long version because I feel like a lot of women can relate. They have their dads helping them with their finances, and then they opt for a financial advisor or friend, and then they opt for their husband.
I think it took me a really long time because I was like, "Well, I don't know about that stuff, and I don't want to know about that stuff," and I kind of shielded myself from it. However, that really hurts you in the long run.
Now, in my practice, I'm now a partner and we get financial sheets every month with all of our expenses. To me, it looks like hieroglyphics. I literally need to have someone read it to me, but I'm making an effort to go through it every month, even if it's just 30 minutes.
What tips do you have for people who have debt or loans to pay off, like you did?
The best thing I did during that time was spend on experiences rather than expensive stuff. When you have money flowing in all the time, you can maybe do both. But I think when you have bills to pay off, the expenses that make the biggest difference in your life are the trips, not the material things. There are actually studies that have shown that planning experiences raises happiness levels—almost more than the experience itself. When you buy stuff, it's like you're happy for like one hour, or maybe one day, but it's not long-lasting at all.
It's not about green juices or the hot gym workout—that's all just the cherry on top.
What material things did you cut back on during that time?
I lived in NYC at the time and I was a runner, so instead of joining a gym I went to Central Park every single day. I also went to great lengths to go to the biggest farmers market with the best prices so that I could stock up on food for the week—I went to the Union Square one a lot. I incorporated a lot of wellness into my life in a very organic way, and I think that's what we have to remember. It's not about green juices or the hot gym workout—that's all just the cherry on top.
Is there one investment in health that you feel is really worth splurging one?
A Vitamix and a green juice machine! We have the Omega. I definitely had sticker shock with both at first, but my family has used them so much. Yeah, it's a huge investment in the beginning, but the amount of use that you'll get out of it is insane.
How are you thinking about your finances these days? What do you do look at during those 30-minute meetings every month?
I have my wellness practice and my medical practice, plus investments. I look at Paypal, Stripe, my bank account, and just spot check things. We pay everything online, which helps. Me and my husband have access to the account—everything is centralized and in one place. There's a lot of communication with my husband. I think in any relationship, the biggest problem when it comes to finances is that there's not enough communication.
For example my husband (who is also a doctor) will tell me, "Hey, I have to make this huge investment for my practice into this new surgery center." We'll have a conversation about where exactly that should be coming from. For us, if anything is $1,000 or more, we have to consult each other about it. That makes thinks really clear. I never want to see a surprise, but I also don't want to nitpick. I think it's important to establish what that "sizable amount" is with your partner.
How has having kids changed the way you and your husband look at finances?
I'm trying to instill the same tendency towards experiential spending into my kids. For example, for each of their birthdays, we do a trip together. We took my daughter to a Katy Perry concert with her girlfriends this year, and we actually took our family vacation to Ecuador for my son's birthday.
What's one money habit that you've developed over the years that you're really proud of?
There's two: One is communication. Like I said, I was financially illiterate growing up, so having more open lines of communication is something that I learned over the years, and I'm proud of that. The other thing is that food is my splurge. And I don't mean fancy restaurants. I really love amazing organic berries from Whole Foods. I love very dark chocolate that feels super fancy. I consider those splurges. Knowing that I'm splurging on something that makes me happy and healthy, and have a positive relationship with food, that to me is good. It not only brings you health; it also brings you joy.
If you could give your younger self one money tip, what would it be?
Learn it earlier. Don't mistake financial literacy with greed like I did. I used to have this idea that learning about my finances meant that I was only concerned about money. I had all of these blocks. It doesn't need to be like that.
What's the best money you ever spent?
When I was in medical school, I spent a sizable amount of money to travel to South Asia to learn alternative medicine. It was a hard thing at the time since medical school was already so expensive but I knew that getting an experience in ancient medicine was key. I was also able to bring a few boxes of donated goods—clothes and such—for people in need.