Parents: Here's How To Talk To Your Kids About Food & Weight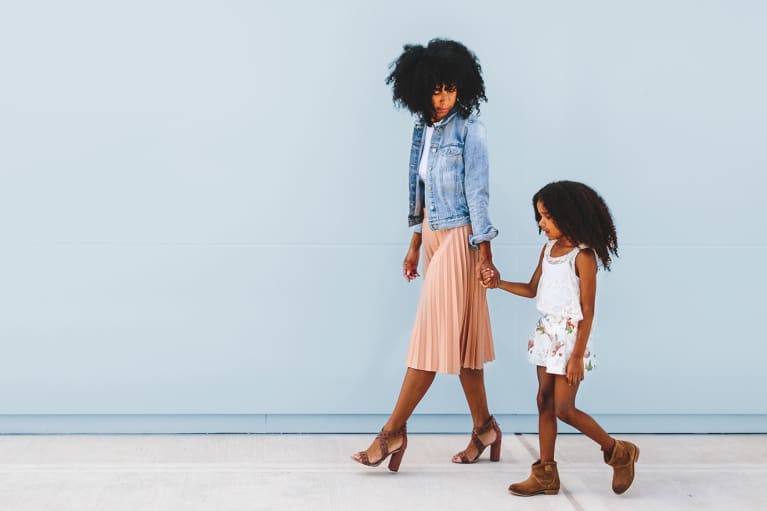 I've been on both sides of this conundrum and remember it well. I could feel someone watching me at mealtimes, peering over my shoulder, wondering what I was eating and seemingly taking notes, too. I turned around, and it was my friendly adviser. It wasn't the first time. I was a freshman at boarding school, and my mother was concerned that I wasn't eating enough, so she sent an adviser to spy on me at every meal. Though my mother's intention was good, and she did it out of love and concern, it felt invasive and distrusting.
Good intentions can lead to feelings of distrust.
That's my story, my very own mother, as nonconfrontational, kind, and thoughtful as she is, did something that seemed so hurtful and invasive to me as a young adult that to this day it still stings. My mother, like many parents, didn't realize what she was doing and the effect it would have long-term and simply acted because she cared and was concerned.
In my practice as a registered dietitian and nutritionist, I work with many kids, adolescents, and young adults to help with growth and development, sports and performance, weight loss and allergies, to name a few. I also work with their parents (usually separately) to help them build and promote a healthy relationship with food.
Conversation around bodies, food, and weight can be tough to navigate as a parent. Whenever I counsel families, it's usually prompted by parents and often comes out of frustration or difficulty communicating messages relating to food or weight to their children, or the child isn't making the food choices that the parent wants. Sound familiar?
Respecting boundaries and providing guidance is a delicate balance.
The pattern usually goes something like this: A child desires autonomy, but the parent usually wants to know everything and inserts comments and concerns wherever possible. We all know that parents get involved out of love, but often over time, their children can resent these remarks and their overall intrusive nature. Resentment can be a tricky road, one I've seen lead to hidden eating habits and behaviors in efforts to gain independence—something no parent wants.
In these types of scenarios, I ask parents to focus on helping the child to develop his or her own answer to "why" making good food choices is important. This involves helping the parent learn to allow space and independence for their kids to grow and learn and develop sense of self. I often also work with parents to help them with their own habits, which often helps more than parents think.
Here are six focus areas that can be helpful in prompting a more positive food dialogue between child and parent:
1. Practice what you (want to) preach.
One of the biggest mistakes I find with parents is that they don't practice what they preach. If you want your children to stop drinking soda, make good grades, start a new exercise routine—you have to set a good example. Show them a good work ethic, stop drinking soda yourself, and start a new exercise routine yourself.
2. Reward yourself in nonfood ways.
We adopt a lot of our emotional eating and coping habits from our parents. If parents have good eating and coping habits and skills, we often do too. If our parents use food as a coping mechanism, we often do too. So, parents, take a look at your own food habits. It's easier said than done, I know.
Try to resolve (yourself or by working with a therapist, dietitian, or other qualified health professional) emotional eating and start working on building good coping skills yourself—exercise classes, manicures, a hot bath, and engaging healthy social activities. It all helps, and your kids will start to follow these. Trust.
3. Don't scrutinize what your child is eating.
Every once in a while, we all need a reminder to make better choices. That's healthy. But if you continue to harp on it, it's only going to create a rift in your relationship and can actually backfire.
Instead of harping for the 11th time, take a breath and focus on other things with your kid. Giving her some autonomy can be helpful, especially if she knows you're there to support her, not to judge her.
4. Try to find mutually fun activities to do with your kids.
Find activities to do with your child that you both enjoy doing, especially for teens and adolescents. One of the biggest mistakes that I see parents make when they're trying to get their child to exercise more? They force them into a team sport he doesn't like and/or repeatedly schedule exercise classes to do with their child, even when their child hates them.
Forcing exercise (or cooking classes, for that matter) may not bring you closer and, in fact, may cause greater issues with trust and happiness in the relationship. Don't force it! Invite them to explore fitness and food, and let them know you're there to join in should they ask.
If you want to teach your children to cook or to prepare food healthfully, find the easiest way into the conversation. Asking a child to help you make a chicken dinner when you know they really love to make desserts may be counterproductive. Instead, you can try asking them to make something you know they're interested in—especially the first time or so—and find a way to make it healthier, giving them tools and techniques. When they're having fun, they'll be more receptive.
With younger kids this is easier, but with older children and young adults, try to engage based on what you know they'll enjoy. If you find friction in the conversation with your kids, let it go and revisit at a later time.
6. If your child really needs to lose weight, help with these holistic, homemade food tips.
Simply offering healthier snacks and getting the whole family more active are huge, holistic, and healthy steps to getting a body in good shape. Of course, how we handle weight loss depends on the age of the child, but if your child hasn't come forward for help or made any comments, do be careful with how you address it.
I see so often that parents want to help their children through suggesting (verbally) that the child eat less or make better choices, which sometimes works but other times can backfire. It's always a good idea to involve a professional when working with kids—parents always have the right intention, but weight loss conversations and strategies at home can be tricky! But if you need a fix, I usually recommend cutting down on sweets and adding in fruits, veggies, and fiber to their diets.
This conversation takes time. Keep working at it, and don't give up! Work on yourself in the meantime, it'll be helpful to all aspects of your life—but especially your kids. It's one of the most powerful things you can do.
My message to moms and dads is that you have more influence than you realize, and forcing the issue usually makes it worse—especially with girls. Try to take a deep breath; focus on your love for your own body and your own food choices. If you need help, reaching out to ask for it is a great behavior to model, too—showing them there's no shame in getting help is a great place to begin.
For more parenting guidance, check out Dr. Terry Wahl's article on how to raise polite, mindful, and responsible kids.