How To Initiate A Conversation About Sexual Desires, According To A World-Famous Relationship Expert

Psychotherapist & Author
By Esther Perel
Psychotherapist & Author
Belgian psychotherapist Esther Perel is the New York Times bestselling author of The State of Affairs and Mating in Captivity. Her celebrated TED talks have garnered more than 20 million views and she is also the host of the popular podcast Where Should We Begin?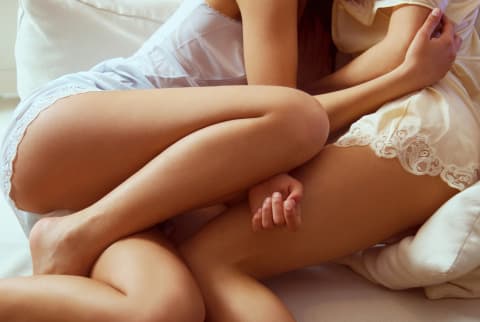 February 13, 2018
This Valentine's Week, we're setting aside time to honor our relationships with advice from the ultimate expert on love, pyschotherapist and best-selling author Esther Perel. Whether you're single or in a partnership, spending a few extra minutes expanding your knowledge on romance through writing exercises and thoughtful conversation will set you up for a mindful, loving day that will leave you with a greater understanding of love and connection.
Advertisement
This ad is displayed using third party content and we do not control its accessibility features.
When was the last time you had an open, honest conversation about your sexual wants and needs? If it's been a while, I don't blame you: Expressing what you want without coming off as critical isn't exactly easy, and knowing when to have these conversations isn't easy either.
Key turn-ons for men and women.
Men and women receive conflicting messages. Women are constantly told that they need to be more bold and assertive about their turn-ons, but that's a lot more easily said than done. Women will often tell me they like to linger in the pleasures of foreplay and actually enjoy it more than the act of sex itself. They often want their partner to slow down, and many women say they'd like to communicate to their partner how to slow down, but they don't know how to do it without sounding critical.
And interestingly, neither men nor women are exactly in tune with what turns them on. For most men, the main turn-on isn't the act of sex itself; it's the woman enjoying it. For women, they feel most attractive when they are the turn-on for the man. Women are traditionally caretakers who put others first, so nothing makes them feel sexier than stepping out of that role and being desired by their partner.
Advertisement
This ad is displayed using third party content and we do not control its accessibility features.
The problem with the female orgasm.
Because women are natural caretakers, it's easy for them to set their own pleasure aside in favor of meeting their partner's needs.
Women worry they take too long to climax, and that's where the care-taking instinct kicks in. Once her partner reaches orgasm, women typically give up on their own pleasure. This is the sad piece, because women are having more sex than ever, and yet they're faking their orgasms too often.
How to communicate your sexual wants and needs.
While communicating your needs may feel more natural while the act of sex is happening, it's actually best to have this discussion outside the bedroom, while also letting your partner know how much you appreciate him or her. Couples who thrive sexually have the ability to speak about this stuff openly, so try to make that a habit.
And while you're in the bedroom, there's a lot to be said for nonverbal communication. Don't be afraid to guide your partner in one direction or another—that's a way to show them what you like without harsh wording that can feel like an insult in the moment. Before you know it, your sex life will be better than ever. So give it a try.
This advice comes directly from Esther Perel's mbg class, The Essential Guide To Sparking Your Erotic Intelligence. For more wisdom from Perel, try this exercise on love versus desire.
Advertisement
This ad is displayed using third party content and we do not control its accessibility features.

Esther Perel
Psychotherapist Esther Perel is recognized as one of the world's most original and insightful voices on personal and professional relationships. She is the bestselling author of Mating in Captivity: Unlocking Erotic Intelligence, translated into 26 languages. Fluent in nine of them, the Belgian native now brings her inclusive, multicultural pulse to The State of Affairs: Rethinking Infidelity.
In a cover story, The New York Times named Perel the most important game changer on sexuality and relational health since Dr. Ruth. Her two critically acclaimed viral TED talks have reached over 16 million views in under 3 years and she has consulted on the award-winning Showtime drama, The Affair.
In addition to Perel's 34-year private practice in New York City, she is a licensed marriage and family therapist, an AASECT certified sex therapist, a member of the American Family Therapy Academy, and of the Society for Sex Therapy and Research.
Learn more at EstherPerel.com or by following @EstherPerelOffical on Instagram.
Read More