Why Minimalist Vacations Make Us Happier — According To Science
mbg Contributor
By Cyrena Lee
mbg Contributor
Cyrena Lee is a freelance writer based in NYC and Taipei. She has a degree in Anthropology from Barnard College.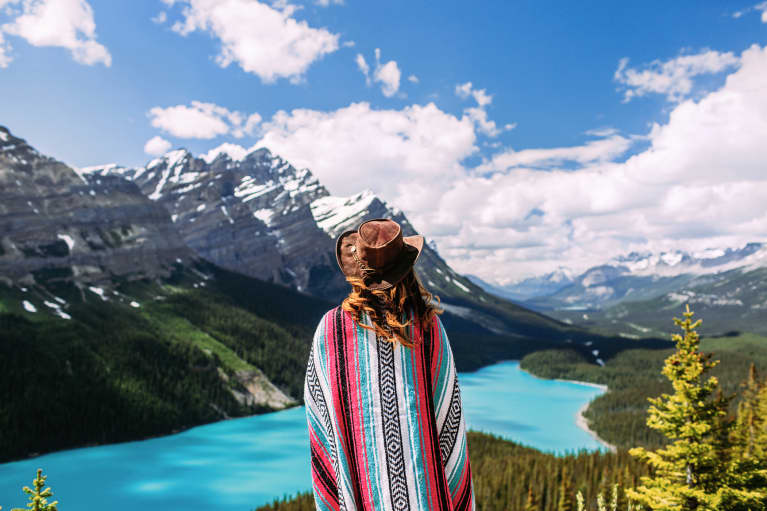 Our editors have independently chosen the products listed on this page. If you purchase something mentioned in this article, we may
earn a small commission
.
These days, it can seem like every minute is scheduled, structured, and optimized for productivity. In an ironic twist of fate, even our vacation planning can be stressful, and sometimes we need a vacation from our vacation. Minimalism has surfaced as an elegant solution to the capitalism-fueled productivity craze—and it can help with our time off, too.
According to Jon Staff, the founder of Getaway—a company that allows you to book weekend sojourns in tiny houses with no Wi-Fi and lots of stargazing—we've forgotten what it's like to be bored. "Everyone is a work martyr, and our goal is to get people to disconnect," he says.
Part of the inspiration for starting Getaway was to solve his own problems with being constantly connected. Once, when taking a college physics course, his class was asked to live without their cellphones for 24 hours. He found the result to be a liberating freedom and focus, which he seeks to recreate with minimalist vacations. In his opinion, the trend of the "less is more" philosophy is one that our crazy-busy society deeply needs.
With the rising popularity of services like Workaway, which allows you to travel and volunteer in exchange for lodging, and Airbnb Experiences, where you can book activities that are designed and led by local hosts, it's clear that travel is becoming more about experiences than indulgent food or luxury accommodations. And research supports this preference for memories over material, finding that buying experiences, not possessions, can lead to greater happiness.
Here are a few top tips for having a restorative minimalist vacation:
1. Pack only one core outfit.
Even if it's tough to emulate Barack Obama or Mark Zuckerberg in your real life, you can give their minimalist fashion sense a try on your next vacation. Cutting down on the amount that you pack means giving yourself a break from the stress of outfit planning. By choosing to just wear a variation of the same outfit or two every day, you'll free up that mental energy of what you're going to wear, saving you from decision fatigue.
2. Limit the number of photos you take...
There have been too many times when I've been on vacation, looking at a spectacular sunset only to find myself (and everyone around me) desperately taking dozens of photos, trying to score that perfect 'gram. A recent study on Australian families found that vacationers took an average of 77 photos a day, and holiday-goers spent so much time on their electronics that they were less likely to live in the moment.
3. ...or don't take any photos at all.
Challenge yourself and don't take any photos at all. Write or sketch your memories in a journal instead. Once, I was babysitting in a beautiful apartment in Paris, in the time before iPhones, and as the kids were sleeping, I sketched the detail of the rich interior into my journal. Even though I have no photo of that apartment, I can close my eyes and imagine it now, even without looking at my loose sketch, because of how present I was when observing the details of that moment.
4. Place your phone on permanent airplane mode.
This one seems obvious, but it's worth stating: Try going without your phone for an extended period of your time away. Maybe start by shooting for 24 hours and see what happens. If the idea of it freaks you out—even more reason to try! I was recently in the South of France with no connection and didn't use my phone at all; it was amazing how quickly my brain and body shifted from instinctively reaching to constantly check if I had some sort of notification to just being in the moment.
5. Focus on meaningful connections over activities.
If you're visiting friends and family, try to really be present with them. Don't worry about planning activities or seeing a movie. Instead, maybe even pull out The Book of Questions and engage in a deep conversation to learn things about them you might have never asked before: What scares them the most? What kind of superpower would they choose?
6. Wander as much as possible.
Forget Google Maps. Forget Yelp reviews and social media. Just go and explore and find yourself in a new situation. Ask strangers for directions and recommendations on what to do. When everything is planned in advance, you leave little room for fate to intervene.
Go and get lost; you just might find something you didn't expect.
Doesn't this make you want to check into an off-the-grid Airbnb or glass cabin in the middle of the Nordic woods? Us too.