Cooking Tips To Help You Use Up Every Bit Of Your Fall Farmer's Market Haul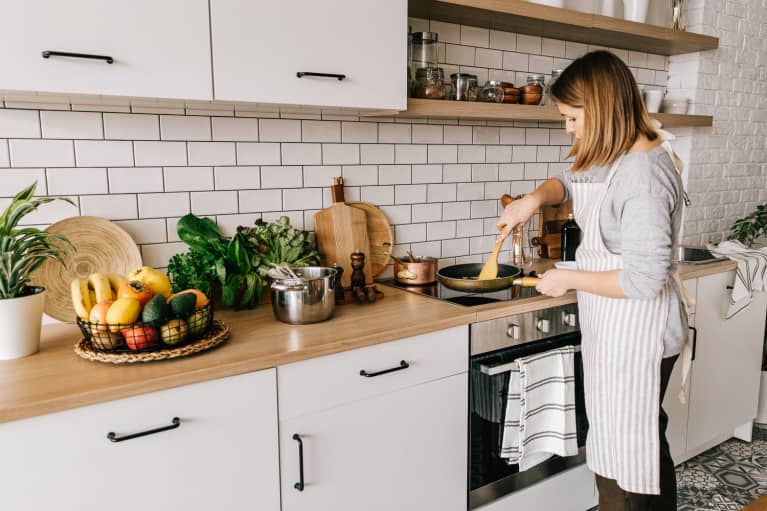 Crisp fall vibes are in the air, and squashes and root vegetables are spilling off of tables at the farmers market. You know what that means: There's no better time of year to step up your meal-prep game. Soups and stews made with the season's hearty produce are perfect for making in big batches and enjoying throughout the week, and salads made with sturdier fall greens like kale and chard hold up beautifully in the fridge.
As you're enjoying the season's bounty, it's important to remember to enjoy all of it. Forty percent of food in the United States typically gets wasted, after all (that's more than 20 pounds of food per person each month!). We can all help prevent this waste in our own kitchens by using up ingredients that usually get thrown away. Here are some of my favorite recipes and how-to's for prepping your fall produce from root to stem.
Squash: Save the seeds and peels.
Hard squashes like butternut, pumpkin, and kabocha are plentiful this time of year, and their sweet flesh can be enjoyed roasted, steamed, sautéed, puréed, and stirred into soups and stews. But make sure you save their seeds and peels!
To bake squash seeds of any variety, I like to boil them for 10 minutes before roasting them to make them crispier and easier to digest. You can season however you like and snack on 'em all day long, or blend them in a food processor for a creamy nut-free butter.
There's no need to peel softer-skinned squashes like acorn and delicata since after cooking they will be tender and ready to eat. Tough-skinned varieties like butternut and kuri are better sans peel, but no need to toss those scraps—adding them to a veggie stock provides a subtle sweetness that complements autumn soups and stir-fries. Store any skins, stems, stalks, and leaves you might otherwise be inclined to throw away from your produce prep throughout the week in an airtight container in the freezer, and when you've got enough saved up, simmer it all in a versatile broth.
Carrots: Blend up those tops.
There is so much more to this lunchbox favorite than sticks for dipping in hummus. When you're shopping, look for carrots with their tops still intact—they will usually be fresher than those without tops, and you'll be getting two tasty ingredients for the price of one. You can use the nutritious, subtly bitter greens as you would any herb. This pesto is a delicious place to start!
Unpeeled carrots are perfectly edible, but if you prefer the taste of peeled ones, you can still make use of the leftover skins. They're great in soup stock, or you can get a little more creative and add them to a vegetable-based quick bread like this chocolate chip zucchini loaf. To use the whole plant in one go, try out this truly root-to-stem recipe for carrot soup.
Greens: Keep 'em in the fridge.
Stems of dark leafy greens like kale, chard, and beet greens are the unsung heroes of fall meal prep. They will stay fresh in the fridge even longer than the leaves, and there are so many ways to enjoy them. Tone down the toughness of thicker stems by blanching or steaming them. Stems really soak up the flavor of whatever you're cooking with, so a garlicky sauté is particularly tasty.
As for the leaves, I recommend rinsing then wrapping them in a slightly dampened dishcloth and refrigerating the whole thing in an airtight container. Use them throughout the week in salads, stews, curries, or anything else that could use a boost of green.
Broccoli and cauliflower: Play around with the stalks.
Broccoli and cauliflower florets might be more photogenic than their stalks and leaves, but don't underestimate these less celebrated crucifer parts. Both can shine in all sorts of recipes. Slaw them, steam them, rice them, pickle them, fry them, roast them—the options are virtually endless.
Citrus: Use up the pile of peels.
Citrus fruits are at their best in the cooler months, and you'll find me eating mandarins by the crate come November. Use up the pile of peels by making the freshest smelling DIY cleaning spray. You can also dehydrate citrus peels in a low-temperature oven and use them to add brightness to your cooking all year long.
This fall, challenge yourself to get a little more creative in the kitchen and use up every part of the produce that you buy. Minimizing how much food you send to the landfill conserves natural resources, reduces greenhouse gas emissions, and saves you money. Our individual actions add up to meaningful change—less wasting, more feasting.