Engagement Season Getting You Down? Here's How To Stay Strong & Open Your Heart
mbg Contributor
By Leigh Weingus
mbg Contributor
Leigh Weingus is a New York City based freelance journalist writing about health, wellness, feminism, entertainment, personal finance, and more. She received her bachelor's in English and Communication from the University of California, Davis.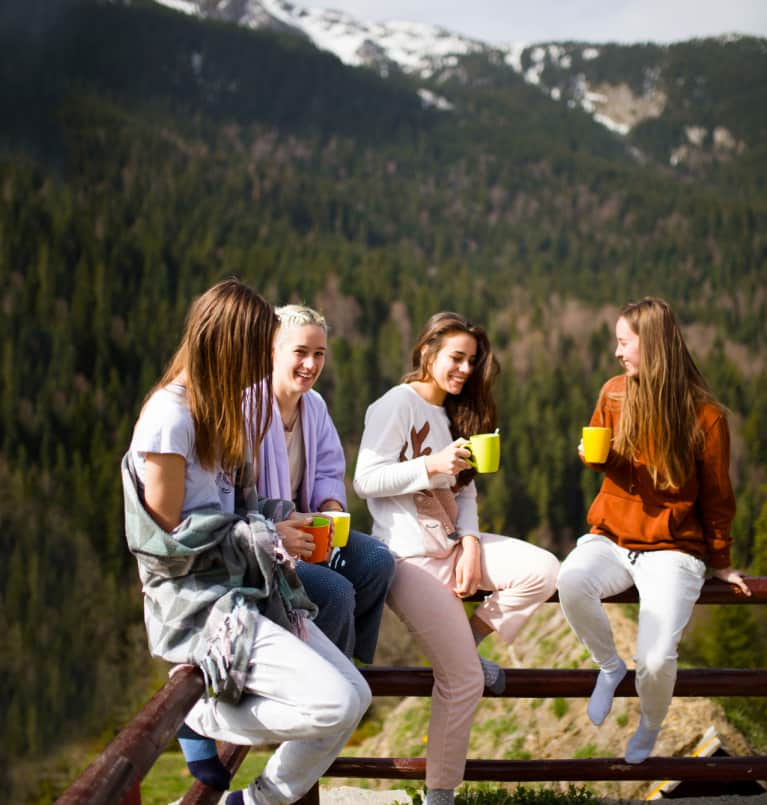 If you feel like your social media feed is flooded with endless photos of sparkly rings and the smiling faces of your coupled-up friends in the weeks between Thanksgiving and New Year's, it's not all in your head: 33 percent of engagements happen in that five-week period.
While there are more single people than ever and there's a lot of research to back up the benefits of being single, for those wishing for a partner, the barrage of proposals can accentuate feelings of loneliness. Luckily, there's a lot you can do to stay sane during this time. Here's what the experts suggest.
Bond with your single friends.
Ahead of "engagement season," get in touch with your single friends and make plans to fill the festive holiday weeks with fun activities. "Go to breakfast or hiking with a friend, go to the movies with friends, or invite a group over and watch movies and cook," suggests Sameera Sullivan, founder of Lasting Connections. "Don't stay in the victim mentality because you're single—enjoy life. Every moment that you spend ruminating about being single is one you'll never get back."
Take advantage of being single and take some of the time you have off during the holidays to do a little bit of work on yourself. "I encourage you to take this time to do the most important inner work you can do, which is learning to love yourself," says relationship expert and mbg class instructor Sheryl Paul. "The more you learn how to truly love yourself and the more you feel whole and loved within, the better chance you have of attracting someone amazing. And you can start right now by letting go of any self-judgments you might be having about yourself regarding still being single and instead bring compassion and kindness to whatever feelings you are experiencing."
Notice your thoughts and feelings, but don't judge them.
Jennifer Taitz, certified clinical psychologist and author of How to Be Single and Happy, cautions against pushing negative thoughts away. "It's important to take a step back and notice your thoughts and feelings without judging them," she says. "For example, if you have the thought, "I'll always be going to other people's weddings alone," you can see that as a mental event, not an accurate prediction of your future, which is only guaranteed to make you feel worse right now.
She also notes that it's important to practice normalizing these emotions. "Even feelings like envy—it's important to normalize those," says Taitz. "Feeling sad that you're not in a relationship makes a lot of sense if you deeply want one. But when you judge envy or sadness, then not only do you feel that pang, you also feel guilty."
Part of validating your feelings, argues Taitz, is to offer yourself positive, soothing words of encouragement. "If you say to yourself, 'of course it's hard to go to a third engagement party this month when I haven't been on a second date this month," you can notice, while making sure that instead of drowning in self-pity, that you purposefully plan an activity that will help you take good care of yourself—like trying a new gym class or making plans with a friend."
Celebrate all the time you get to spend by yourself.
Your single days may not last forever. Spending time alone is a gift, so appreciate it while you have it. "Take a vacation where you turn everything off and check out," suggests Sullivan. "Go to a yoga or meditation retreat by yourself, or spend some time on a peaceful beach. If a vacation isn't within your budget, go explore the city you live in by yourself. You may be surprised by how much you haven't done yet."
Engagements on your mind? Consider whether or not you would pay for your own engagement ring.