8 Ways To Make The Most Of Dating In These Weird Times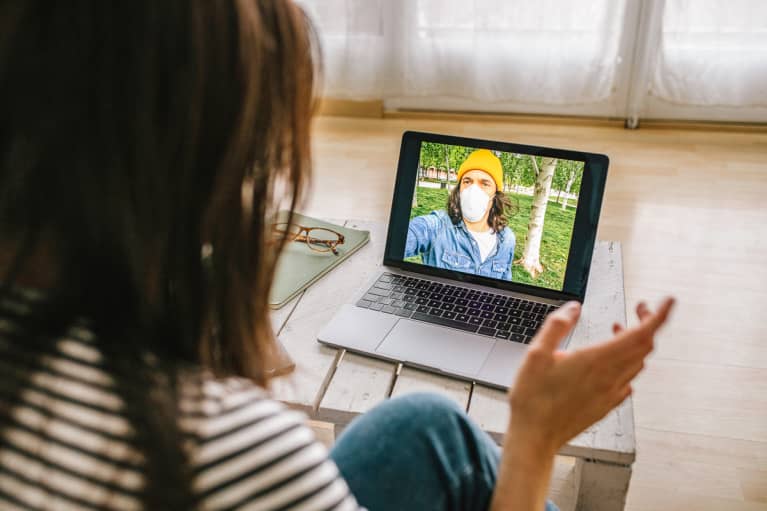 Dating is hard enough as it is without a whole pandemic going on. But there's no reason to pause your search for connection, fun, or partnership right now. On the contrary, dating is a way for you to have some control over your life and continue to seek out pleasure even in tumultuous times. Plus, many dating apps are reporting significant increases in traffic and activity since social distancing measures went into effect. So in some ways, there's no better time to be on the market.
While dating 100% virtually is quite the challenge, it's definitely possible to make some real connections this way. (Ask all the longtime long-distance couples who've been doing this all along!) Here are a few ways to make the most of dating in these weird times:
1.
Take advantage of special dating events and apps.
One silver lining of these trying times is that so many people and businesses are really rallying to provide support and resources to address all the unique challenges we're suddenly facing—including the loss of IRL dating. Therapists, coaches, educators, dating apps, and related organizations have been regularly hosting dating-related events to help people navigate their dating lives and continue to connect with each other. Get on Eventbrite, Instagram, or the social platform of your choice and start following people who do work around sex, dating, or relationships, and you'll quickly start finding these events. Zoom speed dating is definitely a thing that's been happening. Take advantage!
Additionally, many dating apps have been rapidly innovating to meet the needs of daters in the time of COVID. Tinder has temporarily made its Passport feature free, meaning you can swipe on people anywhere in the world right now. A newly launched app called Swivel allows you to add one-minute videos to your dating profile so people can immediately get a sense of what their Zoom dates with you are gonna be like. Bumble and Grindr both have in-app video calling as a feature, meaning you can hop on a video date with a match without having to take it off the app. Plenty of Fish even has a livestream feature that lets you show off your personality in action to any potential matches who want to tune in.
When you're on a Zoom call, it's really easy to get disconnected—and I'm not talking about tech issues.
Because you're not together in person, your physical surroundings can often steal your attention away from the person on the screen talking to you. It can also be very easy to get distracted by other open windows and apps on your screen. Your brain is likely very used to multitasking or instinctively checking your email or social feeds when you're looking at this thing; our cluttered home screens and desktops practically encourage a short attention span.
That's why when you're on a virtual date with someone, it's very important to really make an effort to focus. Close the other tabs, put some earphones in so you're not getting pulled away by other sounds around you, and really tune into your date.
Sometimes we show up to a free webinar or Zoom meeting and think we can just have it playing in the background to listen to while doing something else. If you sign onto your dates that way, you're going to consistently find yourself walking away saying, "Well, there was just no spark."
You'll get the most out of your dates when you're really committing to being present. Don't multitask. Fully engage in the conversations, giving full attention to what your date is saying, asking follow-up questions, and talking a lot yourself. Talk to every date like they are the most fascinating person you'll ever meet. You'll be much more likely to walk away from each date feeling like you had fun and truly connected.
Just like in real life, it's so important to mix up what you're doing on your dates! Dinner and a movie every night won't cut it IRL, and just drinking wine together for an hour on Zoom over and over will get boring real fast.
Have some dinner dates for sure—video dates really lend themselves to long, interesting, deep conversations, so definitely lean into that—but make sure to also add in some other types of dates as well. To offset all the talking, try to have some dates with movement. For example, cooking a meal together at the same time, playing a game that can be done long-distance, watching a movie together in sync, or taking them on a virtual tour of your living room or walking route. Get creative and playful. (Here are a few virtual date ideas and stay-at-home date ideas for inspiration.)
Once you've really started getting to know someone, you might enjoy what I like to call the "just-being-around-each-other dates." We do this all the time in real life—spending a whole day just sitting on the couch separately reading or working or on our phones but still enjoying doing those solo activities together. Call each other up and just stay on the phone for a few hours as you go about your day. Sometimes there will be silences, which is totally fine. That long-form quality time is how you really bond with someone.
4.
Lean into the parts of dating that get accentuated by distance.
When you're separated by physical distance, some parts of dating are inaccessible—like sex, obviously, but also things like those fun spontaneous nights on the town and lazy days on the couch together.
But there are other parts of dating that really thrive in this type of situation, such as really going in deep and getting to know each other on a soul level. When there's not a lot else to do other than talk, you can really talk. Even if you're used to having your IRL dating life be more casual and fun-focused, consider using this time to explore developing a more emotional connection with someone. Get to know someone's history, childhood, dreams, and secrets, and let someone else in on yours. Be intimate, vulnerable, and curious with another human being.
Here are a bunch of questions to really get to know your date, plus some ways to deepen your connection with someone.
Another part of dating that's getting accentuated right now? Desire. As couples' therapist Alicia Muñoz, LPC, points out, half the fun of sex is the obstacles that get in our way—like physical distance. Lean into your experience of lust, longing, and desire with your new flames—play with it, talk about it, and find creative ways to act on it together.
"Make a few risqué comments while holding each other's gaze on-screen. See how that feels," Muñoz recommends. "Then maybe go a little further (whatever that means to you). You can dance to a song of your partner's choice, initiate a brief game of erotic truth-or-dare, or play on-screen strip poker."
I also love a good bit of phone sex. There's something uniquely titillating about masturbating with the object of your desire whispering and moaning in your ear. These are experiences and forms of sexual expression that you don't often get explore in "normal" times. Have some fun experimenting with them.
In the before times, many people tended to date with reckless abandon—talk to as many people as possible at once, go on lots of dates with lots of different people, fade in and out of budding relationships without a care, ghost.
But right now, that kind of dating doesn't really work. Forming a meaningful connection with a total stranger is hard enough as it is because of all the time, effort, patience, and creativity that's necessary to create a spark virtually. Trying to do it with a bunch of strangers at once will likely make it impossible for any one relationship to really thrive and go to the next level.
That's not to say you should date only one person at a time if it's not your style. But you may benefit from slowing down a bit and really giving it an earnest go with each potential connection. Going in lukewarm and unengaged almost guarantees that it won't manifest into anything meaningful because of all the inherent challenges to virtual dating. You're sort of just wasting your time by casting a net too wide to catch any fish.
Moreover, everyone's going through a hard time right now. It's more important than ever to exercise kindness and be communicative with people. We're all out here hungry for connection, so we can all benefit from being a little more caring and accountable to each other. Don't enter someone's life if you're not really trying to be there. It's just not the right time.
7.
Invite people into your life.
These days, we're all just looking for a little camaraderie. One of the easiest ways to start to create a real bond with someone is by starting to really lean on each other. How can you show care for the person you're getting to know right now? What are the areas of their life that they're most struggling with, during this pandemic and otherwise? And kinds of support can you start to ask from them?
Another simple way to start really inviting each other into each other's lives is by creating small rituals together. What if you shared a coffee every Monday morning to kick off your week? Or what if you did a FaceTime call together every time you walk your dog? These simple routines help to integrate a new person into your life and really feel like you're building something together, even when separated by distance.
8.
Remember, this won't last forever!
Eventually, we're all going to be able to see each other in person again. That person you spend the next three months getting to know virtually? You will one day be able to prance around town together, smooch under the covers, and all the other wonderful relationship things. This is still your real life, and those are things that will be accessible to you in due time.
Despite all the challenges, dating really doesn't have to suck right now. There's so much to explore and gain from dating right now if you're willing to invest and be creative with it.