5 Ways To Prevent Holiday Stress With The Help Of Your Houseplants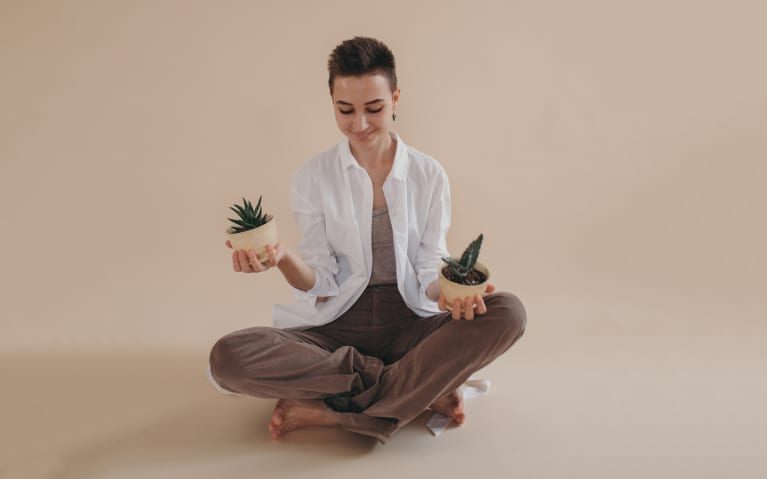 The holidays are supposed to be a joyous time of year—yet in the midst of all the merriment, feelings can come up that aren't so festive. At some point during the season, stress always has a way of creeping in like an unwelcome houseguest. We've all been there. But, this year, there's a little green holiday helper you might want to turn to when things get overwhelming: your houseplants.
Yep, practicing mindful awareness with your plants can help you manage the holiday chaos happening outside your house. I started creating audio journeys inspired by plants as a way to empower others to integrate nature-focused wellness into their daily lives. Here are five of my favorite simple, plant-centric meditative practices to try out this season:
1. Notice the leaves, colors, shapes, and textures of your plant's leaves.
When we breathe in the calming qualities of our plants, we have the opportunity to mindfully connect with ourselves—to relax our mind and body and release our stress.
Begin to take slow and even breaths, breathing in through your nose, filling your diaphragm with air, and letting your breath go slowly and evenly out through your mouth. During this time, keep your eyes open and focus on a houseplant before you. (If you don't have houseplants, feel free to head outside for any of these!) Notice the leaves, colors, shapes, and textures. Stay in this moment with your plant and your breath, not ruminating about the past or worrying about the future.
For me, the color green always correlates with gratitude. When we feel more grateful, we are able to more easily let go of things that bring us down.
Any day during the holidays, take time to connect with the greenery of nature and picture some of the things you are grateful for, from food and shelter to relationships and nature itself. Focus on the variety of green shades that make up plants and breathe in with appreciation for what is good and hopeful, hold it close to your heart, and breathe out with gratitude as well.
3. Appreciate imperfection.
There is no such thing as a "perfect" holiday season. Accepting this clears up room in our minds for more joy. During the moments you're craving perfection, let your houseplants teach you peaceful acceptance.
Focus on one plant, noticing how each of its leaves is unique and asymmetrical. Some leaves are new and shiny while others may have begun to turn yellow or brown. And that's OK! Plants teach us that something doesn't need to be perfect in order to be beautiful and wonderful.
4. Remember that sometimes growth is hard to recognize.
In a productivity-obsessed society, it's easy to end the year disappointed that you didn't accomplish all that you wanted to. Houseplants remind us that some progress can't be seen with the naked eye. Growth on a tiny succulent, for example, may appear less impressive than on a large, glossy monstera leaf—but both plants are still growing.
Look at a few of your houseplants. Notice some of the leaves that have come to life in the past six months. Then switch the focus to yourself; start to remind yourself of all the little accomplishments you have made in the past year and how they ladder up to dynamic change. This season, choose to think about what you have done, not what you haven't.
5. Let your plants remind you to take care of yourself during a notoriously unhealthy season.
Caring for your houseplant can be a reminder to care for yourself too. We need healthy food, plenty of water, and sunlight just like they do! And as you check in on your plants, check in with yourself and see where you need more care in order to continue to thrive.
Cheers to a happy, healthy, and bright season for all.