Tired Of Slipping During Yoga? Here Are 5 Expert Tips To Slip-Proof Your Practice
mbg Associate Movement & Wellness Editor
By Ray Bass, NASM-CPT
mbg Associate Movement & Wellness Editor
Ray Bass is the associate movement and wellness editor at mindbodygreen and a NASM-Certified Personal Trainer. She holds a degree in creative writing from the University of Pennsylvania, with honors in nonfiction.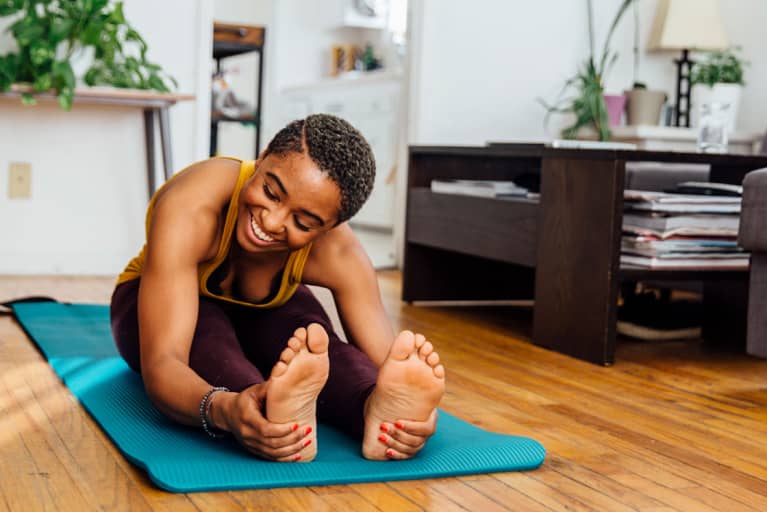 If there's one fact we can all agree on, it's that yoga can sometimes get a little slippery. Whether or not you're taking a heated class, it's usually harder than expected to get our poses to stick–which can be frustrating and disrupt your focus.
We had a number of readers ask us how to stop slipping on their mats, so we tapped the best yoga experts we know to give us their tips, from changing your mindset to upgrading your gear. Here's our best advice for anyone looking to get a grip:
1. Pull your mat apart with your hands and feet.
"My no-slip tip would be to pull the mat apart with your hands and feet! Also make sure your down dog isn't too short or too long–slide forward into a plank then lift your hips back for down dog. Resist the urge to move hands or feet, instead softly bend your knees and shine your hips toward the sky."
—Alex Silver Fagan, 200-hour Registered Yoga Teacher
"Try softening your knees and elbows a bit; make yourself movable so when you do slip it's more of a sway and graceful adjustment than an 'oh no' and big crash. Just like a tree is soft enough to move and respond to the breeze without falling over, we can do the same and be stronger in the process."
—Tara Stiles, founder of Strala Yoga
3. Invest in a slip-resistant mat or a skidless mat towel.
"The grip of a mat is always a difficult situation when it comes to yoga practice. I always recommend Jade Yoga mats because they're the most slip-resistant mat I've come across.
"If you are in love with your yoga mat and don't want to replace it, I would suggest a skidless mat towel, which is a thin cloth that covers your mat from corner to corner. This covering is ideal for sweaty yoga classes since it absorbs sweat!"
—Kajuan Douglas, founder of Merge Yoga NY
4. Sprinkle some water on your mat.
"Yes, it sounds counterintuitive, but adding some water to your mat can actually help you not slip!
"I suggest adding a few sprinkles of water where your feet and hands will be placed to achieve the immediate grip before the sweat comes. Even if you are not sweating, the moistened skidless towel will create a texture that is optimal for a solid grip."
—Kajuan Douglas, founder of Merge Yoga NY
5. Put on some gripped socks.
"ToeSox are my go-to for giving my feet some love while teaching yoga classes because this beautifully conscious company uses ecologically produced organic cotton. I love that each package is sent out of SoCal with a little bit of sunshine, ocean breeze, and a whole lot of love. Their grippy ballerina slippers are super cute, and I'm always getting compliments in the studio!"
—Fern Olivia, founder of Thyroid Yoga