We Asked Our Top Docs What Their Favorite Winter Rituals Are
mbg Health Contributor
By Gretchen Lidicker, M.S.
mbg Health Contributor
Gretchen Lidicker earned her master's degree in physiology with a focus on alternative medicine from Georgetown University. She is the author of "CBD Oil Everyday Secrets" and "Magnesium Everyday Secrets."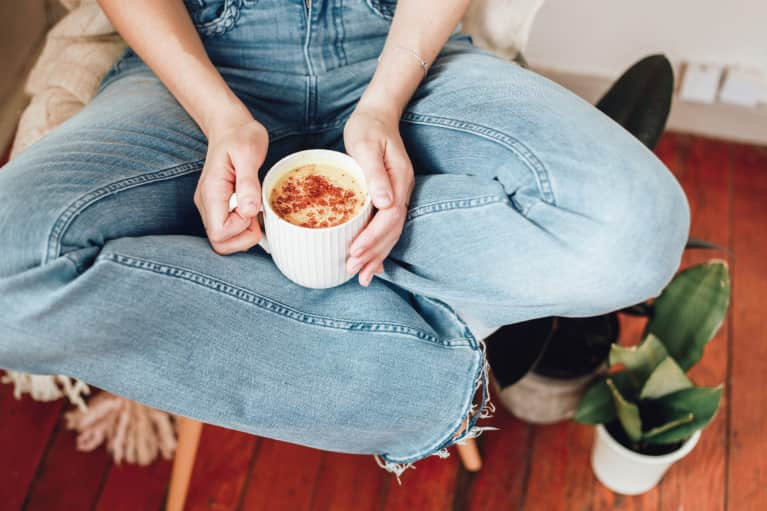 Winter is on its way, and for many of us, the freezing cold weather is already here. That means it's time to reach for your arsenal of winter rituals that help you boost your immune system, adapt to the cold, and enjoy your time indoors—because there's going to be a lot of it.
My favorite winter ritual is making a big pot of soup and enjoying it throughout the week for dinner with some freshly baked bread. My Instant Pot is like my winter Vitamix, I use it for everything. In the summer I'm making smoothies, smoothie bowls, and homemade ice cream, and in the winter I'm making porridge, soups, and curries.
The change of seasons got me thinking: What are our top doctors' favorite winter rituals? They know the body—and how to keep it happy and healthy—better than anyone. Here's what they had to say.
Amy Shah, M.D., integrative medicine doctor and mbg class instructor's favorite winter ritual is a nice hot yoga session in the evening. "Sweating is such an ideal way to detox, and I find that I sweat so much less in the winter, even though I live in a warmer climate. I also love the positive effect on my stress, especially around the winter holidays. The twisting, inverting, sweating—it's so refreshing as well as healing to the mind and body," she explained. If you're interested in hot yoga but aren't sure where to start, here's our complete guide.
Infrared saunas are an mbg favorite, and Dr. Frank Lipman's too! Dr. Lipman is an integrative medicine physician and mbg class instructor, and his favorite ritual is to sweat it out in an infrared sauna. There are a ton of reasons to make infrared saunas part of your winter self-care routine, but especially exciting is their ability to help you detox and give your immune system a boost.
A Trip to the Korean Bathhouse
"When I need a thaw, I draw a super-hot bath and fill it with Epsom salts, baking soda, and essential oils. Every once in a while, I'll treat myself to a trip to a Korean bathhouse to spend a few hours going between various hot tubs." —Ellen Vora, M.D., holistic psychiatrist and mbg class instructor
Getting in Touch With Your Creative Side
"Winter and the holiday season always get me into nesting mode. However, I am not a pull-decorations-out-of-the-closet type of person. My ritual is making a homemade fresh wreath every year. For me it's a creative outlet to make something beautiful, and I love the fresh smell of the pine needles. I use different ornaments and ribbons and whatever inspiration comes my way. It makes me feel good but also makes my house feel more like home." —Heather Moday, M.D., integrative immunologist and founder of the Moday Center for Functional and Integrative Medicine
"I love taking Epsom salt baths year-round, but I find them especially calming in the winter. Epsom salt contains magnesium, an essential mineral that improves sleep, relaxes muscles, and helps nerves to function properly. Draw yourself a bath with 2 cups of Epsom salts, and soak in it for at least 20 minutes." —Robin Berzin, M.D., integrative medicine physician, mbg class instructor, and founder of Parsley Health
Homemade Matcha Chai Latte
Bindiya Gandhi, M.D., is an integrative medicine physician and go-to mbg health expert. Her favorite winter ritual is making warming ayurveda teas using cardamom, cinnamon, ginger. "I love eating warmer foods; they help balance my pitta dosha (constitution), which usually goes out of whack during this time. I love matcha green tea because of the large polyphenol and antioxidant content, which fight against free radicals, but also the spices to help relax and soothe the mind. Cinnamon is also one of my favorite winter spices because it controls blood sugar levels during the time we usually splurge," she explained. She swears by this homemade matcha chai latte:
Ingredients:
1 scoop matcha green tea
8 ounces coconut milk
ginger (fresh grated)
pinch cinnamon
pinch cardamom
pinch chai masala
1 teaspoon Manuka honey (optional)
Method: Add all ingredients to coconut milk, 1 teaspoon of matcha green tea, chai masala, cinnamon, cardamom, and fresh ginger, and bring to a boil. Let it simmer, add Manuka honey only when latte has cooled down to preserve its properties, and enjoy.
"One of my favorite ways to warm up during the cold months is to sip on a hot mug of golden milk. Use steamed almond, cashew, or coconut milk, and stir in turmeric, ginger, cardamom, and cayenne to taste. These herbs and spices all work separately to increase circulation and warm us up. Blending them together amplifies their warming qualities." —Will Cole, D.C., IFMCP, integrative medicine expert and mbg class instructor
I don't know about you, but I'll be using these ideas as major inspiration this year as the days continue to get shorter and the temperature outside keeps falling.