Yes, You Can Indulge On Vacation & Still Feel Amazing. This Fitness Guru Tells You How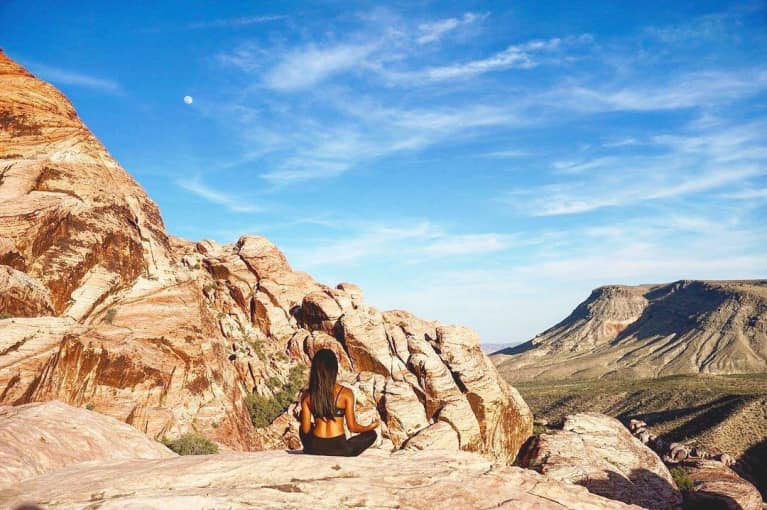 Summer is in full swing, and many of us are getting ready to jet off to faraway destinations. In a world where we all need to take more time to recharge—Americans had a whopping 62 million unused vacation days in 2016—it's important that you make the most of your well-earned time off. Travel experiences feed the soul in more ways than I can count, but when you don't adequately nourish yourself (while digging in to the delicious local cuisine, of course) or take time to be active, you can come home feeling lethargic and like you need a vacation from your vacation.
Here are my tips for staying active and healthy while exploring the globe so you come home as refreshed and restored.
Add athleisure to your packing list.
This may seem like an obvious one, but most of us would rather pack for style over comfort and breathability. Luckily, thanks to the athleisure movement, you can have both. If athleisure really isn't your thing, be honest with yourself—leggings don't take up that much space, even if you're a minimalist packer.
I know, I know…it's your vacation. You don't want to set an alarm. But here's the thing: If you get up and fit your workout in first thing in the morning, you'll be able to beat the crowds and lines, which is a nice bonus when you're visiting a particularly touristy place. You'll also have time for an afternoon nap, and vacations and naps go together really well.
Plus, studies show that exercise gives you energy, which is always helpful when you have a packed day planned.
Walk anywhere and everywhere.
With the slow fitness movement in full swing, walking is proving to be a more important form of exercise than ever. Luckily, getting lost in a new city is part of the adventure. Imagine being in Rome and slowly walking through tiny streets bustling with the most glorious sights and smells you could ever image, and turning a corner only to stumble upon the Trevi Fountain. You can't get an experience like that in a car.
There is beauty everywhere, most of which can't be seen unless you're on foot. So make sure you have comfortable shoes and take a day or five to walk, walk, and walk some more.
Find a market and nourish yourself with the freshest fruits and veggies.
Most cities, especially in Europe, have farmers markets everywhere. Find the city center market and browse until you find the fresh fruits and vegetables that appeal to you, and dig in. Many of these markets serve lunch, and the hustle and bustle of the markets are an attraction themselves. They're full of healthy options for you and your family, so dig in!
Don't forget to exercise your mind.
Shut off your phone, take out a book, and do some yoga. Make some time for you. Of course our bodies need exercise, but we also need to relax our souls if we want our bodies to feel their best. So do something for yourself that you may not have time for at home!
To make sure you're adequately prepared for your summer getaway, find out which staples you need in your athleisure wardrobe, and find out what this yogi never travels without.