How To Give Up A Steady Paycheck & Make Money Doing Your Own Thing, According To Trainer Todd McCullough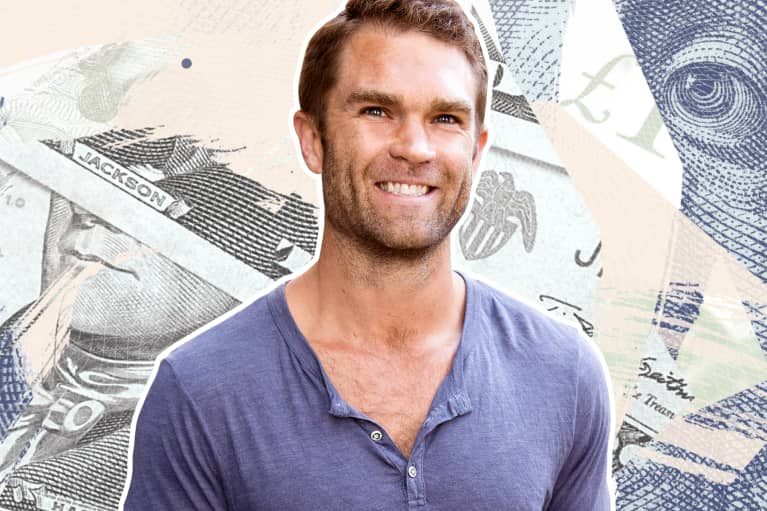 Todd McCullough is the personal trainer you've always wanted: kind but tough, always exuding passion and dedication. It's easy to assume that the mbg Collective member and founder of TMAC Fitness, a line of 20-minute total-body workouts, was always destined to help people get their sweat on. But in this candid interview, the renowned trainer dives into his past life as a financial planner and how it shaped his approach to money, health, and forging your own happiness.
What does financial well-being mean to you?
Freedom, period. Freedom to do what I want, when I want.
What has your financial journey looked like so far?
After college, I had a great job as a financial adviser at Merrill Lynch. You're not making a ton as a young broker, but you kind of see what that kind of life looks like—and it's a great life. But I quickly realized that I wasn't fulfilled.
For me to be happy, I needed to be doing something that I was passionate about and making some sort of positive contribution to the world. When the market crashed in '08, all of these young stockbrokers got laid off, and it gave me a chance to re-evaluate life. So I packed up and moved to L.A.—I was new to town, didn't know anyone, and started personal training. Anyone who had a pulse could come to my boot camps.
I quickly went from being financially stable in a steady job to being flat-ass broke, with a tank top and board shorts on the beaches of Santa Monica.
How did you start making your business lucrative?
At Merrill Lynch, I learned the law of numbers. So for the first two years, it was just grinding. I put out flyers in Santa Monica, Palisades, and Brentwood every Monday, Wednesday, and Friday. If you had a nice car in those areas, you got a flyer. On Tuesdays, Thursdays, and Saturdays, I would go to garages in Beverly Hills. I would make 75 to 100 cold calls a day.
I just knew that if I put out enough flyers and talked to enough people, eventually it would work. But honestly, it was brutal. Friends would ask me to do things and I'd have to say no. I was really frugal—I remember that at Trader Joe's at the time, you could get two ahi tuna steaks and a thing of brown rice for about $2.29. I could eat dinner for roughly $2.50 a night.
I want to make a ton of money, but I also know that my work has to be meaningful in order for me to be happy.
It sucked, but I started to feel alive again because I saw what money couldn't bring you. Money, to me, was important. It still is. I make no bones about it. I want to make a ton of money, but I also know that my work has to be meaningful in order for me to be happy.
Are there any purchases you see people making in the wellness space that you really don't think are worth it?
I spent the last 10 years in L.A., and I think people there spend way too much money on a bunch of bullshit products. This product says it's going to give you this, and this product's going to give you that...but all you probably need is to relax a little bit. Go put your feet in the sand, jump in the ocean, have a glass of wine. And then I moved to the South—I'm living in Nashville now—and I saw people investing in a lot of products that were a waste of time too, but more like diet pills and quick fixes and that kind of thing.
Let's put it that way: If you're purchasing something that you think will give you rewards without the work, that's a waste of money. A supplement, a pill, a fitness workout tool can help you. But you have to do the work too.
What big expenses have you made in your own life that turned out to really be worth it?
My grandfather left me money to go to college when he passed. I took that money and went to a private high school to go learn how to play football instead. I'm from a small, poor country town, and that high school, The Bolles School in Jacksonville, Florida, changed my world and gave me a different perspective. I got to see people from all different cultures, all walks of life, and understand that it was cool to get an A on the test, whereas in my town, if you got an A on a test, you were kind of embarrassed about it. It opened my world, and I ended up getting a scholarship to play football at the University of Florida. So, investing in your education is definitely one.
It's all about investing in education and investing in yourself—even when it's hard.
Then, when I was just struggling with TMAC Fitness, just getting a client here and there and not making much, I started to see that I had to learn to box. At the time, I had a good grasp of athletic training and yoga, but to be the best personal trainer, I had a theory I needed to work on my boxing skills too. I took the little money I had and used it to find a great boxing coach, which in turn sharpened my personal training skill set. Most people work with personal trainers for a couple of months and then get bored. I've had my clients for years because we change up the programming so much.
It's all about investing in education and investing in yourself—even when it's hard. I could've taken that money and gone to those dinners in L.A. or taken those vacations with my friends, but I chose not to. I chose to invest in sharpening my tool kit instead.
Is there a financial mantra that you live by today?
Learn. Take massive action. Do the work. Learn from the mistakes. Repeat the process.
For example, when I started to see that my business should go online, I gave away free videos on YouTube to see what people liked before I started charging them anything. You do the homework. And then you take the action. At some point, you have to jump in, and you'll make a million mistakes. So much of being a business owner is never looking at a failure as more than a learning experience. You learn from it, and then you repeat the process over and over and over again until you become an expert at your craft.
What tips do you have for anyone who is trying to practice self-care on a tight budget?
I know this guy who makes great, affordable 20-minute workouts called TMAC Fitness!
Beyond that, I'd say to first take a step back and think about what wellness really means for you. Stop thinking about it as Pilates or weight lifting and think of it as movement. Movement can be free. Movement can be a jog. Movement can be riding a bike. Movement can be doing a home yoga class that you stream for an affordable price.
We have three pillars of TMAC Fitness: Sweat, Eat Clean, and Mind Right. You can do the "Mind Right" part by simply connecting each day. Last I checked, meditation and prayer are free. Take time each day to move and connect, and you'll get just as many benefits as joining the most expensive gym in New York or L.A.
This interview has been edited and condensed.