Confirmed: Every Home Deserves Its Own Dreamy Book Nook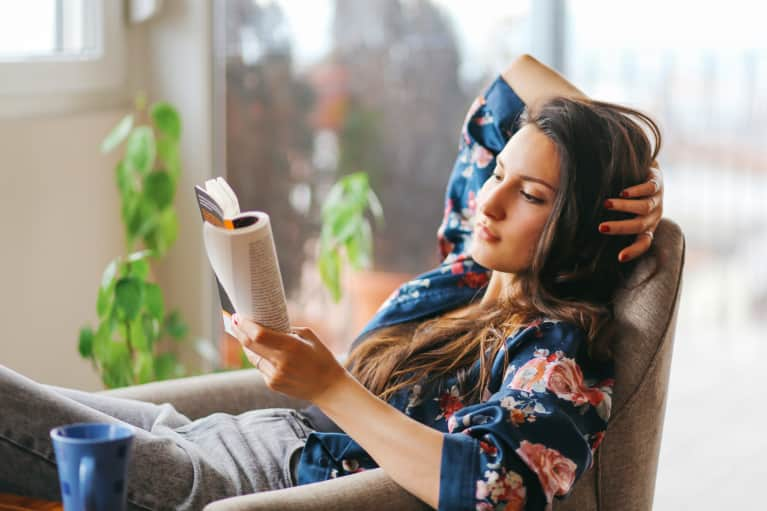 We've long known that leisure reading can help us transcend day-to-day worries, and science continues to confirm the practice's brain-boosting, longevity-promoting (not to mention sweet tooth-busting) prowess.
But during busy days, setting aside the time and space to get lost in a good book is no easy feat. Alessandra Wood, Ph.D., interior design and design psychology expert, says that designating physical space for reading might be the first step in making it more of a habit. "These days, we're all so easily distracted by all the devices and media around us. And if you're doing everything in the same part of your home, your brain is not trained to think 'this is what I do when I'm here,'" she tells mbg. You can create this book nook anywhere—whether it's the corner of your couch or a kitchen chair by the window.
"If you're dedicating a space to reading, you might think about putting it away from a TV, away from an outlet, and really thinking of it as a sacred space," adds Wood. By making it a tech-free zone, you won't be tempted to turn on the TV or reach for your phone and mindlessly scroll through Instagram. And by adding a few thoughtful design touches, you'll transform it into an inviting area that you want to revisit again and again, whenever a quiet moment arises.
No need to leave that book for your beach vacation this summer—kick-start your own reading retreat today with these thoughtful design ideas:
1. Position your space wisely.
Carolyn DiCarlo, an interior designer and student of meditation, ancient mind-body practices, and sacred architecture, says that the placement of your nook is crucial: "Keeping the door in your field of view will help to make you feel safer and therefore more relaxed. It's an old feng shui trick. And if you have a bookcase in the room, you might want to position it behind your reading chair so that you're not distracted while reading."
2. Be choosy about the chair.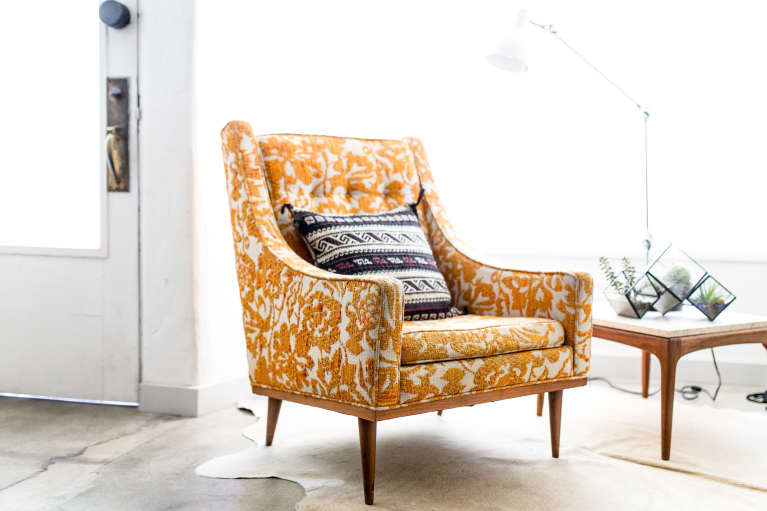 Once you designate an area of the home for your nook (it doesn't have to be big!), it's time to choose your chair. DiCarlo recommends first thinking about what type of reader you are before diving into this one. Do you curl up into a ball when you read? Maybe a daybed with lots of pillows would be best. Always sit up straight? Go for an upright seat. Wood, who is currently the style director of online home makeover platform Modsy, points to the West Elm Auburn chair as an environmentally friendly one at a relatively low price point.
3. Add art (but make sure it's not too distracting).
Emeli Ericsson, an interior stylist who splits her time between Berlin and Stockholm, is all about imparting reading spaces with personal touches. "I like to add some drawings, botanical prints, or old photographs on one or two walls to tease the imagination. It can be a vintage oil painting from the flea market, some postcards from favorite destinations, or framed pages out of a magazine." Before nailing down your inspiration, check out these rules to live by when hanging art.
4. Welcome nature and light.
Conscious designer Magalie René has noticed that touches of nature make for a happier, more relaxed reading space. "A few ways to style a reading nook to be supportive and calming include hanging scenes of the ocean, adding a water feature, having a balance of natural sunlight and task lighting, and playing with aromatherapy. Rosemary, orange, peppermint, lime, and sandalwood are some of the best scents for focus."
When it comes to accent colors, the more calming the better, according to DiCarlo. "Not too many fiery reds as you want to calm your nervous system, not get it all charged up. Softer blues with a hint of gray work well, and greens (except the really yellow, acidic green tones) are also good choices." But at the end of the day, DiCarlo says to trust your gut when choosing a color, because you ultimately know what's best for you.
"Be really generous with textiles here: Soft and firm cushions of different shapes, patterns, and textures are a must if you live in a colder climate," says Ericsson. Store socks and extra blankets in a pretty basket close by, so they're always there when you need them.
Once your space feels warm and inviting, it's time to put it to use—mindfully. "Check in with yourself. See how you're feeling. Within reason, adjust the pillow, reposition the light, put your reading glasses on, have a place to put a glass of water or a cup of tea, and pay attention to your breathing," says DiCarlo. "All of these tips will help to bring you back into your body so that you can put yourself fully into enjoying your reading material."
Can't decide what book to start with? Here are mbg's favorite new reads for July.