9 Food & Health Pros Share Their Best Tips For Saving $$$ On Healthy Food
Contributing Food Editor
By Liz Moody
Contributing Food Editor
Liz Moody is a food editor, recipe developer and green smoothie enthusiast. She received her creative writing and psychology degree from The University of California, Berkeley. Moody is the author of two cookbooks: Healthier Together and Glow Pops and the host of the Healthier Together podcast.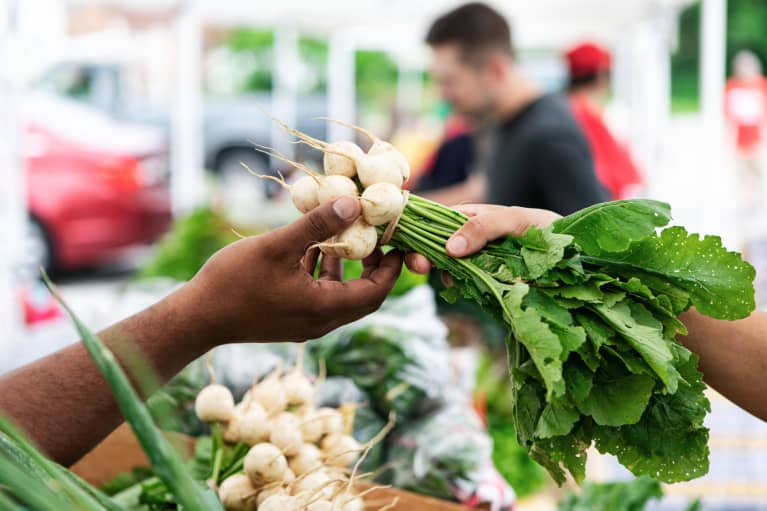 Our editors have independently chosen the products listed on this page. If you purchase something mentioned in this article, we may
earn a small commission
.
If we had a dollar for every time we heard how expensive it was to eat healthy, we'd...well, have enough money to buy all the healthy food we want!
Making wellness accessible is one of our core philosophies here at mbg
, and in that spirit, we reached out to our favorite food and health pros to find out their top tip for saving money on healthy food. Here's what they said:
Our tip is actually to spend money on a TaskRabbit. In our household, we are two working parents with a toddler and a Tetris game of logistics. By spending money on hiring a TaskRabbit to help us chop and cook, we end up saving money in the long term. This is because it saves so much time we actually have time to cook, and this enables us to eat home-cooked food all week. So we don't order takeout anymore. Spending ~$30 a week on a TaskRabbit actually saves us money and allows us to eat healthy home-cooked food.
—Ellen Vora, M.D., mbg Collective member and founder of EllenVora.com
Frozen food is key. I love things like frozen veggies, frozen proteins (veggie burgers, meatballs, etc.), and even frozen grains like quinoa and brown rice. Frozen vegetables specifically are awesome—they're just as nutritious as their fresh counterparts, cheaper, quick to make, and last longer. It's an easy way to save money and extend the life of your produce.
—Sammi Brondo, R.D., founder of All Foods Fit
I know I say this all the time, but frozen produce is a game-changer. Because those fruits and veggies are frozen at peak freshness, they retain that nutritional goodness. They're also incredibly versatile and easy to work with, making it a breeze to throw together a healthy meal in almost no time. I often will just pour a bag of mixed frozen organic veggies into a large glass dish with a cover and then microwave it as part of my meal prep for a busy week. I also love to take frozen broccoli or Brussels sprouts and toss with avocado oil and sea salt and then roast at 450 degrees Fahrenheit until they're crispy. I use a little more oil and a higher heat than I would fresh veggies to account for the frozen state and extra liquid that will be released.
—Jessica Cording, R.D., mbg Collective member and founder of Jessica Cording Nutrition
3. Buy in-season produce.
My No. 1 tip for saving money on healthy food is to buy in-season produce (it also tastes better) and look for store-brand items versus a pricier alternative company.
—Alanna Waldron, R.D., founder of Eats Real Food
Buy produce that's in season! Fruits and vegetables are always less expensive when they're in abundance, aka in their seasonal prime! Buying produce out of season means you're paying up for it.
—Leah Silberman, R.D., founder of Tovita Nutrition
Whole Foods Market sells bulk organic chicken that's way cheaper, and the frozen veggies that are organic are cheaper. The bulk section (bonus points if you bring your own container!) is a great way to save a ton of money.
—Isabel Smith, R.D., founder of Isabel Smith Nutrition
5. Focus on smaller fish or mollusks.
For seafood, the best species for omega-3s, low mercury, and environmental impact are mollusks (clams, mussels), and smaller oily fish like sardines and anchovies. These also just so happen to be some of the more affordable options at the seafood counter. Sardines and anchovies are often shelf-stable to boot (if buying the canned versions), and cooking from your pantry is one of the best ways to save money. Here's a great healthy clams recipe to get you started.
—Phoebe Lapine, mbg Collective member and founder of Feed Me Phoebe
6. Utilize your farmers market.
Not only can you find fresh produce, meat, and seafood at lower prices, but items are almost always organic, and you're supporting local as well. This also guarantees you eat more seasonally, as what is available is what nature can provide at that time.
—Sara McGlothlin, holistic nutritionist, founder of SaraMcGlothlin.com
7. Follow the Clean Fifteen and Dirty Dozen lists.
While buying organic is always best, sometimes it isn't in the budget. Sticking with the Environmental Working Group's (EWG) Dirty Dozen and Clean Fifteen lists will help you save where you can on nonessential organic fruits and veggies. Also, frozen is always cheaper than fresh and lasts longer so you aren't risking throwing out unused produce, i.e., all your hard-earned money.
—Will Cole, D.C., mbg Collective member and author of Ketotarian
If you're going to splurge on healthy food, mitigating waste is the best way to help save money. Using vegetable trimmings for soups and stews; turning almost overripe fruit into a compote or healthy chia seed jam; and repurposing leftovers (e.g., turning roast chicken scraps into chicken tacos the following night) are helpful ways to make the most of ingredients that might be expensive.
—Allison (Aaron) Gross, M.S., RDN, CDN, founder of Nutrition Curator
You get way more bang for your buck by simply cooking your own food instead of eating out so much. Also, instead of looking at the price of the package, consider the price per nutrient. If a grass-fed steak is going to deliver high-quality protein, B12, and iron compared to a less expensive bowl of mac and cheese, the choice is much more clear. You can purchase less expensive cuts (try some inexpensive and nutrient-dense organ meat like liver!) and buy in bulk directly from your farmer. Check out eatwild.com to connect with a farmer near you.
—Diana Rodgers, R.D., founder of Sustainable Dish