The Green Hack That Will Revamp Your Entire Workout Wardrobe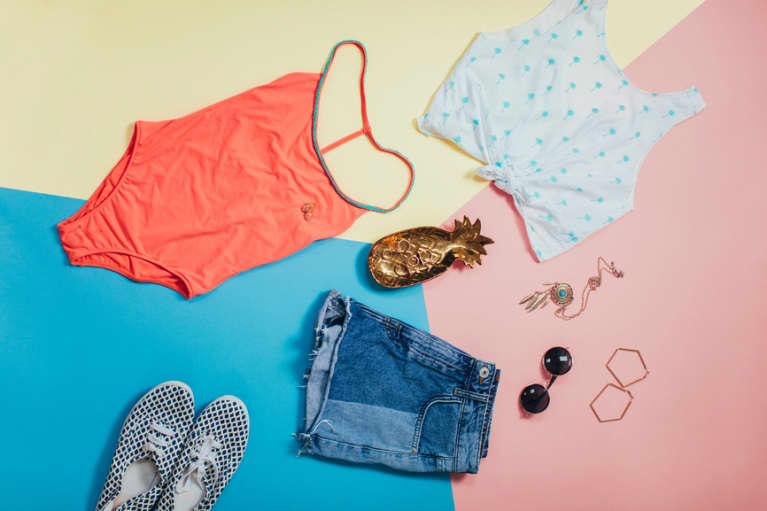 By now, you've probably seen some of the numbers: We're buying more than five times as many clothes as we did in 1980, and 84 percent of them are ending up in a landfill to (very, very slowly) decompose—but not without leaving a heap of chemicals behind. On top of the long-term environmental damage, our obsession with new clothes has caused companies to cut corners with production, and many garment factories around the world fall somewhere on the scale of unethical to downright dangerous.
In order to stop feeding into this destructive "in today, gone tomorrow" fashion mentality, we all need to start seeing our clothes as investments that grow with us. Given that we sweat, jump, twist, and sometimes even brunch in our athleisure, it's no wonder that it's often the first thing to go. But instead of tossing aside that pair of yoga pants you spilled green juice all over or tank top you ripped a hole in during one particularly intense HIIT session, why not repurpose them?
This video will show you how to turn worn-out clothes into brand-new pieces for the sake of the Earth and your wallet. Get ready, get set, get crafting.
Now that you know how easy it is to master slits, cutouts, and knots, hopefully, you'll be a little less tempted to run to the store the next time you sweat through a shirt. If you do need to purchase new workout gear, do so responsibly. According to ethical fashion it-girls Sara Weinreb, creator of capsule wardrobe label IMBY, and Natalie Grillon, co-founder of watchdog organization Project JUST, it's all about buying high-quality pieces that you know the story behind.
That means never buying anything that costs less than $20 since you're probably sacrificing quality somewhere down the line for that price. As far as fabrics go, recycled polyester, Tencel (a sustainably sourced wood pulp), and GOTS-certified materials are your best bets for athleisure that is less resource-intensive. Lastly, the duo recommends emailing the sustainability departments at some of your favorite companies and asking them for more eco-friendly options. They can then show their CEO these messages to illustrate that consumers care about ethical fashion and are willing to pay for it.
Learn more about the sustainable fabrics that could make up the future of fashion here.