The Truth About Pore Strips: An Integrative Derm Explains
Contributing Wellness & Beauty Editor
By Lindsay Kellner
Contributing Wellness & Beauty Editor
Lindsay is a freelance writer and certified yoga instructor based in Brooklyn, NY. She holds a journalism and psychology degree from New York University. Kellner is the co-author of "The Spirit Almanac: A Modern Guide to Ancient Self Care," with mbg Sustainability Editor Emma Loewe.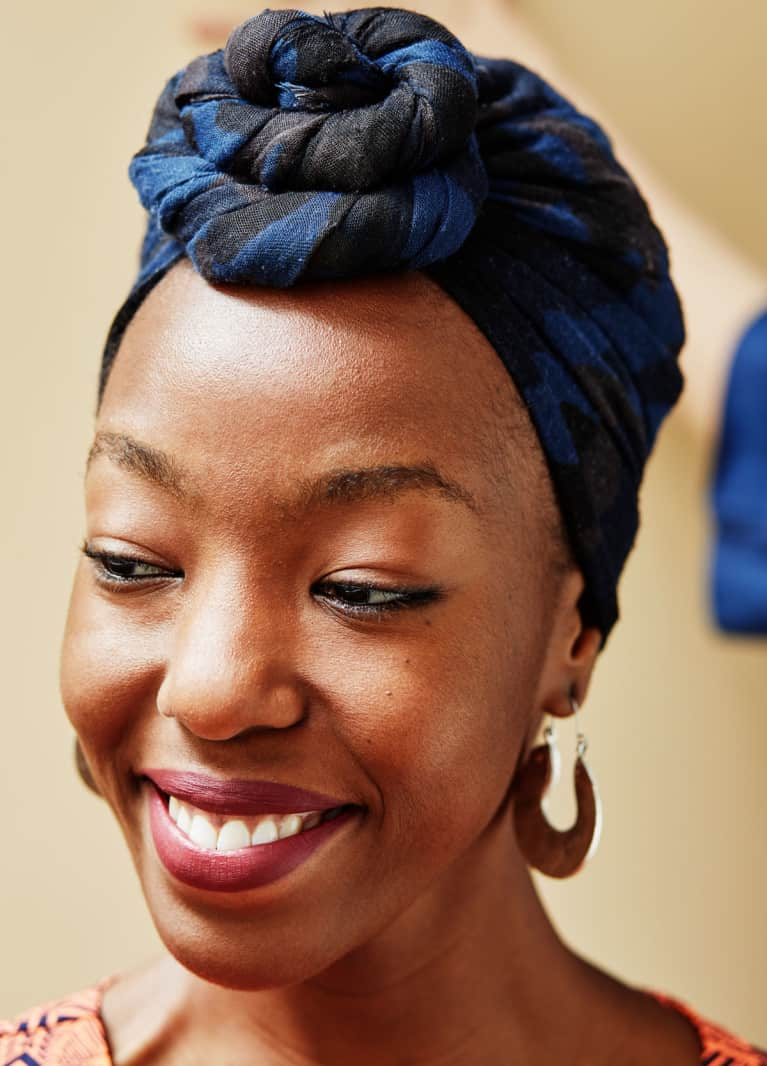 Perhaps it's something about the papier-mâché process, the slow peel, and the inevitable close, under-a-bright-light examination of "what came out" that makes pore strips exciting. Or maybe it's because we've been trained as a culture to think extractions are the way to clear skin, even though we know now that facials without extractions may actually be more beneficial for the skin and the nervous system. Whatever the case, it's time to revisit them. Not only are the single-use packages questionable at best, but the technology of glue-to-face is outdated at best and, according to dermatologists, harmful at worst.
Are pore strips helping or hurting my face?
As with most things, the answer you get depends on who you ask. Diana Yerkes, head esthetician at New York City's Rescue Spa, understands the appeal but identifies how they fail to properly address the skin. "Pore strips are indeed fun, but I don't find them to be effective at all," she told mindbodygreen. "They remove the surface gunk and leave the 'root' of the issue untouched."
Integrative dermatologist Cybele Fishman, M.D., agrees with Yerkes. "Like the vast majority of dermatologists, I hate pore strips," Dr. Fishman told mindbodygreen. "I think they are useless at best and sometimes have ingredients in them that are irritating," she explained. For people who have rosacea, pore strips can increase inflammation, which may lead to flare-ups and increased redness. For patients with seborrheic dermatitis, they may increase irritation, flaking, and/or dryness.
If you have normal skin and you were looking for a temporary fix, sure, pore strips may do the trick. But the results aren't long-term, and if you have sensitized or compromised skin, they're not recommended.
Here's what to do instead.
To unclog clogged pores, there are several methods you can try. But first, it's important to understand that pore size is genetic. This means that, for some of us, your pores may appear to be clogged even though they aren't. Treatments that get to the root of the problem will help, especially when you commit to them over time.
1. Regular at-home masks.
"I recommend frequent mask treatments instead: It's also fun, more effective, and makes for a nice moment by yourself or with friends," Yerkes told mindbodygreen. Manuka honey is a soothing winter face mask option that has worked even on the most stubborn hormonal acne.
2. Retinoids and/or acid products.
Dr. Fishman swears by retinoids and gentle acids for a calm, clear complexion. "You are much better off with retinoids and acids; both are ingredients that help skin turn over," she said. "Retinoids are forms of vitamin A, and acids are also mostly naturally derived from sugar, milk, citrus, apples, tree bark, and others," she said. In other words, they don't have to be laden with fillers or irritating preservatives to be effective.
3. Microdermabrasion or dermalinfusion.
Both of these treatments blast the skin with crystals to exfoliate the top layer of dead skin and buildup while suctioning what it removes, and dermalinfusion takes it a step further and deposits potent serum in "fresh" skin that's revealed. If you're strapped for cash, ask your esthetician for a microderm only—that treatment will usually run about $50 on its own, depending on where you go to get it done—and the skin-clearing effects are noticeable directly after a session.
4. Microcurrent devices.
Yes, they're pricey, but using an at-home microcurrent device (I wrote about my favorite ones) may help keep breakouts at bay. They're far less expensive than microcurrent facials and pay for themselves after two uses—for some, it's totally worth the splurge.
5. Facial massage and gua sha.
Moving the lymph is an essential part of detoxification of the whole body, but especially the skin. Gentle facial massage or gua sha using a flat stone helps keep the lymph moving, releases facial tension, and, according to expert Britta Plug, may help clear those stubborn blackheads that always seem to come back over time.