How To Recover After Your Workout Like An Olympian, According To A Sports Coach
Written by
Krysten Peck
Krysten Peck is a freelance writer specializing in arts, wellness, brands, and visual storytelling. She received a Bachelor's degree from Dickinson College, and has done editorial and social media work at AOL, MTV News, and BuzzFeed.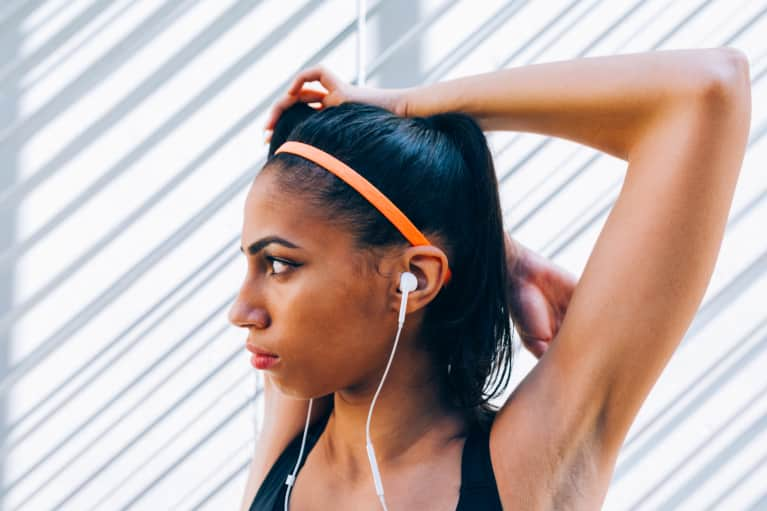 To compete like an athlete is to train like an athlete—swap out your everyday athlete for an Olympian, and the stakes are heightened tenfold. Rigorous training sessions, continuous practices, and constant traveling are just a few demands on Olympians to maintain their bodies, athletic prowess, and livelihood.
With the 2018 Winter Olympics underway, we reached out to Matt Capolongo, a sports performance coach at the Professional Athletic Performance Center to venture into the world of recovery for the world's top athletes and learn how we all can adopt these techniques to incorporate into our own routines at home. Here, our top questions, answered:
Is wellness considered a large part of the recovery process for Olympic athletes?
In short, yes. "Being mentally and physically completely recovered, or fresh, is very important to performance, whether that comes from acupuncture, massage, a well-balanced diet, or meditation. The mind and body must be treated as a machine, and taking care of that machine will help it run smoother and better overall."
Why is recovery even more important for Olympic athletes?
The recovery process is all about prevention and correction. To recover in the correct manner means to be able to perform and practice to the best of their ability." And of course, much more is expected of Olympic athletes. "Performing to their utmost potential means they are meeting or exceeding the standards at their sport or career. If they do not perform well, they could be replaced and then lose their career."
Is cross-training important to every athlete's training program?
To cross-train or not cross-train? An important question to consider not just for the fitness-inclined who like to change things up, but for athletes seeking variation in their training. "It truly depends on whether cross-training is important to incorporate into a training program – for their goals, physically health, and and sports demands. For instance, if a sport demands a high-work capacity (being able to handle more for longer), cross-training would be imperative. However, if an athlete's goals were built more around strength, like a powerlifter, cross-training may not be as important."
What's your take on heat vs. ice? Both? Neither? Depends?
Even though the ice vs. heat debate tends to lean more personal, Capolongo recommends ice first to reduce swelling after a long workout. "Ice narrows blood vessels, and therefore, reduces blood flow to that area. However, it definitely depends on the injury. Heat may help with strains or stiffness, in which case, increased blood circulation is needed. Both have their places in recovery, but it definitely depends on what the injury or pain is caused by.
What are some of the best foods to refuel with after a workout or intense activity?
"Some of the best foods to refuel with after a workout or intense activity are ones with high protein, low sugars, and healthy fats, such as grilled chicken, chickpeas, egg whites, or a protein shake with fruit." Foods high in protein are best to help the muscles rebuild from strenuous activities, and healthy fats help refuel energy that was lost.
Is meditation or mindful movement a part of recovery plans for these athletes?
The integration of meditation into workouts is vital to an athlete's recovery. "For the body to perform at its highest potential, the mind must be in top shape as well. Meditation helps center thoughts and allows for the correct mindset to be able to train and compete."
How do you know if you're overtraining?
Surprisingly, there are a some major telltale signs of overtraining. "The symptoms of overtraining tend to be very clear: loss of sleep and experiencing restless nights, poor or inconsistent pace while training, the presence of injuries — even symptoms of depression begin to appear."
If you're new to a workout, how should you incorporate stretching? And how can you prevent injury?
To prevent injury before a new workout, "You should perform a dynamic warm-up to raise the heart rate and get the body ready to move fast and quick." Some movements he recommends? Jumping jacks, body-weight squats, lunges, a-skips, power skips, high-knees, shuffling, and sprinting. After working out, follow up with a static stretch session. "During this session, you should stretch without moving, to loosen the body's muscles; these stretches could include quad pulls, pigeons, and calf and hamstring stretches. Completing a dynamic warm-up and stretch cool-down are the first (and crucial) steps to avoid injury."
How can people (non-athletes) incorporate recovery in their day-to-day life?
Stretching in the morning upon waking up.
Eating a daily balanced diet consisting of high protein, low sugars, healthy fats, and carbohydrates.
Drinking a good amount of liquids, specifically water.
Stretching before bed.