How To Thrive In A Relationship When You're On A Different Sleep Schedule Than Your Partner
mbg Contributor
By Leigh Weingus
mbg Contributor
Leigh Weingus is a New York City based freelance journalist writing about health, wellness, feminism, entertainment, personal finance, and more. She received her bachelor's in English and Communication from the University of California, Davis.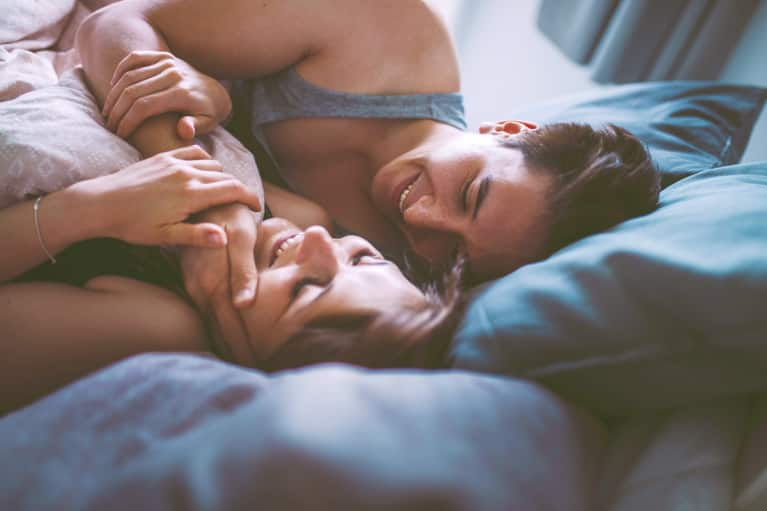 Our editors have independently chosen the products listed on this page. If you purchase something mentioned in this article, we may
earn a small commission
.
When you're single, your bedtime is all your own. Going to bed at 9 p.m. to wake up for a 5 a.m. workout? Great, you do you. But the second you enter into a partnership in which bed-sharing and room-sharing are involved, this gets more complicated. If one partner is a night owl and the other is a morning lark, it can lead to one person losing sleep and both partners losing the intimacy that comes with falling into bed together at the end of a long day.
Different bedtimes is a common problem in relationships, but there are some creative solutions to it. Here's what you should keep in mind.
Despite what you think, you probably sleep better without your partner.
While you may think you need your partner next to you to get quality sleep, research has shown that a lot of people sleep better when they have the whole bed to themselves.
"This is a fascinating dilemma because the research on sleep and couples clearly shows that we think we sleep better when we're with our partner, but we actually sleep better when we sleep alone," says David Niven, Ph.D. and author of 100 Simple Secrets of Great Relationships. "So there's a very natural tension between the person who feels deprived when their partner stays up four hours later and the person who feels deprived when they are expected to come to bed four hours before they feel ready."
So if your bed is calling your name at 9 p.m. and your partner wants to stay up to watch Game of Thrones, instead of resenting them, relish in the fact that this could mean a few hours of uninterrupted, quality sleep.
Participate in bedtime rituals with your partner.
Whether you're the early-to-bed or late-to-bed partner, taking a few minutes to participate in rituals together can go a long way. Whether it's sex, reading a book next to your partner, or taking half an hour to lie in bed and talk about your day together, give it a shot.
"The person who stays up later should regularly participate in the early partner's bedtime routine," says Niven. "A big part of sleeping well is following a sleep routine, and spouses/partners can reinforce that or interrupt it. If your partner likes to read for half an hour before turning off the light, go up and read something too. If you partner loves to snuggle into a warm bed, snuggle in and help warm things up. Then the night owl can get up and keep going for a few more hours."
Set a "compromise" bedtime.
Yes, relationships are all about compromise—and that includes bedtime compromises. According to Terri Orbuch, Ph.D., relationship expert, and author of 5 Simple Steps to Take Your Marriage From Good to Great, meeting somewhere in the middle can be helpful. "This doesn't mean you have to give in totally," she says. "And be sure to think of compromise as a positive thing. Maybe you go to bed your partner's way Monday, Wednesday, and Friday, and your way Tuesday and Thursday, or find a time in between both of your ideal bedtimes—maybe one partner gets in bed 30 minutes earlier than they'd like to and the other goes to bed 30 minutes later than they'd like to."
Dealing with conflict in your relationships? Here are four ways to fight right.