How To Raise Boys When The Future Is Female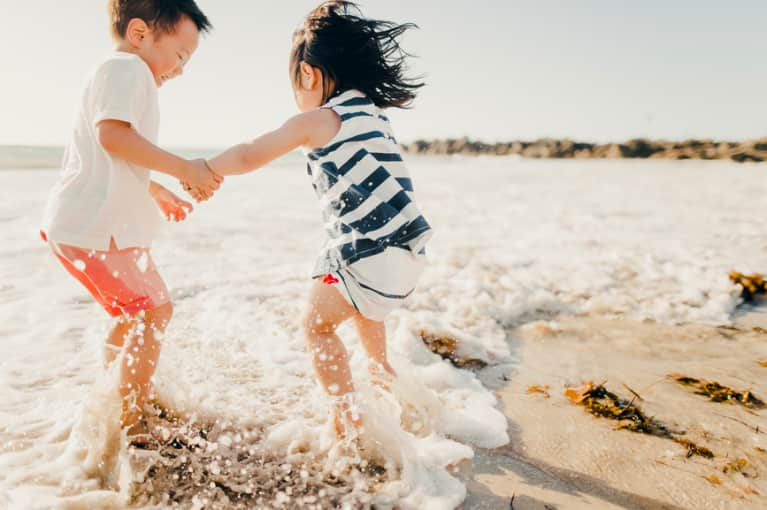 Parenting is hard, and it's anything but perfect. Our new series Raising Consciousness is all about real parenting in the wellness world and what happens outside the frame as we try to raise kind and conscious kids. Please write to us at editor@mindbodygreen.com and share your stories to be featured as part of this ongoing series. Let's have this conversation!
I'm used to being around boys: Growing up, I had three brothers, all boy cousins, and have been blessed with, yes, you guessed it, two sons. But even with my history of being surrounded by male energy, I was not prepared for the work it takes to handle the emotions of my own almost teenage boy.
Over this past winter, my son turned to us and said, "…nothing in life is fun anymore." Immediately a red flag in my brain went up. Something was off. Yes, it was winter and a bit drab outside, but this comment at 12 years old was not just for attention; it was deeper.
So there you have it: a boy who needs a boost, but the surrounding community is geared toward boosting the esteem of girls.
We desperately wanted to boost his emotions, motivation, and overall outlook on life. Any mother would, right? I thought of all the inspirational campaigns and programs I've recommended to clients in my work as an athletic coach: Girls on the Run! But wait, he's a boy. DOVE Self-esteem project, but wait, he's a boy. So, there you have it: a boy who needs an emotional boost...surrounded by a community largely geared toward supporting the self-esteem of girls.
I could have turned to him and said, toughen up, look on the bright side, or go out and shoot hoops, you'll feel better. But, I chose not to take this risk. I didn't want to teach him to bottle it up or brush it off. Instead I realized this was a wonderful opportunity for him to grow and learn that life does not always smell like roses, and sometimes you need to create fun, learn to relax, and seek the bright side on the other side of the cloud. Maybe he could even ultimately learn this and in turn share it with others.
We also yelled, and some days we just sat, staring at each other exhausted. But we did it together, and we did not turn to drugs, as the pediatrician suggested.
But this is all so much easier said than done. Having a child with the blues is a challenge. And suddenly talking about it with my husband became just as much of a challenge. I love my husband, yet his perspective was more along the lines of tough love. This, at the time, did not sit well with my own emotions. So I stuck with my gut to take an empathetic route, really trying to listen and feel what my son was going through. Because how was I supposed to help him manifest empathy if I was not demonstrating it?
So, first I listened. Then, we went for help. We also yelled, and some days we just sat, staring at each other exhausted. But we did it together, and we did not turn to drugs, as the pediatrician suggested. We practiced relaxation and visualization together. We did yoga. We laughed. And yes, we did cry too. A lot.
These days, my goal is to listen to my child as a person first without assigning the emotion to a gender. Since it is not necessarily an archetypal behavior for boys to "listen" deeply or empathize with each other, it is to our advantage as women, and moms, to raise boys who understand and express emotions kindly, genuinely, and appropriately. Maybe if boys are raised to express their emotions more freely, they, too, can help their sons, and daughters, do the same.
Last week, this same son turned to his younger brother and said, "When I am scared, one thing that helps me is to take a deep breath and think of the most relaxing place I can. I remember you like waterfalls, right?" Hearing this, as a mom, I like to think of this as proof that "the work" worked, and it was just put to the best use possible.
Love hearing from real moms? Our executive editor discusses what it's really like to be a mindful mom. If you have daughters, this piece on raising them with resilience is a must-read.