How To Protect Your Heart When You're Attracted To The 'Bad Boy' Type
Licensed Marriage and Family Therapist
By Weena Cullins, LCMFT
Licensed Marriage and Family Therapist
Weena Cullins, LCMFT, is a licensed marriage and family therapist with over 15 years of experience working with individuals, couples, and families. Her clinical advice has been featured at NBC News, The Huffington Post, Insider, Redbook, and many more mainstream media publications.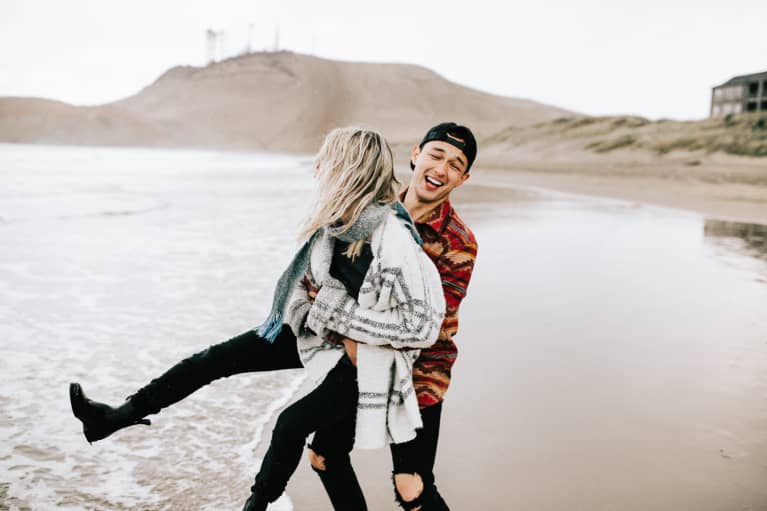 If you have ever found yourself in an emotional nose-dive after an exhilarating but unsustainable connection with Mr. or Ms. Wrong, you may have secretly wished that you could truly desire the "good on paper" person instead. However, the safe but unfulfilling relationships we sometimes force ourselves into slowly send us drifting away in desperate search of that "X" factor again and again.
Are we allergic to secure relationships? What should we do if we are serial relationship roller-coaster riders?
First off, let's agree not to judge one another.
Honestly, I believe that intensely sexy and exciting romantic partners get a bad rap. Consistently falling for the bad guy or girl or person doesn't always mean that something is seriously broken within us. We aren't choosing the wrong partner because we are afraid of being alone or because we are unaware of what qualities we really need in a partner. It doesn't always mean that we have low self-worth either.
There's an entire camp of people who are drawn to those who are passionate about life, fiercely dedicated to their work or a particular vision, thrill-seeking, or even a bit mysterious. These qualities can inspire and activate passions in us that help us feel more alive. Their energy piques our curiosity, and if we aren't careful, we allow ourselves to bond quickly with their enchanting souls.
Herein lies the problem.
Considering how powerful a strong attachment can be, it's important to think before we bond.
Bonding is a biological and emotional process that makes people more important to each other over time. As we spend time talking, eating, dating, making love, and experiencing stress or difficulty together, we can develop a physical and emotional bond that proves to be quite sturdy. For example, if our relationship takes a negative turn and disappointment replaces the thrill we initially experienced, our bond makes it more difficult to walk away from the relationship. When logic kicks in to help us steer clear of the unsafe situation that's brewing, the bond may forcefully nudge us to maintain the status quo. Establishing physical and emotional bonds can also make it difficult to leave abusive or toxic relationships.
When we feel that initial attraction to a potentially thrilling and intense relationship, we must learn to curb our curiosity.
While we may not be able to help who we are initially attracted to, we can do a better job of curbing the curiosity that causes us to open a door marked with uncertainty. Our intuition gives us warning signs when our partners make sharp turns that threaten our sense of stability and security. Not only is it important to listen to our gut, but we also have to monitor how much time and energy we invest in a relationship until we know it's safe to bond with a person. If we've had a hard time getting over a person that proved to be unsafe in the past, then we should become more aware of how and when our curiosity is piqued and make a conscious decision about how far to explore the chemistry at the outset of a relationship.
We may find that we are attracted to partners that may seem to be interested in reaching for the stars with us while overlooking the fact that some people are so singularly focused on their goals and desires that they are truly out of reach for love or partnership.
Therefore, we should stop creating relationship problems with someone who isn't in a secure relationship with us.
Riding an emotional roller coaster is a choice. While it may have been fun to experience the twists and turns of an unstable romantic connection the first few times, it can ultimately leave us feeling disoriented and ungrounded. It takes time and getting to know a partner to determine their level of emotional and physical availability and commitment. If a partner is unwilling or unable to commit fully, then you are not in a relationship with them.
Becoming more aware of how easily we create bonds and act on our natural curiosity can help us to eventually get off an emotional roller coaster and find a steadier love that can go the distance before we invest too much emotional bandwidth. It's OK to be attracted to sexy and exciting relationships with passionate individuals. Just make sure they are passionate about reciprocity. With enough self-awareness and boundary setting, we may discover that "good on paper" is simply good.