I Finally Overcame My Sugar Addiction (After Nothing Else Worked). Here's How
mbg Contributor
By Leslie Woodward
mbg Contributor
Leslie Woodward is a holistic nutritionist and yoga therapist focusing on women's health and helping women prepare for pregnancy.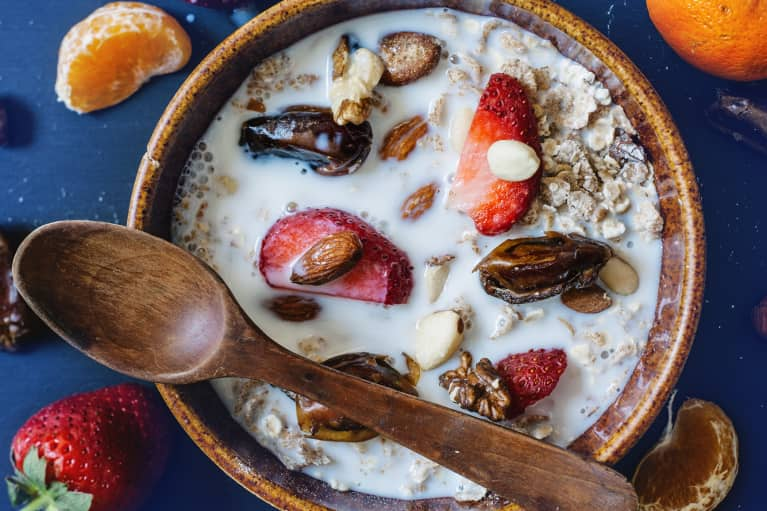 I have been a sugar addict for as long as I can remember. My mom teasingly called me a junk food junkie when I was a kid, and I became ashamed of my food preferences from a very young age. When hard things happened in my life, sugar was my friend and loyal companion. Through thick and thin, sugar was there to lean on and take the pain away, even if only for a brief moment.
Through high school, college, and my early 20s, I continued to use sugar to cope with my anxiety and stress. Then one day, everything changed.
I was heading home from work and got hit with the strong pang of a sugar craving. Something in me said to pull over to my favorite bakery to get a mini cheesecake, and without even thinking, my body turned onto autopilot and drove in the direction of the bakery.
I went in, got my cheesecake, and got back in my car. I told myself it would be much more enjoyable if I could drive the last three minutes to get home, and eat it with a real fork at my dining table. Then this crazy feeling overtook my entire body. I ripped the plastic fork from its wrapping with shaky hands, threw open the pastry box, and put that first bite of cheesecake into my mouth. The wave of euphoria that overtook my body was startling. My jitters calmed, and I was hit with this huge feeling of relief. The cheesecake was gone in a minute (of course), and I sat there in shock and scared by what had just happened.
In that moment, I felt like a junkie. The shaking, the urgency, the feeling that overtook me when I finally got my fix. It terrified me.
I gave up sugar that day. And my life changed around that decision. Do I have times when I indulge? Yes, of course. But I know that sugar being a daily occurrence in my life turns me into a crazy person and also makes me feel terrible. Giving up sugar for the first time can be brutal, and these are my favorite ways to get that sugar habit in check.
Have healthy replacements on hand.
Cutting sugar cold turkey seldom works unless you have the willpower of a Jedi. Make a healthier version of your favorite treat to have on hand to prevent you from wandering into the bakery. I love to make chocolate chip cookies with almond flour and sweeten them with honey or maple syrup, or I'll make this amazing chia seed pudding with canned coconut milk and dates. When I have these things in my fridge, the chances of a sugar relapse are much slimmer because my sweet tooth is satisfied.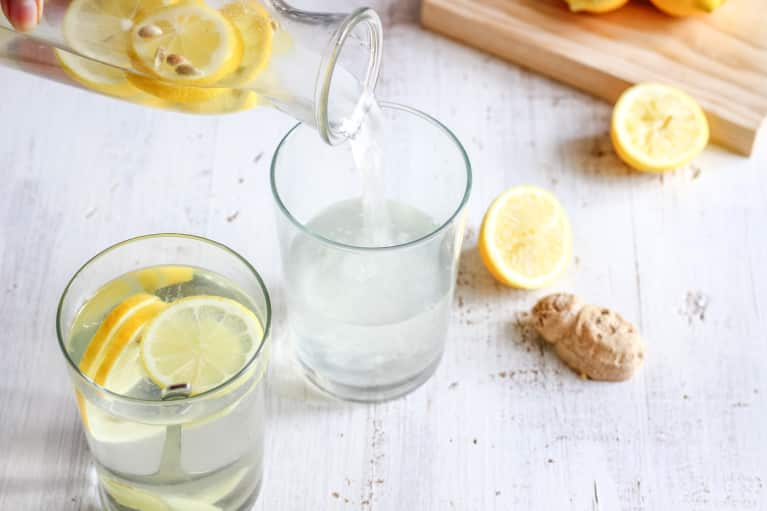 Most of us know by now that it is easy to confuse thirst signals from the brain for hunger signals. We think we're hungry but we're actually dehydrated. To avoid this confusion, aim for at least half of your body weight in ounces each day, and preferably more. I find that when I'm drinking 10 to 15 percent over that number, my cravings disappear. Important tip: Don't skip out on your water in the morning and try to make up for it later. It will be too late. Try to get 32 ounces down by 10 a.m. and another 32 by 1 p.m. When you get the bulk of your daily water in early, you'll notice more energy, minimal cravings, and better portion control at meals. Just make sure not to drink more than a few sips with your meals, as we don't want to dilute our digestive enzymes.
Often a big contributor to sugar cravings is an overgrowth of bad bacteria in the gut. Luckily, taking out processed sugar will help this a lot, but to really get them in check, add probiotic-rich foods like coconut water kefir, kombucha, yogurt, fermented vegetables, or a high-quality probiotic supplement.
Include healthy fat and protein at each meal, especially breakfast.
Many sugar cravings are the result of not getting enough high-quality fat and protein in your meals. This does not mean eat a chicken breast at each meal! Most of us need to eat less animal protein rather than more, so reach for plant sources here. Hemp seeds, chia seeds, almonds, and walnuts pack healthy fat and protein, and other good fats include avocado, grass-fed butter or ghee, and high-quality oils like coconut, flax, hemp, and olive.
In my experience and in working with clients, the worst culprit when it comes to sugar cravings is stress. Many of us don't realize how stressed we really are, but our culture drenches us in it, with the inability to ever be off the clock, constantly having a screen in our faces, and, for many, the constant onslaught of stressful news. Some stress is normal, and even healthy, but the chronic levels we are facing today are not. First, in order to burn off the stress hormones, we need exercise. It is the only way to metabolize them and get them out of the system. And second, we have to try to shift the body out of stress and into relaxation as often as possible. Set up some boundaries for checking work email, or try a guided meditation app during a quick lunch break. Find little ways to take a breather and reset. You'll find yourself happier and more productive when you hop back to it.
Life is about balance, and I still eat sugar from time to time. However, I know that if I have it one day, my body will crave it the next so I have to keep an eye on my intake. Keep your cravings in check with the tips above so that when you have a treat, you'll be able to enjoy it as such, and not as a means to cope.