A Rare Mars Retrograde Starts Today — Here's How To Deal With It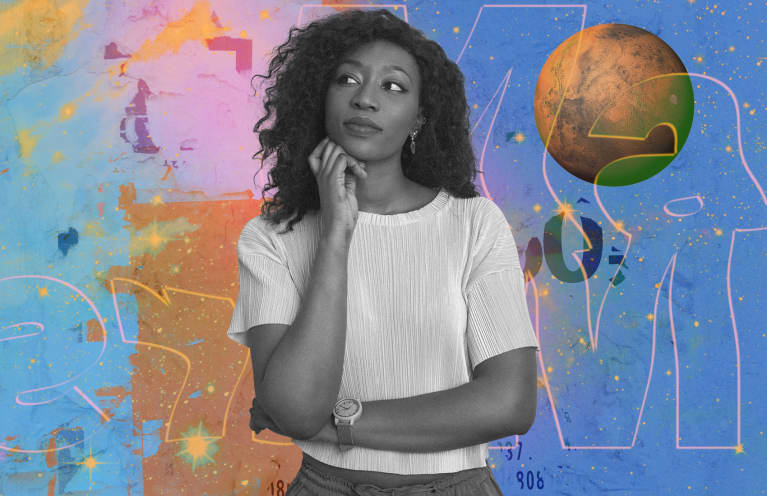 In case you didn't know, Mercury isn't the only planet that can go retrograde, and we've got a rare retrograde coming this month.
Beginning on September 9 until November 15, Mars—which rules anger and action, among other things—will go retrograde. And you can expect this once-every-two-year event to manifest as frustration or stagnation in areas like your ambition and career, romance, and sex life. But we can, just as well, work the energies of this retrograde to our benefit.
Here, mbg's resident astrologists, the AstroTwins, fill us in on everything we need to look out for this retrograde.
Mars is considered in astrology to be a very fiery and masculine planet, governing things like passion, anger, aggression, and more. According to the AstroTwins, Mars, which "rules Aries and all things fierce, lusty, and Fight Club," can feel a bit like "a global temper tantrum" when it goes retrograde.
And this time around, doubly so, the Twins note, because this Mars retrograde occurs in the planet's home sign of Aries. When Mars is direct, it helps keep us motivated and action-oriented, so while retrograde, we may feel some pushback during this time.
When Mars is retrograde, the twins explain that everything Mars related, "from the way we handle conflicts, to how we pursue attractions and opportunities" can be thrown off course. "People we clashed with in the past could return to 'resolve' matters, but efforts to find closure might only fan the flames of anger—and torrid sexual energy—again," they say.
The AstroTwins note we've already been seeing a steady rise in aggressive activity since Mars entered Aries in late June (i.e., the arrests of Portland protesters, and shootings). "Mars retrograde in Aries is likely to churn up more hotheaded dissent, but while in reverse until November 13, the 'battle plan' will probably be obscured," they say.
We may feel frustrated, low energy, or like we can't get the ball rolling with things (whether they be work or romance related), no matter our efforts. This can be irritating, and angry outbursts can happen—but it isn't a time to fight that pushback. Here's how to make the energy of this retrograde work for you.
How to navigate Mars retrograde effectively.
Interestingly, planetary retrogrades can sometimes mute the intensity of that planet, "so we're hoping that Mars' backspin can tamp down some of the incendiary flames," the Twins say. "But given all the volcanic emotions that are building up in 2020, the best we can do is cross our fingers."
If your chart is Aries heavy, this may be a particularly challenging retrograde for you. What's important is finding ways to quell the flames this time can bring up for you. If you find yourself feeling more irritable, impatient, or even petty, remember to tune in with your emotions and slow down before reacting.
And if you're struggling with a project, goal, or ambition—patience is a virtue. And while it may run thin during Mars retrograde, you'll want to use what you've got until this retrograde ends on November 15.