How (And Why) To Monitor Your Palm Oil Consumption
mbg Sustainability Editor
By Emma Loewe
mbg Sustainability Editor
Emma Loewe is the Sustainability Editor at mindbodygreen and the author of "The Spirit Almanac: A Modern Guide To Ancient Self Care."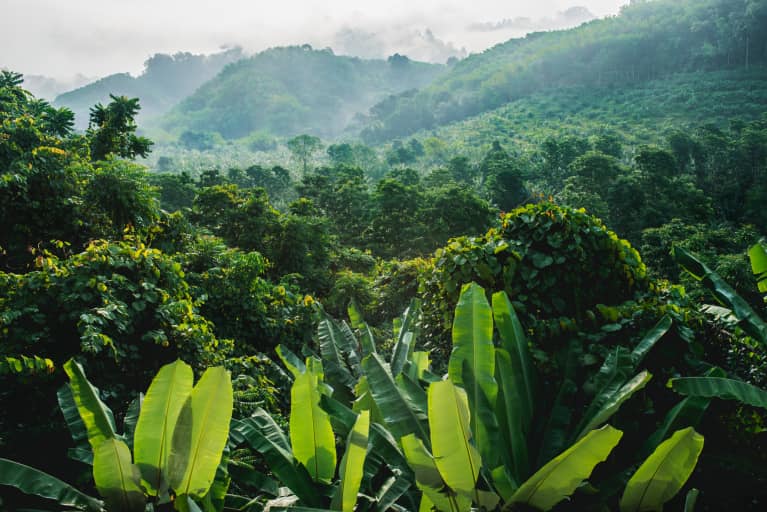 Our editors have independently chosen the products listed on this page. If you purchase something mentioned in this article, we may
earn a small commission
.
Palm oil is a hot topic among environmentalists. The most common veggie oil in the world can be found in nearly half of packaged foods in America, as well as in certain beauty products and home cleaners. Due to this incredibly high demand, growers of the oil, which is extracted from palm fruit, have historically clear-cut mature forests to make way for more fertile land to farm. Chopping down these ecosystems contributes to global warming by releasing greenhouse gases into the air, degrading soil quality, and destroying the habitat of many animal species.
While this news might make you want to avoid palm oil altogether, that may not be the best approach. The livelihood of farmers around the world depends on selling this good, plus palm fruits have a higher yield than other oilseed crops. "I wouldn't recommend avoiding it, because then we're just going to replace it with another type of oil," advises Laura Donnelly, who helps monitor the palm oil market for the Rainforest Alliance. "It's better to look for sustainable certification like RSPO."
RSPO, or the Roundtable on Sustainable Palm Oil label—a green palm tree—verifies palm oil that was grown in a way that doesn't harm local ecosystems or wildlife. As you're looking for a deforestation-free alternative to your favorite products, you might want to ease into it by finding easy ways to avoid unsustainably grown palm oil. Here, zero-waste advocate, palm oil connoisseur, and author of Zero Waste: Simple Life Hacks to Drastically Reduce Your Trash Shia Su lists a few ways to get started weeding it out:
1. Stick to unprocessed food.
Palm oil is often found in processed food and junk food. You can bet that most of the cookies, cakes, and candies you'll find on supermarket shelves are made with it. Su avoids it by sticking to the outer aisles of the store and going for fresh, whole products (think fruits, veggies, nuts, and grains) whenever possible. Bonus: These items are healthier and don't need to come wrapped in plastic.
When you are in the mood for a sweet treat, go for options that are RSPO-certified like Justin's nut butter cups and Endangered Species chocolates.
2. Become a beauty minimalist.
"A good palm-oil-free Castile bar soap is all you need to clean your body from head to toe," raves Su. She swears by Kirk's coco bar soap that comes in a recyclable paper wrapper. Then, instead of using shampoo and conditioner, she'll rinse her hair with an apple cider vinegar wash. She's cut back on creams, lotions, body butters, and balms in favor of DIY remedies like sustainably sourced coconut oil and a few drops of tea tree or ylang-ylang essential oil.
3. Say no to fried food (if you're not already).
The next time you're tempted to indulge in fried food, remember that beyond being less than healthy, it might be fried in palm oil or vegetable oils that contain traces of palm oil.
4. Detox your cleaning routine.
"Most cleaning products come with warning labels, and yes, some of them also contain palm oil! Why should you deal with those health hazards when all you really need are baking soda, washing soda, white vinegar, and a palm-oil-free Castile soap?" asks Su. Her all-purpose cleaner recipe includes 1 cup of white vinegar to every 3 cups of water. Instead of dish soap, she uses her go-to palm-oil-free Castile soap and will sprinkle some baking soda over stubborn areas. "My laundry detergent consists of 1 cup baking soda, 1 cup of washing soda, and a grated bar of Kirk's coco bar soap. If you can get palm-oil-free bar soap from a local soapmaker, even better!"
Stay tuned for an in-depth look into deforestation on mindbodygreen next week, and check out some more ingenious DIY cleaning ideas in the meantime.