These Keto-Friendly Miracle Noodles Were Way Better Than Expected

Contributing Health & Nutrition Editor
By Stephanie Eckelkamp
Contributing Health & Nutrition Editor
Stephanie Eckelkamp is a writer and editor who has been working for leading health publications for the past 10 years. She received her B.S. in journalism from Syracuse University with a minor in nutrition.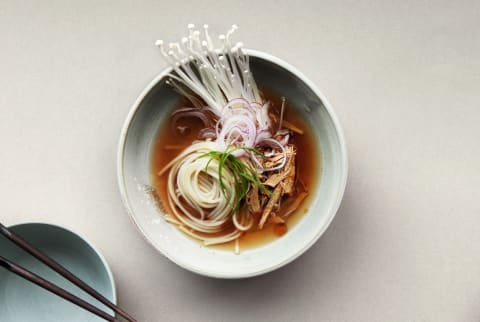 Image by Ellie Baygulov / Stocksy
May 4, 2019
Let's get one thing out of the way: I don't buy "diet" food, and I'm not keto. But I do try to limit my intake of refined carbs because they just make me feel crappy. So you could say my curiosity was piqued when I started hearing more and more about these Miracle Noodles (aka shirataki noodles) that are gaining popularity among the low-carb crowd—due to the fact that they contain literally zero calories and a measly 1 gram of carbs.
Shirataki noodles definitely aren't new—I vividly remember my mom ordering some back in the early 2000s and our whole family being so horrified by the weird texture that we flat-out refused to eat them—but they are experiencing a resurgence in popularity, thanks to the paleo and keto diets.
Advertisement
This ad is displayed using third party content and we do not control its accessibility features.
So, I decided it was time to actually test them out to determine if they're as disgusting as I imagined or if they could be a fun new way to eat noodles without the bloating and blood sugar spike.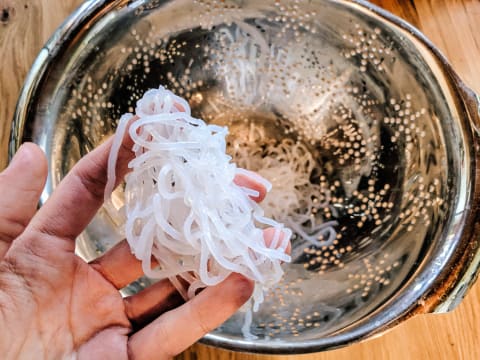 What are shirataki noodles?
Shirataki noodles are a traditional Japanese noodle made from glucomannan, a type of starch derived from the konjac yam. In fact, the ingredient list simply reads water, konjac flour, and lime water (a natural preservative). They're often sold in "wet" form, packaged in a pouch with liquid. All you have to do is rinse and eat—no cooking required. However, they're a far cry from pasta, and it's almost better to think of them as a slippery, gelatinous, flavorless form of ramen.
As far as health benefits? "There really aren't any, outside of the fact that they're low in carbs, which makes them well-suited for those following a low-carb or keto eating plan," says Jessica Beacom, RDN, registered dietitian and co-founder of The Real Food Dietitians. They do contain 2 grams of fiber (or about 7% of your daily value), but other than that, the nutrition label is pretty much full of zeros. That said, there's nothing unhealthy about them either.
Let me be blunt, though: These noodles smell funky as sh*t. When my shirataki noodles came in the mail and I opened up their plastic packaging, I was immediately hit with a waft of fishy odor—which, Beacom assures me, is completely normal and due to the liquid they're packaged in. And thankfully, after I thoroughly rinsed and drained these noodles (as per package instructions), the smell disappeared.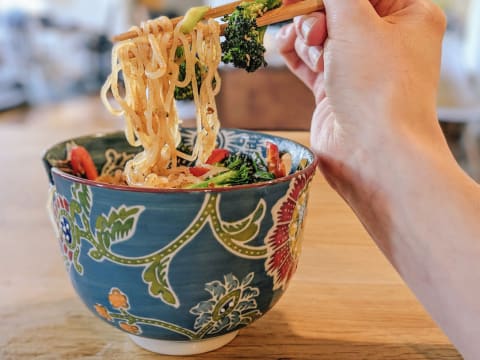 Advertisement
This ad is displayed using third party content and we do not control its accessibility features.
How to cook shirataki noodles so they actually taste good.
While the companies that make shirataki noodles will have you thinking these are a perfect pasta substitute, I assure you they are not—and simply adding marinara sauce and cheese is going to leave you very disappointed. That's because the texture of these noodles in no way resembles pasta (if that's what you crave, try one of these grain-free pastas instead). They are, however, fairly similar to ramen and rice noodles. And after experimenting with a few different recipes online, I can safely say that shirataki noodles are ideal for using in Asian-inspired dishes such as ramen, stir-fries, and cold noodle salads.
My personal favorite was a variation on Wallflower Kitchen's Shirataki Noodles with Almond Butter Sauce, featuring shirataki noodles, veggies sautéed in garlic, and a sauce made with almond butter, sriracha, and coconut aminos (my version shown above). I took the liberty of adding some sesame oil and seeds, too. Because these noodles are so light and gelatinous (not a super-appetizing word, I know), I found that the fatty sauce sort of hugged the noodles, giving them a much more satisfying texture.
My final thoughts? I'm weirdly into these noodles, and I didn't expect to be. I'll definitely be experimenting with more recipes this summer since they're an easy, no-cook way to get my low-carb noodle fix—even if I have to deal with a few seconds of fishy smell.
Want to turn your passion for wellbeing into a fulfilling career? Become a Certified Health Coach! Learn more here.
Advertisement
This ad is displayed using third party content and we do not control its accessibility features.