It's Way Easier Than You Think: How To Make Your Own Healthy Baby Food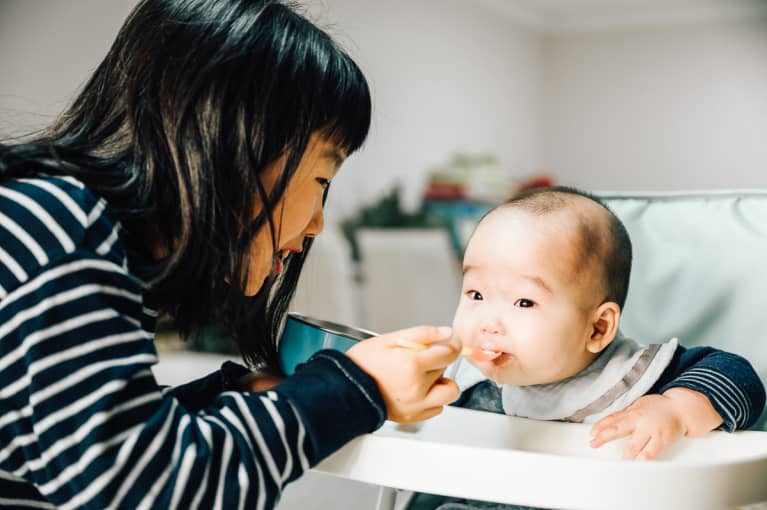 Last updated on February 20, 2020
Everyone's goal, of course, is to raise a healthy, adventurous eater—while having fun along the way. One way to achieve that is making your own: While it can sound like a crazy thing that only DIY mavens would attempt, making your own baby food is actually really easy.
If you're not the DIY type, don't worry, there's plenty of great pre-made options, too.But if you're curious about trying your hand at homemade baby food, here's our ultimate guide.
What you need to make your own baby food.
To get started, you just need the right equipment:
Steamer
Food processor
Storage
What homemade baby food to start with.
We recommend you feed your children organic foods when possible. They are grown without the use of hormones, genetically modified organisms (GMOs), or synthetic pesticides. If that's not possible, just be sure to buy the Dirty Dozen list organically as those are the most sprayed crops.
Avoid honey (for the first year), choking hazards (things like grapes, tough meat, hot dogs, tough skins, popcorn, hard nuts), fish high in mercury, and refined sugar.
We also recommend starting a single savory option (just avocado, for example). Save the sweeter fruits for later, so as not to overdevelop a sweet tooth (there's plenty of time for that later!). Always wait three to four days after each new food before introducing another. My favorite options to start with are:
Avocado
Carrots
Zucchini
Green beans
Spinach
Sweet potatoes
After a few weeks of the single-ingredient purees, start to add in herbs and spices to excite their taste buds, as it's vital in expanding their palates and developing adventurous eaters. And as you progress, add in some fat like coconut oil, olive oil, grass-fed butter, and herbs and spices. Always wait three to four days between each addition before adding another. The more flavors you offer early, the more likely your child will enjoy a variety of foods later on.
My favorite flavorings include:
Cinnamon
Ginger
Mint
Cumin
Garlic
Onion
Tarragon
Thyme
Rosemary
How to make your own baby food.
There are only a few steps!
Cook each item until soft (either via steaming or roasting).
Toss ingredients in a blender and add liquid—either the liquid you steamed in, breast milk, or water to start. As you progress, add in some fat like coconut oil, olive oil, grass-fed butter, and herbs and spices.
Blend, blend, blend!
The key nutrients to hit:
You should focus on a few key nutrients to make sure their baby is developing optimally: fats, omega-3s, iron, and probiotics (in fact, these are probably great nutrients for the whole family to focus on as well!).
How to portion homemade baby food.
All you need is a few bites (anywhere from a teaspoon to a tablespoon at the start). Start with once a day for a few weeks before moving on to twice a day. Feed them at times when they are happiest, so not too hungry or tired. For example, after their morning feeding and before their nap is a great time or after their afternoon nap before dinner.
At the beginning (the first few months) your milk and/or formula amounts should stay the same (anywhere from 24 to 40 ounces). It's not until around month nine that milk/formula ounces should begin a slow decrease as food becomes more meal-like.
How to set yourself up for success while transitioning to homemade baby food.
Have your little one seated in their high chair, and sit down right in front of them so you are engaged during the feed. Place some food on a spoon (and on the high chair or mat) and put it on the tray, let them play with it a bit, and most likely they will figure it out. When you do have to feed them, make sure to put the spoon about 12 inches in front of them and let them lean in to eat. If they open their mouths for more, give it to them, and if they close their mouths or look the other way, end the feeding and just have them play with the food and spoon!
Let your baby play with his food, and don't be too quick to wipe his little mouth. They are going to make a mess, and letting them play with food is a huge part of their development. Teaching your baby how to eat is just as important as what to eat. This is probably the one time you should be happy that she's playing with her food, so let her get messy!
Recipe Idea: White Bean & Leek Puree
Want to play around with a recipe? This is one of the more advanced ones, for after you graduate from the single-ingredient fare.
Makes 4 (2-ounce) servings
Ingredients
1 tablespoon olive oil
1 leek, white and green parts only, chopped
1 cup canned white beans
Bring the beans (undrained) to a simmer in a saucepan. Cook for 5 minutes. Drain.
In a large sauté pan, heat the olive oil on medium-high heat until it shimmers. Add the chopped leek and cook, stirring occasionally, until it's soft, 5 to 7 minutes.
Add the white beans and sautéed leek to a blender and blend until smooth.
Store puree in the refrigerator for up to 3 days.