Genius Tips For A Sustainable, Green Gathering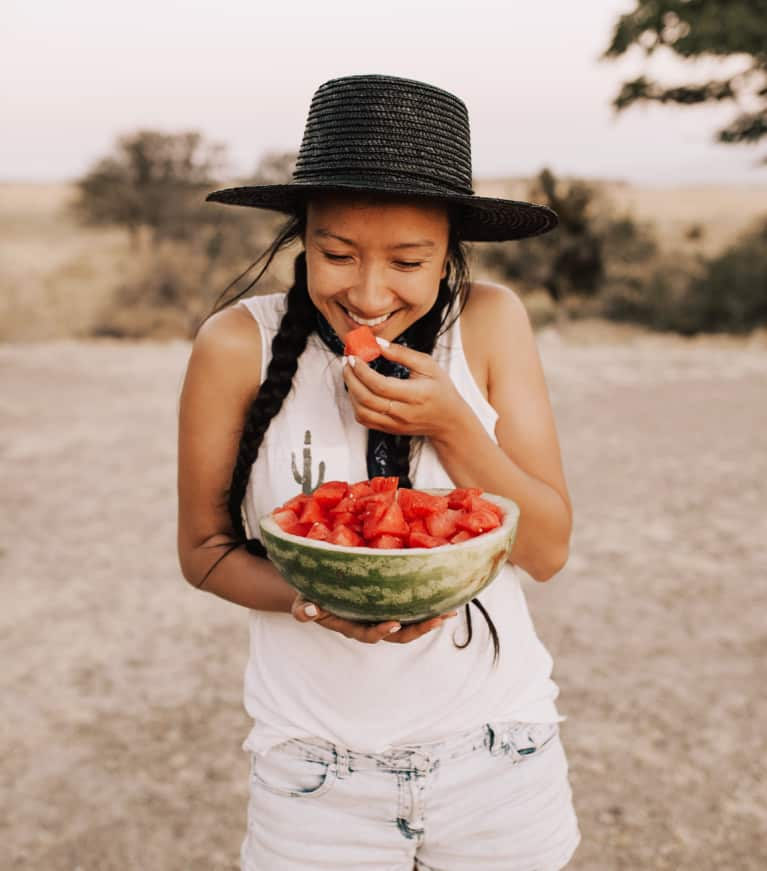 Summer has arrived, and the smell of grilled asparagus is in the air! With all the holiday cookouts this time of year, it's tempting to ease out of the conservation mindset and bring out the giant garbage bag at the end of every picnic.
But this year, I'm challenging myself to cut down on the typical summertime waste and recycle my food scraps in tasty, creative ways. Here are some simple, seasonal cooking techniques that I'm using again and again.
Pickle your watermelon rinds.
After contemplating the pounds of unused rind leftovers from my watermelon salad, I discovered this delightful Southern treat. It turns out pickled watermelon rinds make for an unexpected addition to any outdoor potluck. I usually chop my pickled rinds into relish-size squares and serve them on top of sausages, but their sweet flavor pairs nicely with lots of dishes.
Pickling is super quick and easy. I just improvised with what was in my cupboard for pickling spices and added a touch of apple cider vinegar to fill the pickling jar.
Ingredients
Approximately ¼ of a watermelon's worth of rind, peeled, roughly chopped, and with a thin layer of pink
4 cups water
2 tablespoons kosher salt
Pickling juice
1 cup brown sugar
1 cup rice vinegar (I used brown rice, and it was delicious!)
1 teaspoon black peppercorns
12 whole cloves
½ teaspoon pickling spice (I threw in some cinnamon sticks, mustard seeds, fennel seeds, coriander seeds, cardamom, red pepper, black pepper, and bay leaves because that was what was in my kitchen)
1 inch thinly sliced ginger
½ of a habanero pepper (I used a jalapeño, and I kept the seeds in because I like my watermelon pickles extra spicy)
2 star anise pods
Apple cider vinegar (if needed)
1 16-ounce Mason jar
To start, bring 4 cups of salted water to a boil. Peel a quarter's worth of rind and chop into 1-inch pieces.
Pour the cubes into the water and let boil for five minutes. When done, pour the cubes into a colander and let stand.
While your watermelon rind cools, make the pickling juice and let simmer for 10 to 15 minutes. Once the 15 minutes are up, pour the watermelon rinds and the pickling juice into a Mason jar. I added a touch of apple cider vinegar to top off the jar.
Let cool until the mixture is room temperature. This will reduce the risk of the crystallization in your mixture. When the concoction has reached room temperature, you can then refrigerate. Enjoy your watermelon rind pickles for the next two weeks!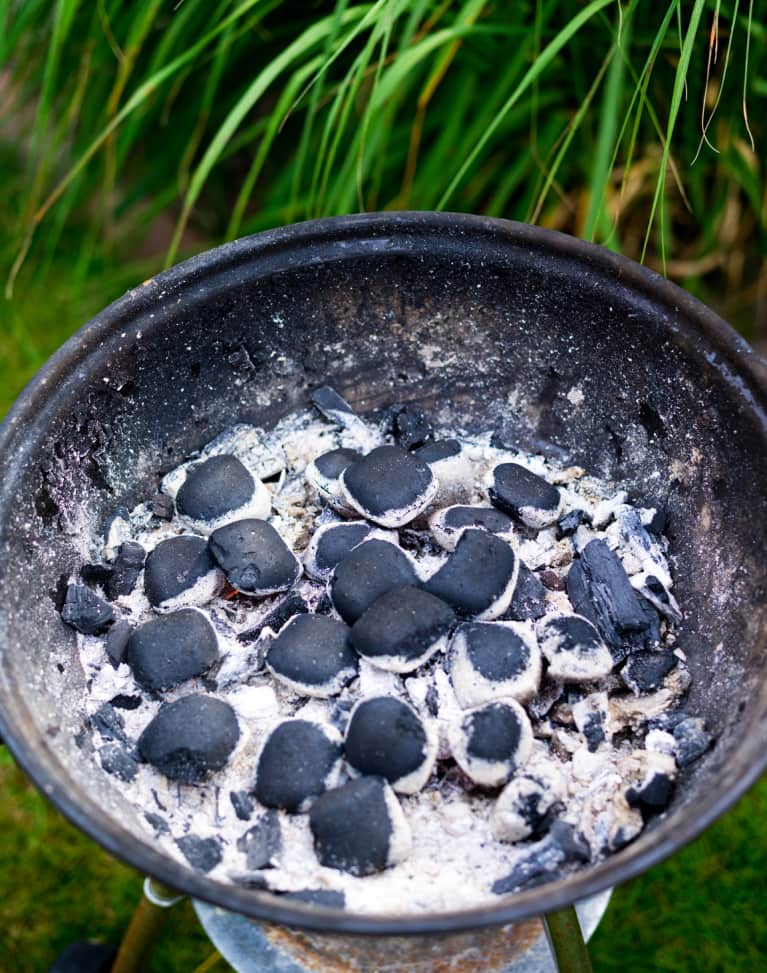 Usually my household is compost-forward, but there's only so much wood ash a compost heap can take before turning alkaline. After a cookout or campfire, I poke around the summer garden for some alkaline-friendly plants. Some ash lovers include asparagus, parsley, okra, clematis, and mock oranges. I usually add a cup of ash to a watering can and pour around the beds, avoiding direct contact with the plant's stock.
If you are an urban griller and don't need to adjust the pH balance of your desk succulents, you can use the ash to polish silver and other dulled metals. Ash has a bit of texture that makes it a quick, effective polish. Take a handful of ash and add a touch of water to make a paste. Let sit for a few minutes, rub away, and rinse with nontoxic soap for sparkling spoons!
Disclaimer: It's important to note here that I use 100 percent all-natural charcoal when grilling. Most standard charcoal briquettes contain additives like nitrates, sawdust, and borax that shouldn't be used for gardening. When grilling, my family uses Big Green Egg brand.
Derelict hot-dog buns can have a second chance in an improvised Panzanella. This recipe is adopted from Tuscany, and there is a multitude of Panzanella interpretations today. Try this simple recipe to reuse old buns of any kind.
Ingredients
2 to 3 hot-dog buns, toasted or grilled, stale and chopped into crouton-size squares
½ a red onion, peeled
2 to 3 tablespoons red wine vinegar
5 vine tomatoes, cut into wedges
15 basil leaves, torn
¼ cup of the best extra-virgin olive oil you can find
To start, Panzanella requires stale, stiff bread, so you'll need to pop those stale buns in the oven at 350°F.
Then, thinly slice the red onion and place in a bowl with the red wine vinegar and a pinch of salt. Let the onions macerate for 45 minutes.
Combine the tomato wedges, basil, onions (reserving the liquid) and olive oil in a medium bowl and let sit for a few minutes (10 should do it).
Add in your croutons and let soak for 30 minutes or until the bread is slightly softened by the tomato juice. Season to taste or add some vinegar from the macerated onions and serve at room temperature.
Cutting down on food scraps starts at the store, and this genius grocery list will help you buy only food you're going to use up.