How To Stop Playing Into A "Trash Epidemic" This Year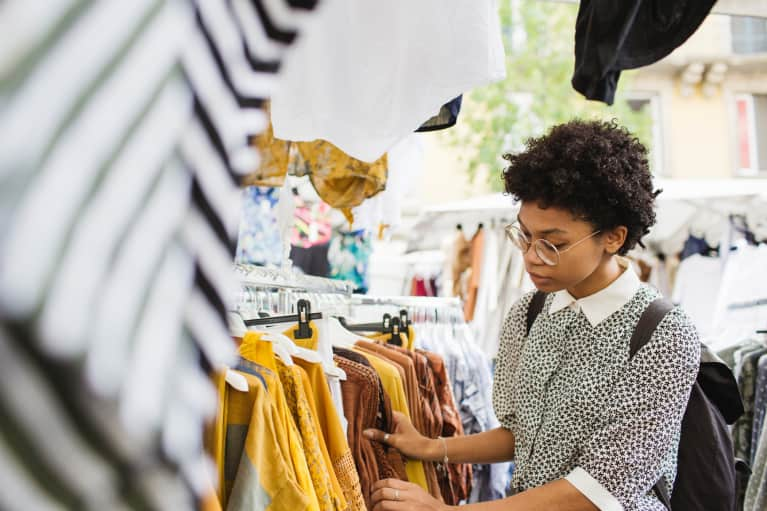 On average, the world generates 3.5 million tons of solid waste per day. That's 10 times the amount we produced just a century ago. At this rate, there will be more plastic than fish in the ocean by 2020 and we'll be sending 11 million tons of trash to landfill daily by 2100.
My work with The Alliance Center, a nonprofit dedicated to bringing people together to create a sustainable and equitable future, has shown me just how necessary waste diversion is in today's world. Reducing the amount of garbage you produce is the best way to help clean up this trash epidemic, and what better time to start than the New Year? Here are a few of my organization's top tips for cutting down on trash in 2018:
1. Ditch common disposable items.
Six million tons of disposable plastics, like plastic utensils, plastic packaging containers, and plastic bags are sent to landfill every year, according to One Green Planet. To cut down on waste, bring your own reusable items like jars, shopping bags, takeout containers, water bottles, portable utensils, cloth napkins, and straws to restaurants, stores, the park, and other venues where waste might be created.
Avoid unnecessary plastic packaging by bringing your own reusable cloth bags and jars for bulk grocery items. These days, bulk sections house everything from grains, dried beans, cereal, and nuts to more specialized items like lotion, shampoo, and syrups in some stores. Just be sure to weigh jars and bags beforehand so the weight of the receptacles can be subtracted from the total.
Create an at-home compost pile or bin for food scraps and paper products. If it's challenging to compost in your home, find a local composting hauler or collection center. According to the Environmental Protection Agency, this one change can reduce your waste by 20 to 30 percent. The EPA also has some great tips on getting started composting at home.
4. Learn about local waste guidelines.
Brush up on your local waste haulers' guidelines for recycling, composting, and trash. It's worth it to really get these down, because if your recycling is contaminated, it will be sent to landfill instead of a recycling or composting center.
5. Rethink how you reuse.
Get creative with how you use leftover items. For example, use leftover dog food bags to collect pet waste; wrap presents in old newspapers or magazines; use old food jars for storage, organizing, or collecting items at a bulk store; and use old prescription bottles to store items like bobby pins, coins, thumbtacks, and other small items.
6. Return supplies to local establishments.
Connect with local businesses to give back/sell back items. For example, drop off packing peanuts at your local post office, or find a metal recycler for old bike parts or metal bottlecaps.
Get into the habit of putting more thought into everything that you buy, keeping in mind that you're voting with your dollar every time you make a purchase. When researching companies and products, see if the company is transparent about their supply chain, treats workers with respect, shares information about their production process, and uses sustainable materials. Here are a few questions to ask yourself every time you're in a store.
8. Support sustainable companies.
Support companies who have what's known as "cradle-to-cradle systems" to eliminate production waste. For example, Patagonia will take back old clothing and either repair it for you or recycle it into refurbished garments. Another great company is Interface, which reclaims old carpet and converts it into new material.
Subscribe to a local tool-sharing library, join a neighborhood app like Nextdoor, or create a local co-op to share goods among neighbors. The average drill bit is used for just minutes in its whole life, so sharing these tools can reduce a lot of waste.
Instead of sending items to landfill, donate them. Give food to a local food bank or old clothing to a thrift store. Some thrift stores will even accept damaged clothing, sending it to a manufacturer who will break down the garments and make them into new clothing and products.
Next up: These easy shopping tips will help you avoid plastics in grocery stores.