Chef Giada De Laurentiis Shares Her Genius Secret For Making Pasta Healthy
Contributing Food Editor
By Liz Moody
Contributing Food Editor
Liz Moody is a food editor, recipe developer and green smoothie enthusiast. She received her creative writing and psychology degree from The University of California, Berkeley. Moody is the author of two cookbooks: Healthier Together and Glow Pops and the host of the Healthier Together podcast.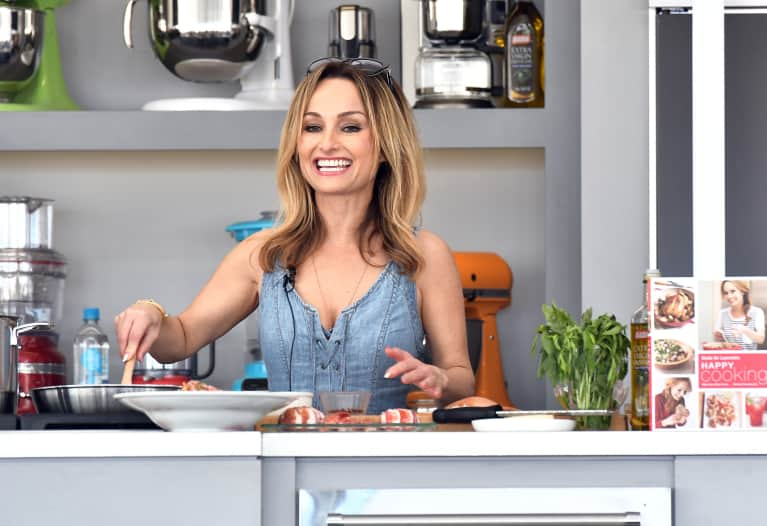 Giada de Laurentiis is one of the most known faces of the food world, with best-selling cookbooks, a number of Food Network shows, and a namesake Las Vegas restaurant. Now, she's partnered with Simply 7 to empower other women, an act she thinks is especially important in the wake of the #metoo movement rocking the culinary world and so many other industries. "You can't possibly have been a woman in this business for as long as I have and not been caught in the misfire of certain things, " she says. "It's time we speak out. It's wonderful that women are all rallying around each other, and in the end we'll be in a better place for it."
For her new line of gourmet Italian popcorn with Simply 7, they've committed to sourcing as much of the non-GMO blue and red kernels from female farmers as possible. "We actually wanted to source exclusively from female farmers," she told mbg, "but sadly, we found that wasn't possible at this point. We're dedicated to sourcing as much as possible with female farmers, working with Fund Her Farm to do so. The end goal is to source all of our corn from female farmers. Men overall over the years have done a better job of empowering and helping each other, and it's time for women to do the same. It's important for our children and the future of our country to know where our food comes from and to empower small farmers—especially female ones."
Men overall over the years have done a better job of empowering and helping each other, and it's time for women to do the same.
The popcorn relies on strong, simple flavors with clean ingredients like Parmesan and olive oil, reflecting Giada's refreshingly simple food philosophy—almost nothing is off the table, but she's careful to use high-quality ingredients.
She also has a simple trick that makes pasta, everyone's favorite Italian staple, way healthier. "The key is to add more salt to the water of the pasta when it's cooking, so you're not stuck adding a lot of fat later to the pasta to make it taste good," she explains. "The salt in the water gives the initial strong flavor. Without that, you will have something very lackluster or you'll be forced to add a lot of fat to it. Seasoning your food really well throughout will give you a more balanced flavor, without a bunch of unhealthy ingredients."
She also notes that portion sizes are vital. "Italians don't eat big portions. We eat a little bit of everything and not a lot of anything. "Her healthy but balanced perspective doesn't end there. She begins the day with a delicious, nourishing breakfast: oatmeal, topped with olive oil, salt, sometimes chopped Marcona almonds, and sometimes Mandarin oranges. "I like starch in the morning," she says. "I'm not an egg girl. Italians don't eat eggs for breakfast: They eat them for dinner or lunch."
She's also a devoted yogi, after starting a practice with Kathryn Budig, a longtime member of the mbg family (she's even a class instructor!). "She is the person that changed my whole view of yoga—I've been a dedicated yogi for the last nine years because of her," she says. "She actually transformed my body." Giada does yoga four days a week, no matter where she is in the country or world. The combination of strengthening and stress relief helps fuel her for her next chapter: empowering women. "I want to make my mark and help other women. There's such an opportunity here to bring back farming as a whole, and to empower women to be our farmers as well. I want to find ways to voice that and put my celebrity into helping other women."