Female Friendship Has Never Been More Important. Here's How To Find Your Girl Gang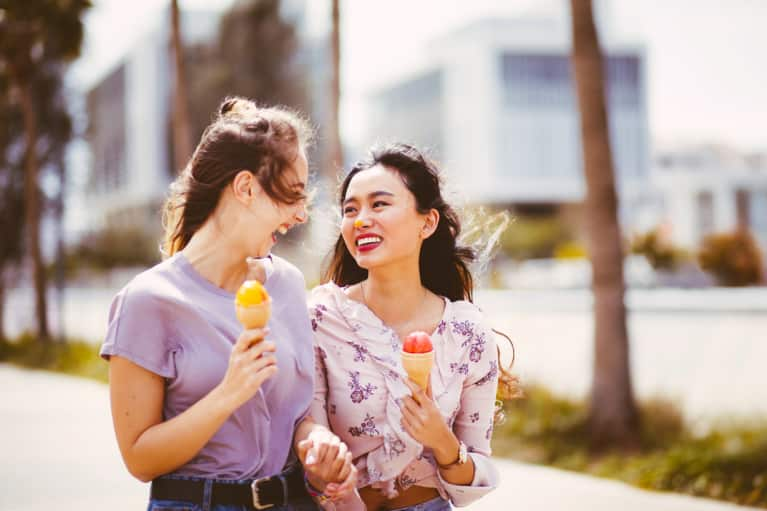 Our editors have independently chosen the products listed on this page. If you purchase something mentioned in this article, we may
earn a small commission
.
Earlier this month, world-famous feminist and journalist Gloria Steinem said, "I've never seen this much activism in my life. It's way, way more than anything I've ever seen." And that's saying a lot: At age 84, Steinem was a leader of the feminist movement in the late '60s and early '70s and the co-founder of Ms. magazine.
But she's right: Activism, especially among women, is at an all-time high. The 2017 Women's March, which took place the day after Trump's inauguration, was the largest single-day protest in U.S. history; and women all over the world have come together to combat sexual harassment and assault via the #metoo movement and Time's Up.
As the conversation unfolds and expands to TV, podcasts, and books—Text Me When You Get Home: The Evolution and Triumph of Modern Female Friendship is an especially heartwarming one—one thing is becoming increasingly clear: If you're a woman in 2018, few things are more important than finding other women to band together with.
The problem? As we get older and high school and college feel further and further away, strong female bonds can fall by the wayside as women start to focus more on their spouses and children. If this sounds familiar, and you're left wondering why you don't have enough close bonds with strong women, good news: Making new friends as an adult is possible. Here's what you need to know to make it happen.
Start with what you've got.
If you find yourself thinking, I have no friends! start by checking your limited beliefs about your social life at the door. Alison Stone, LCSW, suggests taking a moment to re-examine the bonds you already have. "Do you have any childhood friends that you can reconnect with? Perhaps you lost touch in college but now live nearby again. Reach out and see how it feels to be a more consistent part of each other's lives again," she suggests. "Is it natural, like no time has passed? If so, it might be worth strengthening that connection."
Getting "set up" doesn't just have to apply in a romantic scenario. It can be just as effective when you're looking to make new female friends. "I think meeting women through friends of friends is a great option. Being set up doesn't just have to be for romantic partners—go on girl dates!" says Stone. "Maybe your college friend has a friend from high school that you've met a few times here and there, and you'd like to get to know them better."
She adds that while forging a genuine connection of course requires mutual effort, it is doable. "All you need is some common interests and a willingness to get outside your comfort zone and be open with someone new," she says. "If getting coffee or a meal with a newer friend feels too intimidating, do an activity together. Or better yet, do it with your mutual friend. It will help break the ice and create bonds based on new experiences."
Know that feeling anxious in new social situations is natural.
One thing that holds a lot of people back from making new connections is social anxiety. So if you find yourself feeling anxious when going into situations where you know you could find potential new friends, Lizabeth Roemer, Ph.D. and co-author of Worry Less, Live More: The Mindful Way Through Anxiety Handbook, suggests doing your best to try to manage that anxiety—because the payoff of doing so could be so worth it. "Practicing mindfulness exercises can help us feel less overwhelmed and constrained by anxious thoughts and feelings while clarifying why friendships matter to us can help motivate us to do things despite these uncomfortable internal experiences arising," she explains.
If you're hurting for female friends, worry not: With a little bit of extra effort, you'll find your girl gang in no time.
Want to up your game as a friend? Here's how to be an epic one.
And do you want to turn your passion for wellbeing into a fulfilling career? Become a Certified Health Coach! Learn more here.