How To Make Face Masks At Home, With & Without A Sewing Machine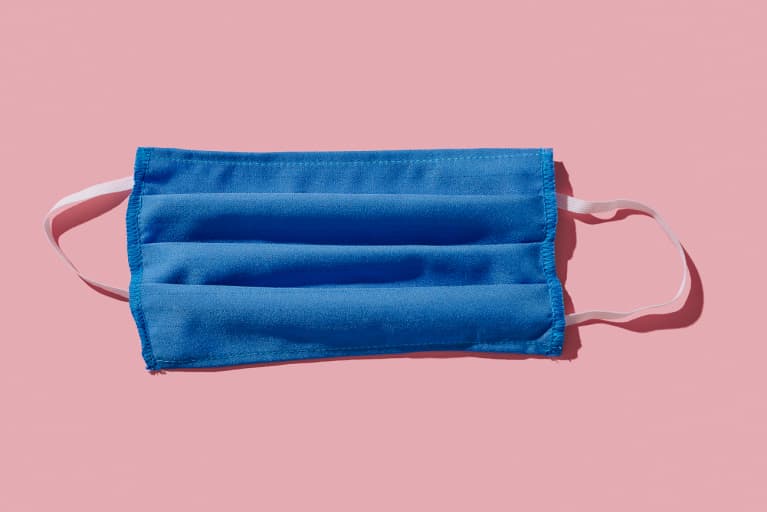 Our editors have independently chosen the products listed on this page. If you purchase something mentioned in this article, we may
earn a small commission
.
Last updated on July 31, 2020
Amid the COVID-19 pandemic, in addition to social-distancing and washing your hands, experts recommend wearing a face mask to avoid the spread of the virus.
In order to preserve medical-grade personal protective equipment for health care workers, many people have been making homemade face masks for themselves.
Though they're not as effective in a hospital setting, Bindiya Gandhi, M.D., said cloth masks can help prevent the spread of respiratory droplets—from coughing, sneezing, and speaking—in the general public. It's also important to remember, that while there are various symptoms indicating coronavirus, it's also possible to asymptomatic. This is why it's so important for people to wear face masks, even if they don't believe they're sick.
So whether you're an expert seamstress or a novice, it might be time to make one. We rounded up a few patterns and tutorials for making face masks at home, with or without a sewing machine.
While patterns of dresses, quilts, and old Halloween costumes might be collecting in your craft drawer, you most likely don't have any surgical mask patterns lying around.
Thankfully, there are several free patterns to choose from online, like this standard pleated face mask from craft blogger Sarah Maker, or this cloth health care mask with a special filter pocket, from North Memorial Health Hospital in Minnesota.
Both masks require cotton weave fabric, elastic or hair ties, thread, fabric scissors (regular scissors will also work), and a needle or a sewing machine. They also each provide YouTube tutorials to guide you through the process.
Without a sewing machine.
If learning to sew is your new quarantine hobby, but you're not advanced enough to own a sewing machine, don't worry. It's possible to make a DIY cloth mask using a needle, some thread, and your own two hands.
This homemade version from PopSci takes about an hour and half to put together. Materials include non-woven polypropylene (your reusable grocery bags are most likely made of this fabric), ribbon, and pipe cleaners. If you don't have non-woven polypropylene on hand, a cotton weave fabric could also work.
For an even more simplified version, Today shared their step-by-step guide to a no-sew mask. All it requires is a square piece of fabric (at least 20 inches by 20 inches), a few rounds of folding, and two elastic or rubber bands.
To get a visual rundown of that technique, watch this video from the traditional Japanese crafts blog Japanese Creations.
How to make your mask most effective.
Want to turn your passion for wellbeing into a fulfilling career? Become a Certified Health Coach! Learn more here.