How To Make A Bold Lip Last — Even When You're Wearing Naturals
Contributing Wellness & Beauty Editor
By Lindsay Kellner
Contributing Wellness & Beauty Editor
Lindsay is a freelance writer and certified yoga instructor based in Brooklyn, NY. She holds a journalism and psychology degree from New York University. Kellner is the co-author of "The Spirit Almanac: A Modern Guide to Ancient Self Care," with mbg Sustainability Editor Emma Loewe.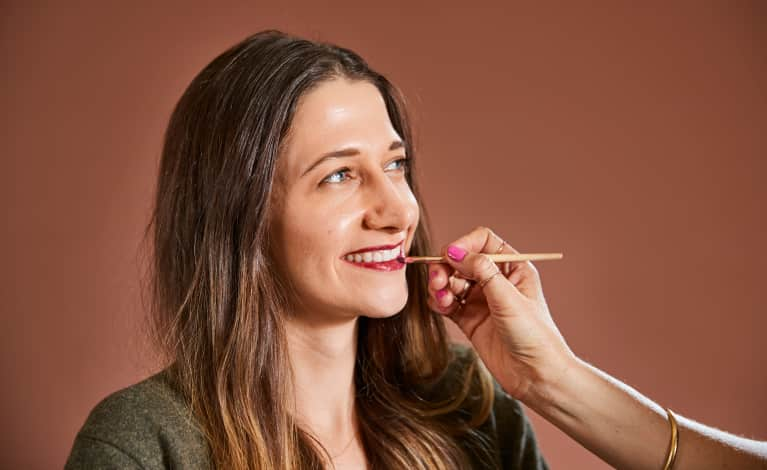 Here at mbg, we believe that beauty is uniquely yours. In our video series Bare Your Beauty, we break down various techniques, rituals, and how-to's designed to help you feel good in your own skin, whether your goal is to de-stress, update your skin care regimen, or try a new look.
It's true—many nontoxic and natural lipsticks tend to be oil-heavy, which doesn't make for a long-lasting pigment. Rather, lip colors from green brands impart a beautiful stain-like pigment that isn't as intense as their conventional counterparts. Regular reapplication is a natural lipstick reality. And that's not a bad thing! It means your lipstick won't stay put wherever it goes, including inside your body (because we do eventually ingest them) and the planet.
Natural makeup artist and herbalist Jessa Blades, who is part of the mbg Collective, has been working with natural formulas for years and has started using a system that helps intensify lip colors, makes them longer-lasting, and takes the glossy sheen away for a matte look.
Prime the lips using a lip scrub. In the video, we used a sugar and olive oil mixture (yes, it was delicious).
Then apply your lipstick, preferably with a brush. It makes the application more precise. Jessa used Burt's Bees satin lipstick in Russet River.
Grab a tissue and, if it's double-ply, tear it in half.
Using a pressed or loose powder without any color, use a big fluffy brush, dust it off, and dab through the tissue onto the lips. This mattifies the look, allowing for more coats to be applied and to "take" to the lips. In the video, Jessa used Antonym Cosmetics' powder brush (n/1) and Kjaer Weis Translucent Powder.
Repeat and apply another coat if you wish.