A Registered Dietitian's Top Tips For Making A Breakfast That Will Keep You Full For Hours
Registered Dietitian
By Jessica Cording, M.S., R.D., CDN
Registered Dietitian
Jessica Cording, M.S., R.D., CDN, INHC is a registered dietitian, health coach, and writer with a passion for helping people streamline their wellness routine and establish a balanced relationship with food and exercise.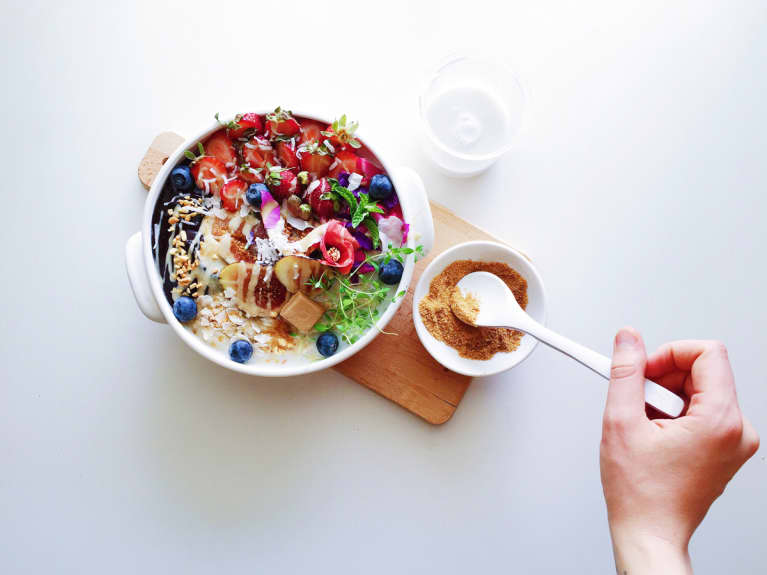 It's a cliché for a reason: A healthy breakfast really can set the tone for your entire day. Starting your day with a better breakfast helps ground and stabilize you as you face the day and whatever crazy lies ahead. As a registered dietitian and health coach, I help busy people find drama-free ways to fit healthy eating into their routine. Food should fuel and energize you and help you feel great—not stress you out or make you feel like you're struggling to stay on track.
Work-life balance may not be a real thing, but when your blood sugar is balanced and you feel focused and energized, you're better able to be present in each realm. Don't get caught in the mindset that you're too busy to have a good breakfast. Whether you're a mom juggling your family's needs, schedules, and preferences with your own, or you're still in a "building my empire" phase and navigating a lot of work and life stuff for the first time, you deserve to eat well—it improves your performance and relationships in all aspects of your life.
Or maybe you're hung up on the myth that success means rushing from pre-dawn spin class to shower to desk, chugging an eight-dollar bottle of green juice on the subway or distractedly sipping a protein drink at your desk. You're way too productive and powerful (or stressed) to even notice hunger! It doesn't help that many work cultures treat meal-skipping like a badge of honor. Yeah, no. Whether you're a solo-preneur or part of a big team, when you fuel yourself to show up as your best self, everybody benefits.
Ideally, a well-balanced breakfast will provide protein, complex carbs, and healthy fats. This helps ensure slow, stable breakdown of that morning meal so you can keep going until lunch. Incorporating nutrient-dense foods provides the vitamins and minerals you need, plus powerful phytochemicals, antioxidants, and other important compounds.
Need ideas on how to make a better breakfast? I'm all about working superfoods into your everyday eats. Rather than stress about restructuring your whole morning, build on the good habits they already have in place. Here are the best ideas on how to make a better breakfast.
Oats are a bona fide superfood. Packed with filling fiber and nourishing B-vitamins, they're super-versatile and pair well with sweet and savory flavors. Add a protein boost by cooking in an egg or egg whites. A tablespoon of chia seeds or ground flax adds fiber and heart-healthy omega-3 fatty acids. Top your bowl with nuts or nut butter for extra protein and healthy fats. For a savory twist, add cooked veggies and garnish with tahini or goat cheese. Play around with your favorite spices. For sweet, try cinnamon, cloves, and ginger. For savory, turmeric, black pepper, and paprika are delicious and nourishing.
Serves 1
If you haven't tried overnight oats, you're in for a treat. This make-ahead breakfast is customizable and makes a great portable option. Here's my go-to basic recipe.
Ingredients
⅓ cup rolled oats
1 tablespoon chia seeds
1 tablespoon ground flax
¼ teaspoon cinnamon
¼ teaspoon vanilla extract
⅔ to 1 cup milk of choice
Optional mix-ins: ½ a banana, ½ cup berries, or ½ cup pumpkin, 1 tablespoon cocoa powder, 1 scoop protein powder (optional but good if you're using a low-protein milk like almond, rice, or coconut)
Optional toppings: Fruit, nuts, nut butter, shredded coconut, etc.
Combine oats, chia seeds, flax, cinnamon, vanilla, and milk. If using fruit, cocoa, or protein powder, add now.
Stir to mix well and cover. Store in the fridge at least 4 hours or overnight.
When you're ready to eat, remove lid, stir, and top with desired toppings.
Enjoy hot or cold. To heat, uncover and pop in the microwave for a minute or until warm. Give it a good stir and add your favorite toppings.
My absolute favorite way to do overnight oats, though, is to use plain Greek or Icelandic yogurt. You end up with a creamy, rich texture that's more like cookie dough. A tablespoon of coconut flour lends an extra 4 grams of fiber and a texture that will make you think you're eating cheesecake for breakfast.
Swapping out white bread for sprouted-grain or whole-grain bread is an easy way to pack more nutrients into each slice. Looking for a grain-free option? Try sweet potato toast.
Avocado is one of my favorite everyday superfoods that's perfect on toast in place of butter. The smooth, creamy texture and mild flavor is the perfect complement to so many types of flavors, and the nutrition stats are pretty impressive too. One-third of a medium avocado has about 80 calories and 3 grams of fiber.
Avocado is often mislabeled as a source of protein. While they do have some (about 1 gram per serving), in the context of a meal, you want to have closer to 20 grams, so 1 gram is hardly anything. Avocados get their staying power from the combo of filling fiber and heart-healthy monounsaturated fat, both of which slow digestion.
A dash of Himalayan sea salt adds a delicious boost as well. This pink salt has been touted for its high mineral content—it has 84 trace minerals in total, such as iodine, iron, magnesium, phosphorus, calcium, potassium, and chloride, which lend that rosy hue. While a lot of the claims related to its health benefits have yet to be scientifically proven, it's a less processed alternative to iodize table salt. Just be mindful that it still contributes a significant amount of sodium, so a little goes a long way.
If you're totally over avocado toast, try topping your slice with tahini or nut butter and fresh fruit or ricotta cheese with cinnamon and a drizzle of local honey. Don't underestimate the power of an egg-on-toast breakfast either! Great combo of protein, carbs, and fats right there.
If you love fresh-cooked eggs but feel like it takes way too long to make them, did you know that you can poach and scramble eggs in the microwave? Here's how I do it:
1 egg
1 teaspoon white vinegar
2 to 3 ounces water
Crack egg into a ramekin.
Add vinegar and water. Stir vigorously.
Place ramekin in microwave. Microwave on 80-percent power for 30 seconds. Check egg and then microwave an additional 30 seconds on 80 percent.
If egg white is set, remove egg with a spoon. If it needs more time, microwave in 5-second intervals until set.
To make scrambled eggs or egg whites, grease a mug or glass bowl and then add the eggs. I like to cover with a plate and microwave in 30-second intervals until the eggs are set. Pink Himalayan salt in the egg whites is a delicious, nourishing upgrade that doesn't take any more time than regular table salt.
You can also make microwave omelets by adding in your favorite vegetables or cheese. I like to use leftovers I might have lying around from dinner so no extra prep is required.
If you need a healthy breakfast in liquid form, a smoothie is a no-brainer. They're a great way to pack a lot of nutrients in. Smoothies sound like a quick-and-easy breakfast, but sometimes lugging out the blender and all the ingredients you want to throw in there can take freaking forever. Streamline your smoothie routine and stock your freezer with DIY smoothie packs.
DIY Smoothie Pack No-Recipe Recipe
In a resealable bag or freezer-safe container, combine ½ cup frozen berries, ½ a frozen banana, and 2 cups of fresh or 1 cup frozen greens. Frozen cauliflower and frozen squash also make great additions. Avocado, believe it or not, also freezes well for use in smoothies. Just be mindful to keep portions realistic (about ⅓ of a medium avocado).
When you're ready to blend it up, open the smoothie pack and pour the bag's contents over your liquid base. Using protein-rich plain Greek yogurt or kefir means you can skip the protein powder, but otherwise, water or coconut water and pea protein powder is a great nondairy alternative. Blend in some ice if desired.
Pour your prepared smoothie into a portable cup and sip it on the go or make it into a smoothie bowl and top with a tablespoon of chia seeds and a pinch of coconut flakes. If I have an extra few seconds, I love to melt a teaspoon of coconut oil and drizzle on top—it hardens into a Magic Shell-like topping that's a fun way to add healthy fat. Just be mindful with portions on those add-ins. It's easy to get overly enthusiastic and take in more calories than you realize, so pick one or two to prioritize.
Try aloe vera juice for a simple smoothie upgrade.
This member of the succulent plant family has been used for thousands of years to treat many ailments. An aloe plant is great to have in your kitchen, for example, so you can break off a piece of the plant and apply the gel directly on a burn to soothe it.
Aloe vera juice, which has about 40 calories per cup, has been touted for a whole range of health benefits, such as boosting hydration, digestive regularity, heartburn relief, and clearer skin, among other things like supporting liver and kidney health. Many of these claims are related to its high water content.
Make friends with matcha tea.
Swap your usual green tea for a cup of matcha or a matcha latte. Because it's the whole ground-up green tea leaves, matcha green tea packs an even more powerful punch. Compounds called catechins in matcha and other green tea have been studied for their potential to boost brain function, reduce cancer risk, and enhance metabolism.
Add matcha powder to hot or cold water, or try it in a latte. It's also delicious blended into a smoothie or baked into a healthy whole-grain muffin. If you've never tried matcha in your chia pudding, you're in for a real treat. You'll love this colorful green body-and-mind booster as an easy upgrade.