Have Dietary Restrictions? These 3 Travel Hacks Will Keep You Healthy (And Full)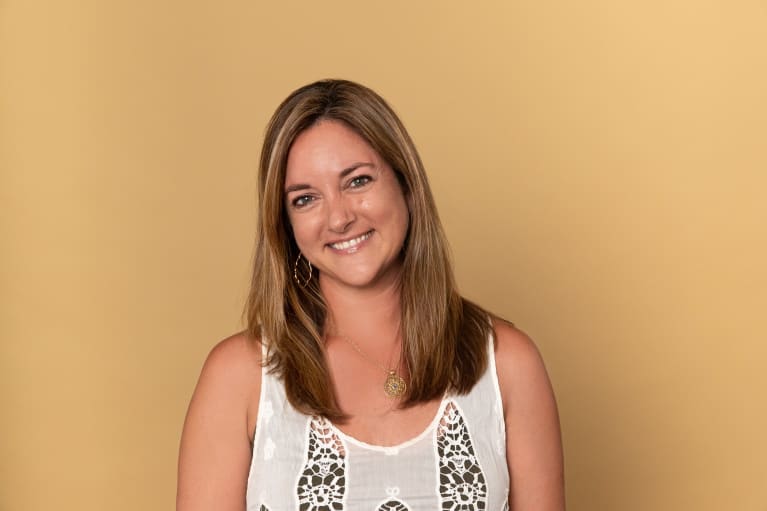 Our editors have independently chosen the products listed on this page. If you purchase something mentioned in this article, we may
earn a small commission
.
When Diana Rodgers, R.D., found out that she had celiac disease at 26, all of her digestion issues during childhood finally made sense. Growing up, she was underweight, frequently sick, and struggled with blood-sugar-related issues.
These symptoms seemed to be a result of her gluten intolerance, but even when she incorporated gluten-free alternatives into her diet, she still found herself unsatisfied and, oftentimes, ravenous. It was only when she starting incorporating more fat (think raw milk and butter) that she started to see real progress in her digestion. Even further into her journey with different diets, it wasn't until she came across Robb Wolf's The Paleo Solution that she finally found the golden ticket for her eating lifestyle: real foods, fewer processed carbs.
Her one take-away after her own experience and completing her nutrition degree? Stay away from processed foods and don't be afraid to up your intake of animal products. While this rule of thumb may sound simple, it can be quite difficult to maintain this lifestyle if you're frequently on-the-go. Luckily, Rodgers sat down with me on this week's episode of the podcast to talk about the advice she would give people who, like her, are always traveling but have trouble following particular dietary restrictions or eating plans.
For now, whether you have back-to-back business trips lined up or you're just a professional jet-setter, these are the tips you need to know for maintaining a healthy eating plan, no matter the ZIP code:
1.
Stay in Airbnbs whenever you can.
It's easy to book a hotel room and have the luxury of ordering room service at any time of night. But rather than splurging on those late-night fries, Rodgers recommends vacationing in Airbnbs, where you have 24/7 access to a kitchen.
"I stay at Airbnbs a lot, and I'll head to a Whole Foods Market or a grocery store and try to get eggs," she says. While eggs might not seem like the obvious staple for stocking your part-time kitchen, Rodgers believes that breakfast is the most difficult meal for someone with celiac to control while traveling.
"Eggs are often cooked on the same griddle with pancakes, and having a gluten reaction when you're on a shoot is not fun," she states. "So I try to really control my breakfasts."
2.
Cook for yourself—especially protein.
Once you've got yourself an Airbnb with a kitchen stocked full of your favorite dietary staples, the next piece of advice Rodgers offers is to cook for yourself as much as you can, especially meals with grass-fed beef.
"If I can't find grass-fed beef, I'm still going to get some meat. Even typical beef can be a really healthy choice." According to Rodgers, meat has become the wellness world's newest scapegoat (the others being sugar and full-fat items like yogurt), when meat actually has essential nutrients that she believes a plant-based diet simply can't give us.
She continues: "To get 30 grams of protein, you could eat 450 calories' worth of beans. To make that a complete protein, you will need 1,000 calories of beans and rice. Or you could eat 200 calories worth of steak." So instead of whipping up a homemade black bean burger on your trip, try incorporating grass-fed, organic meat into your travel diet (and your diet in general, for that matter).
Although Rodgers feels strongly about the dense micronutrient content of animal products, she makes a point to mention that a high intake of vegetables is also essential for a healthy diet (Rodgers is partial to sea vegetables like kelp) as well as fatty fish like wild salmon. A balance of these three food groups is key, according to Rodgers, who notes, "We just need to kind of get back to what humans have been eating for millennia."
3.
Find a farm-to-table restaurant.
If you're unable to book an Airbnb for an impromptu getaway, Rodgers recommends looking for farm-to-table restaurants in order to make sure your meals are organic and grass-fed whenever possible. She lives on an organic vegetable farm herself, so she recognizes the importance of not only supporting our local farmers but also how important it is to eat seasonally.
"People didn't traditionally have access to bananas, mangoes, and orange juice 24/7," she says. That being said, in order to eat as clean as possible (for our bodies and for the environment), a farm-to-table restaurant that offers organic, seasonal dishes is the way to go.
However, Rodgers acknowledges that sometimes it's rather difficult to discover organic restaurant options when traveling, especially if you're traveling with a big group. "It's not always possible to find a farm-to-table restaurant, but I do try to do that whenever I'm in a new place," she says. Her advice? Always stick to protein.
"Some meat and salad, some fish and salad—something like that."
According to Rodgers, eating simple, organic meals is the best way to ensure a healthy diet while traveling, which is an eating standard we can definitely stand behind. Check out this week's podcast for more tips and tricks on how to eat the Rodgers way.
Enjoy this episode! Don't forget to subscribe to our podcast on iTunes, Google Play, or Stitcher, and sign up for our podcast newsletter!