Exactly What I Ate To Get In Shape For My Wedding (It's Not What You'd Think)
Contributing Food Editor
By Liz Moody
Contributing Food Editor
Liz Moody is a food editor, recipe developer and green smoothie enthusiast. She received her creative writing and psychology degree from The University of California, Berkeley. Moody is the author of two cookbooks: Healthier Together and Glow Pops and the host of the Healthier Together podcast.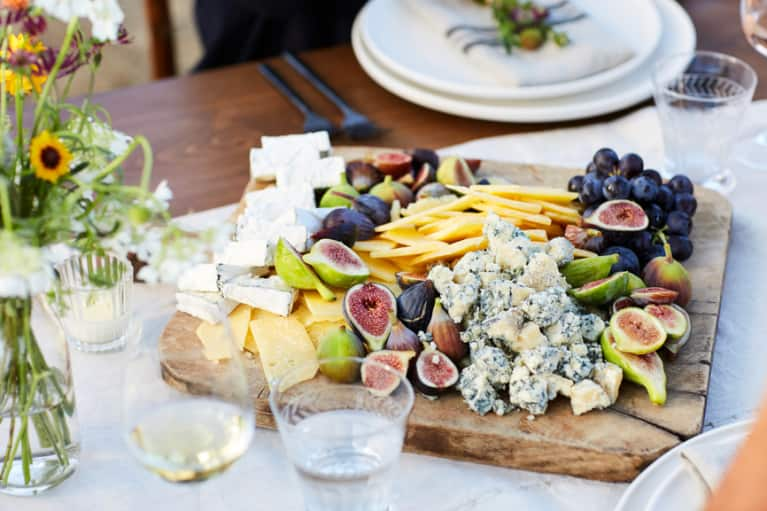 Last year, when I was preparing for my own Memorial Day weekend wedding, I actually sent my friend a picture of a real sentence from a real bridal magazine (that shall remain nameless, for its own protection): "You want to be your best self on the best day of your life," it read. "This 2-week diet and fitness plan will help you get there, with (almost) no pain necessary." A writer myself, I could feel the self-satisfaction, the veritable winky-face emoji behind the words. "You want to be your best self on the best day of your life."
My wedding wasn't the best day of my life.
There, I said it. It was a great day, a day of craggy emotional peaks of the laughter-and-tears variety, a day filled with amazing food, a day filled with friends and family that spanned 20-plus years of my life. It was, however, a day filled—a day so devoted to flitting between caterers and uncles, and (oh, right!) suddenly it's time to walk to the altar and get married before photos and more photos (and then some more photos!), and then you're frantically shoving food in your mouth before the speeches begin and then you're turning in circles, dancing, dancing, dancing, until the cake is cut, the last drunk guest has stumbled home, and your fake eyelashes are drooping. My wedding was, without a doubt, the busiest day of my life, but it wasn't the best day, and I'm glad for that. Putting so much pressure on a single day is a surefire way to not only make the day feel like an instant letdown but to take the magic out of the many days (your whole life together!) that follow. I was interviewing a psychologist for an mbg piece, and she told me that she gets a surge of new patients in the summer. "Post-wedding blues," she explained. "You put so much time and energy and expectation into one thing and don't know what to do with all of those feelings when it's over."
I did, however, want to be (as the bridal magazine put it) my best self.
The good news? I already was her. My fiance proposed to me as a person who was strong enough to climb (fairly small) mountains, who will push green smoothies then accidentally consume an entire batch of fresh-from-the-oven chocolate chip cookies. He knew I didn't have a six-pack or sharply defined cheekbones, and he still loved me. More importantly, I loved me. More than anything, it terrifies me to picture the self-talk of so many brides as their big day approaches and they take on "shedding for the wedding" as a personal mission and mantra: It terrifies me to think of them telling themselves their thighs are too big or their arms won't look good in photos. What if, instead, you could say, "I love these thighs. My fiance loves these thighs. Now, let's take these thighs for a stroll down the aisle"? But! What about the aforementioned photos? I ask you to first consider the grandmother clause, or the universal truth that, no matter how imperfect you feel now, you'll look back at these photos later and marvel at your smooth, unlined skin, and your youthful, vivacious body (it's true; try it on an older friend, or even a decade-old image of yourself). You'll wonder why you didn't appreciate these things while you still had them—so appreciate them now! And second? The best wedding photos will capture a feeling, a mood, and a spirit of the day. Imagine how buoyant (and thus glowy) you'll be if you've filled yourself to the brim with nothing but love and positive talk for your gorgeous self.
This is exactly what I ate to get in shape for my wedding.
I ate green smoothies every morning (I'm obsessed). I ate magnesium-rich food to keep my nervous system calm in the chaos of planning, and I ate pasta on dates with my fiance, on which we reminded each other that we were, first and foremost, partners who had fun together, who could slurp linguine and sip on red wine and laugh until our stomachs hurt. Bottom line: I endorse shedding for the wedding. Shed your expectations for yourself, shed your negative self-talk, shed your lack of confidence, and relish—absolutely relish—in the fact that you're beautiful, and you're about to have a kick-ass party with the love of your life.
Want to show yourself a little love with a nourishing green smoothie every morning? Here's the only formula you need to make a perfect one every time. Plus, here are some foods that will alleviate anxiety as the big day approaches.