A Yogi On Living Your Best Life Off The Mat
Yoga, Meditation, & Ayurveda Guru
By Yogi Cameron
Yoga, Meditation, & Ayurveda Guru
Yogi Cameron has helped thousands of people tap into their spiritual side, having studied Ayurvedic Medicine and Yoga since 2003. He became certified in Yoga at the Integral Yoga Institute in New York City as well as the Sri Satchidananda Ashram, and studied Ayurvedic Medicine at Arsha Vidya Peetam in South India and trained at the International Academy of Ayurveda in Pune, india. He's been featured in ELLE, The New York Times, Wall Street Journal, and The London Times, and has appeared on The Ellen DeGeneres Show, The Today Show, and more.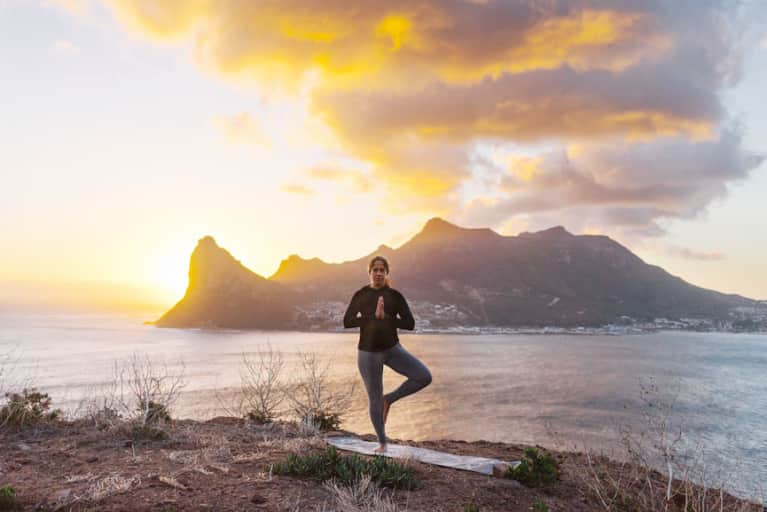 If you're wondering whether you can really become a yogi, the answer is this: Anyone can become a yogi. The only difference is that a yogi lives not only by society's laws but lives and is guided by universal spiritual principles, written and taught by the ancient sages—the spiritual scientists and philosophers of their time.
While modern scientists use outer matter to conduct experiments and to do studies to arrive at theoretical conclusions, yogis use their own body and mind as a lifelong experiment and prove their results through self-realization and personal experience. Life becomes a grand science project with a higher goal and purpose.
Through practices to control the body, breath, senses, and mind, yogis can start to remove the veil that separates their mind from their higher self or soul. These practices are so subtle and powerful that they help transcend the body and mind into super-consciousness.
The spiritual practices taught in The Yogi Code are the principles and codes that will unlock and reveal the pathways to the next levels of transcendence and the invisible kingdom of the extraordinary. This level is where we act from our intuitive nature and not so much from our intellectual mind. In other words, we not only live by using our body and mind but we gain access to much greater powers to put toward our life's loves and pursuits, making them much more purposeful.
Using yoga to illuminate the soul.
I wrote The Yogi Code so we could all have the same essential tools that these ancient masters developed through centuries of practice and realization, passed down from generations of yogis to my yogi and from me to others. Once considered "secret knowledge," these seven universal laws are available to anyone who is ready to choose a new way of life—to illuminate your soul's purpose—promising harmony, success, and joy. These rewards are the outcomes, the fruits of your yogic life, that flow out of your conscientious practice and actions. As with anything in life, the more we practice, the better we get and the better the results.
The Yogi Code is an inspirational book to give you confidence and remind you that there is a greater universal plan than just the day-to-day life we are living. But inspiration is only the theoretical part of the practice—a beacon that shines a light, guiding and uplifting your mind and heart to show us the possibilities.
Making progress through practice.
All the inspiration in the world will not make us achieve something. When we break an arm, we don't get better simply by lying in bed and thinking positive thoughts. Progress and healing come through the practical guidance and rehabilitation the doctor or natural practitioner prescribes, so we can strengthen and learn to use our arm again.
The yogi code core practices are the foundational grounding practices for your body and your mind to be balanced while you interact with the world. My mission is also to give you daily living practices to use as the need arises and to apply when the situation calls for them. When you make them a part of your daily life and lifestyle, you start to live as a yogi and move beyond your ordinary power.
Taking control of your breath, speech, and actions.
Controlling faculties such as your breath, speech, actions, and senses bring your mind and body under your control, so you can move inward and create what is truly beautiful and meaningful. You build success from the inside out. This way you shine like the rare diamond that you are at the very core of your being, illuminating every step you take in life.
Once you start to live more as a yogi, your whole life will change beyond what you thought possible. Our personality, environment, work, relationships, and even some of our friends will change. This is all part of the process of transformation. But I know from my own experience that this will be a welcomed adjustment and be energizing because life will have improved beyond all the expectations, and a vibration of feeling dynamically alive will take over from within. The yogic path offers an exceptional journey that can lead to great power and fulfillment. It's like no other journey we will ever take.
Much love.
Based on excerpts from The Yogi Code: Seven Universal Laws Of Infinite Success by Yogi Cameron, with the permission of Enliven, a division of Simon & Schuster Inc.