How To Keep Your Workout Clothes From Smelling Bad, According To A Germ Expert
mbg Associate Movement & Wellness Editor
By Ray Bass, NASM-CPT
mbg Associate Movement & Wellness Editor
Ray Bass is the associate movement and wellness editor at mindbodygreen and a NASM-Certified Personal Trainer. She holds a degree in creative writing from the University of Pennsylvania, with honors in nonfiction.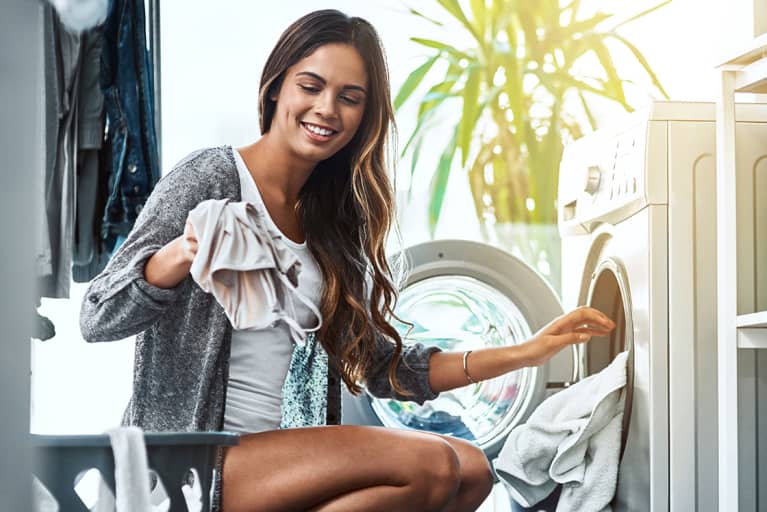 We all have that favorite set of workout clothes—the top and bottom that you always hope are clean and would pick before any of the others. And because we often do pick them more than the others, they're usually a little more worn out, discolored, and maybe even carry the lingering smell of sweaty workouts past. (Who doesn't have a white shirt in their drawer that's starting to look a little yellow, right?)
There's no shame in being sweaty, but we have a hunch that you would rather not have smelly workout clothes if you can help it, and we know that sometimes washing them just doesn't work.
That's why we asked germ expert Kelly Reynolds, a professor and department chair of community, environment, and policy at the Mel & Enid Zuckerman College of Public Health, for her best advice on how to keep our workout clothes smelling clean and pristine. Here's what she suggests.
Hang up your clothes as soon as you can after your workout.
It can be so, so tempting to leave your used workout clothes in your gym bag or toss them in the hamper, but hanging them up is a simple way to prevent bacteria from growing on your clothes. Yeah, I know, gross.
"The quicker you dry your workout clothes, the less time you allow for bacteria to grow in the fibers," Reynolds says. "Most bacteria thrive in moist environments—populations can double as quickly as every 20 minutes."
Invest in a small drying rack, or if you have access to it, hang them outside.
Get a natural deodorant that actually works.
This is easier said than done, but the natural deodorant world is booming right now and there are hundreds (maybe even thousands) of options. As Reynolds notes, finding a product you love may require a bit of research and sampling, but if you want your workout clothes to stop smelling bad, reducing your own odor is a step in the right direction.
"Different people have different needs based on their own natural skin bacteria, activity levels, sweat production, and personal preference. Finding the right product for you may require some trial and error."
This wouldn't be a helpful odor-reducing article if we didn't mention a major source of stank: your shoes. Let's face it, everyone has at least one pair of smelly shoes, and most of us have multiple. Why is that, you ask? Because shoes provide the perfect sweaty and moist environment for bacteria, and even mold, to grow. As Reynolds puts it, "Shoes harbor loads of microbes both inside and out."
That's why a shoe dryer is one of the smartest odor-fighting investments you can make. "Reducing the moisture in your shoes can help reduce your exposure to these unwanted organisms that can cause odor."
In short, try to get your shoes on a dryer as soon as you can post-workout—most of them have a timer setting, so you can set it and forget it without wasting energy.
Use feminine or hygienic wipes.
Another great way to keep workout clothes smelling clean is to use some form of hygiene wipe, which come scented or unscented.
"Sweat is a complex mixture of water, bacteria, and skin cells—a perfect environment for bacteria to feed, grow, and produce waste products that stink!" Reynolds says. "Hygiene wipes can help to reduce sweat from the surface of the skin and remove some of the bacteria at the same time."
If you have sensitive skin or want to avoid harsh chemicals, brands like LOLA and SweetSpot Labs have created more natural versions of these wipes, and they're even biodegradable!
Rotate your workout clothes.
As I said, it's easy to wear the same top or leggings over and over again, especially if it's your most comfortable set, and you don't want to do laundry all the time. And while you don't have to wash them every day, rotating your wardrobe can help keep stains and smells from becoming permanent.
"Rotating your workout clothes allows for drying and potentially washing between uses, which helps keep microbes below threshold levels where their smells are noticeable."
I've personally found that getting a lot of budget-friendly, but still well-made, workout clothes is better than blowing my budget on one or two pricier outfits. I've also built up my stash over time by purchasing a few pieces here and there instead of buying tons of clothes in one sitting, which isn't cost-effective or sustainable for me.
Know when it's time to wash your workout clothes.
You don't have to wash them every day, or even every time you use them, depending on the intensity of your workout. If you go to a restorative yoga class, for example, you may not even break a sweat, so your clothes probably won't smell afterward. However, if you continuously sweat in an outfit and leave a lot of time between washings, those smells you want to banish will stick around—maybe even forever.
"Once you pass a certain threshold of microbes, their smells can be almost impossible to remove from clothing (think of that mildewed towel that continues to stink even after washing)," Reynolds says. "Maintaining clean, dry workout clothes will ultimately help them last longer."
And believe it or not, if your clothes become seriously contaminated, it could endanger your health. According to Reynolds, "Clothes may become contaminated with generally harmless skin bacteria or mold, but when their numbers increase, they can cause things like diarrhea or skin rashes."
So if you're a sweater, a smeller, or both, fear not—there are plenty of ways that you can prevent your clothes from smelling bad all the time and make them last longer. All it takes is a little foresight, a few key products, and you, doing your best to take care of your belongings.