5 Ways To Keep Your Relationship Strong When New Parenting Gets Stressful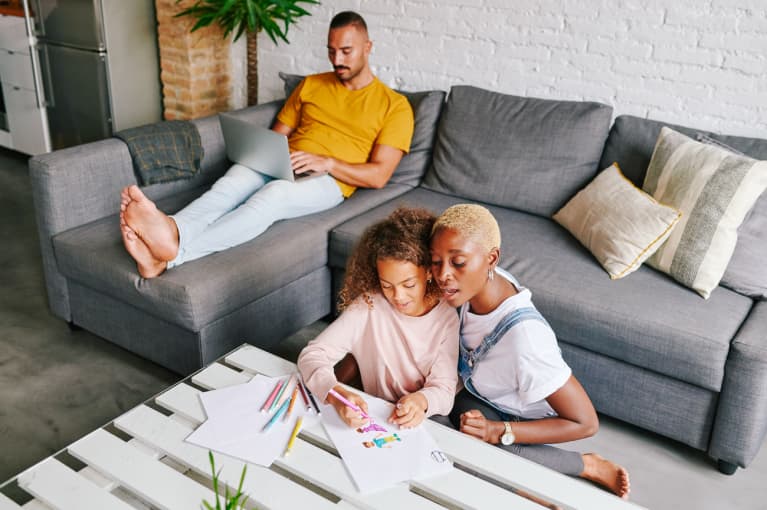 Our editors have independently chosen the products listed on this page. If you purchase something mentioned in this article, we may
earn a small commission
.
So many new moms can feel desperate, and trapped, and broken, not only when it comes to the relationship with their partner but also when it comes to their sense of self. Having a baby is a huge transition, and it can be difficult to prepare for no matter how much you research and read.
It will inevitably change your relationship with your partner, and it will definitely challenge the self-directed, freedom-loving paradigm you know, especially if you are a working mom-to-be and are climbing the corporate ladder. It can be stressful to be a new mom, to say the absolute least. If you are experiencing these feelings, talk with your doctor so that you can get the help you need.
For now, here are five ways you can keep your relationship strong (even when parenting gets stressful!):
1.
Designate a soother in chief.
Your partner is your soother in chief. If you are breastfeeding, you have a full-time job that requires rest, fluids, and patience to learn and perfect. You are the feeder in chief. You'll do your fair share of soothing as a function of that job, but your partner should take the lead on soothing so that you can accomplish your main mission: feeding your baby.
2.
Realize you're not a magician.
When my baby was crying at 6 weeks old and I had fed, rocked, shushed, and swayed her for hours with no end in sight, I needed another set of hands to give me a break. Even more important, I needed someone to take over mentally and emotionally for a little while. Two problem-solvers are better than one.
When I learned to ask for help—especially when I was at my weakest physically and emotionally—I found others around me stepped up and, ultimately, that we became a powerful team. Never be afraid to reach out if you are struggling. There is help and hope, even if it doesn't always feel like it.
3.
Embrace the differences.
Embrace that you and your partner may parent differently. You have probably always done a lot of things differently; your differences just haven't been quite so in-your-face as they soon will be. You'll be trying to team up and create consistency for your little one, and your ideas about the best way to do that will be different some (or most) of the time.
You may like different bottles; you may think certain toys are better than others. You may even have a different way of discussing which bottles or toys are the best!
4.
Recognize the strengths and weaknesses.
Parenting is a balance of tasks and responsibilities, and one partner may have more skills or patience for some of them.
Instead of evaluating or comparing contributions, figure out your partner's parenting superpowers. All of us bring amazing things to our parenting partnerships. I see all kinds of parents in clinic—analytical types asking tons of specific questions, the research-focused contingent searching for the evidence behind pediatric recommendations, and laid-back parents letting the stresses of early parenting easily roll off their backs. We all have something we bring to the table.
Your partner may be great at problem-solving sleep issues, while you are the baby-bath master. If you divide and conquer according to the things you're naturally good at, you'll be a stronger team.
5.
Encourage your partner's involvement from the beginning.
It seems when we empowered women to be just as fierce in the workplace as at home, forever changing modern-day motherhood, we forgot about educating men on how to change their perspective on modern-day fatherhood. We figured they would just adjust without any effort or preparation, magically skilled and knowledgeable in all things baby. Add in the Mr. Mom monikers and the media depictions of helpless dads fumbling through parenting—it's not a surprise a lot of dads I see aren't sure exactly where they fit into the new parenting paradigm.
I know some amazing dads. My husband is one of them. Looking back, though, he said he felt as if he didn't know what to expect when it came to typical baby behavior and definitely didn't feel ready to take the lead on newborn care. I'm sure it didn't help that his wife is a pediatrician. He assumed I would know it all when it came to raising a baby and thought I would want to take the lead on baby care. Still, the more dads I meet, the more I find so many feel the same way.
So think: How do we include dads in the early baby care process? How do we, as moms-to-be, encourage and empower them to be equal players as we parent our young children? The end result will help them feel better prepared to take on fatherhood, and the added trust can improve your relationship, to boot.