A Viral Concealer Trick To Help Keep Formula From Moving Or Creasing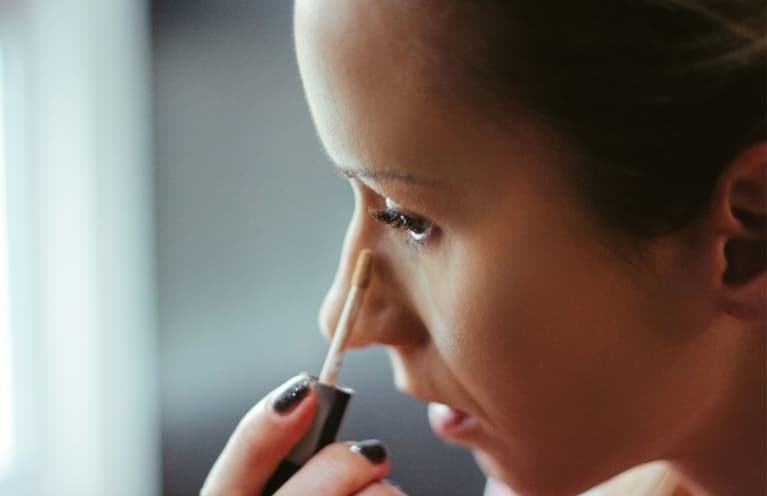 Our editors have independently chosen the products listed on this page. If you purchase something mentioned in this article, we may
earn a small commission
.
Concealers are magical little things, aren't they? With a swipe of a wand or dab of a cream, you can blur just about anything away that just so happens to be bothering you that day. Have a zit you want to cover up? Simple, just tap on a liquid number and diffuse it with a setting powder on top to help blur away shadows. Want to open and widen your eyes? Try this formula placement to help lift your overall look. Want to cover up your dark spots without going full-face into foundations? Just stencil in your concealer and gently tap it into the skin.
Yes, the makeup tool is powerful. But that's not to say it's without complaints. One of the largest? That it creases into fine lines, sinks into pores, and smears after a long day. But with a touch of diligence and the right techniques, you can avoid these malfunctions altogether.
One way to do so is with this brilliant hack from beauty coach Karla Vega Kazemi on TikTok. In it, she shared her go-to routine for concealer that stays put.
How to keep your concealer from moving.
So if you don't want your concealer to crease and smear, finding a good formula is half the battle. We each have our different coverage and application preference, sure, but some options are just made better than others. And if you need a good place to start looking, we rounded up our all-time favorites here. (Happy skimming!) Once you've done that, you can move on to this hack.
First up, Vega Kazemi uses a variation on this lifting placement, but she only does it at two points around her eyes. To emulate it, first apply a small section of concealer just below your eye on the outer corner. It should start right toward the outermost end and go just past the eye itself. While the line is horizontal, it should have a small lift at the end.
The second point starts on the inner corner of her eye and goes slightly down the side of the nose and over any dark circles. It almost looks like a messy triangle that starts on your inner eye and moves toward the apple of your cheek. Then? Wait. "Let it dry for two to three minutes," she says. This will help the formula settle on your skin, thicken up, and avoid settling into lines or pores.
Once that's done, she goes into the area with her fingers and blends it into the surrounding areas under the eye. After, she uses this classic makeup artist trick: "Grab your setting spray and spray the back of your hand. Tap your finger on the back of your hand, and then press it into the skin," she says.
Of course, ​​the key to avoiding creasing concealer is to keep the area hydrated—which, we'll admit, is a bit of an uphill battle. If you've tried endless amounts of eye creams and serums yet the delicate under-eyes still won't stay moisturized, we suggest turning to skin-care-focused supplements to help hydrate the region internally.* For instance, our cellular beauty+ supplement is made with phytoceramides, astaxanthin, ubiquinol CoQ10, and polyphenol-containing pomegranate whole fruit extract to keep skin hydrated, ease the appearance of fine lines (so your concealer won't have anything to settle into!), and improve overall tone.* Astaxanthin in particular has been shown to improve moisture levels, especially around the eye area in studies.* After taking this supplement, users have even reported their skin and makeup products go on with such ease, as the skin underneath remains dewy and even.*
While concealer does a lot of wonderful things, it's not always great at staying in place. However, letting the formula dry on your skin for a few minutes before blending will help you avoid this. And if you need a little extra support? A little setting spray (plus a hydrating beauty supplement) goes the distance.*