You Can Redo Your Wardrobe Overnight Without Spending A Dollar: Here's How
mbg Contributor
By Sara Weinreb
mbg Contributor
Sara Weinreb is the host of the Medium Well podcast and curator of the weekly email, Sara... lately.. She has a bachelor's degree from Tulane University.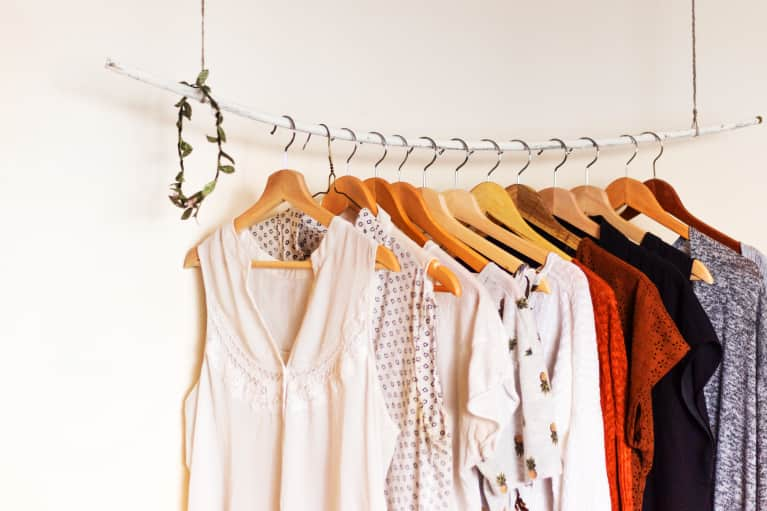 As someone who has been in the ethical fashion realm for a few years now, I have heard all the reasons why shopping responsibly is hard: It's too expensive, it's not my style, it's hard to find (OK, I had these problems, too, before I started my own fashion company, IMBY, to make it easier!), the list can go on and on. So what if I said one of the most responsible ways to shop was free and allowed you to chill with your friends? Enter the clothing swap.
Clothing swaps are becoming increasingly popular, and for a good reason. They provide a social opportunity to spruce up your closet without shelling out a penny and give clothes a second life so they don't end up in the landfill. Everyone wins.
The keys to hosting a successful swap:
1. Invite a lot of friends.
Whether it's with margaritas and tacos or kombucha and salads (or any combination of the four!), turn your clothing swap into an experience for your guests. Make a killer playlist to top off the vibes.
3. Lay out the space in advanced.
If you have some extra hangers and racks lying around, set them out for your guests to use. If not, put together a few signs that organize items by type or size so your guests can come in, sort their clothes upon arrival, and shop easily.
4. Limit the number of items people can bring.
You don't want your girl Ali rolling in with a trunk full of clothing she has left over from middle school. I recommend 5 to 10 items per person.
5. Provide guidelines on what sorts of items to bring.
Is fast fashion acceptable? Or only higher-end goods? Whatever you decide your guidelines are, let guests know beforehand so everyone is clear on the rules and knows what they're in for. Also determine if you want to limit it to clothing or if you'll expand to shoes, accessories, or even housewares.
6. Create the swapping rules.
Some people like to create a more formal experience by allowing guests to take the number of items they bring, or ones of a similar monetary value while others enjoy a more casual affair. Go with what you feel is right for your vibe and inform your guests at the beginning how it all works.
Do not, I repeat, do not throw any leftover clothes in the trash! The whole point of this event is to avoid that. Instead, further the impact of your special event by choosing a local nonprofit, thrift store, or women's shelter to donate the excess to.
Want to get a little more creative?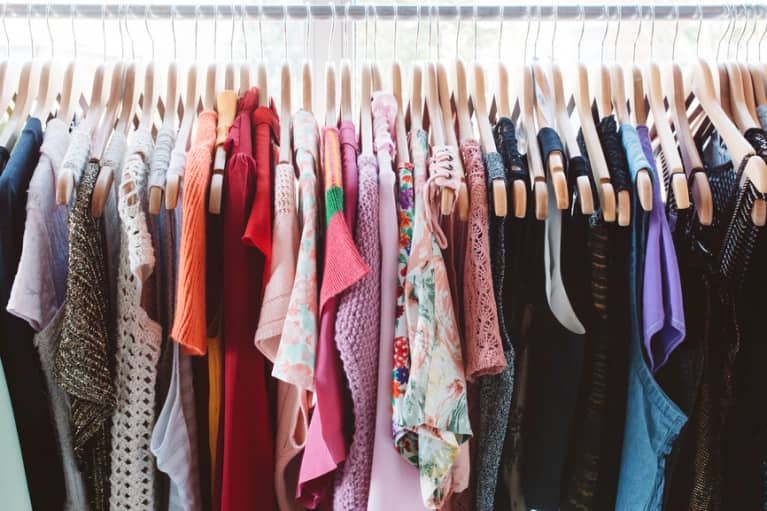 1. Gather a group of like-minded people.
This can be an established group (like your book club or co-workers) or an affinity group (such as moms, people passionate about wellness, or individuals with similar hobbies). Clothing swaps can be a great activity to integrate into existing events, and they are a fun way to pull people together and make new friends, too. You can even include a speaker or a discussion of sorts! Which brings me to my next idea.
2. Integrate information about ethical fashion.
The fashion industry is growing—and not in a direction that's favorable to the planet or the people making our clothes. Use your clothing swap as an opportunity to discuss how people can shop responsibly or screen a documentary on the industry like The True Cost.
How to be the guest of honor:
Not the one hosting? Here are some keys to being a stellar clothing-swap attendee.
1. See it as a learning opportunity.
Use the swap to pick out a trend or style you've been considering but haven't taken the plunge in just yet. For example, I recently went to a clothing swap and snatched some sneaker wedges. I had been both intrigued and skeptical of the style for several months but never wanted to actually spend money on the shoes. Now I wear them all the time! It was a perfect opportunity to try out something new in a low-risk, low-impact way.
2. Pick things that fit you and that you will wear.
I have to admit that I have taken items home from swaps that don't fit me. Several times. They are items I like, or brands I like, or things that I can't believe are sitting there for free! But there's zero point in taking them if you'll never wear them. Pass them along to someone else who will love them—and actually get use out of them.
If you are getting rid of fast fashion because you get all sweaty every time you wear a polyester shirt, don't fall back down the rabbit hole. Select items you will love and want to wear constantly. You don't want to end up with a cluttered closet after the swap!
Follow these tips and you'll be on your way to swapping bliss! Plus, you will end up with a breath of fresh air in your closet both responsibly and for free. What's better than that?